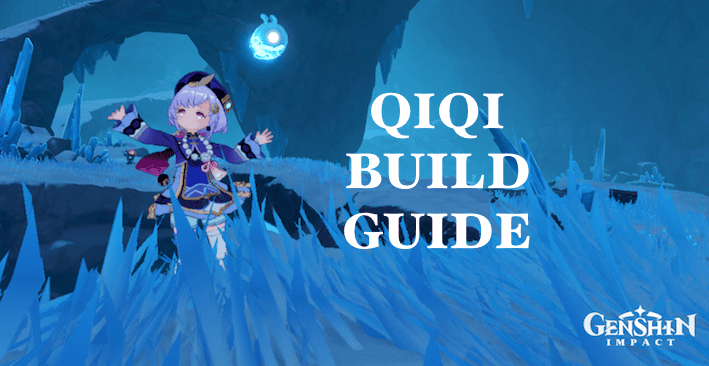 Preview
Qiqi has been available on the standard banner since the launch of the game and is one of the 2 available 5 star healers.
Though some might say that Qiqi is lacking as a 5 star character due to her lower utility, this guide will introduce the various weapons, artifact sets and sub-stats to use on Qiqi to use her as a Burst Support character instead. In late game, it will be much easier to use Qiqi as a Burst Support instead of just a healer.
Weapons
The best weapon to use for Qiqi would definitely be one with an Energy Recharge sub-stat.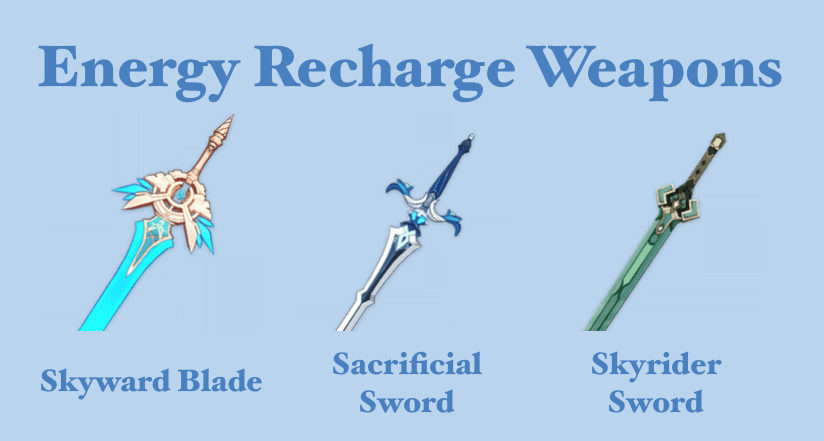 The best weapon would be the Skyward Blade, a 5 star weapon. Qiqi works well with it as the Energy Recharge will allow you to make use of her Ultimate consistently. Around 180% of Energy Recharge is a good aim for Qiqi. It increases the CRIT Rate, Movement Speed, ATK Speed and DMG of Normal and Charged Attacks. This is undoubtedly the best weapon but is rather difficult to obtain through Gacha.
The 4 star Sacrificial Sword is easily obtainable through the Gacha system and has a chance to end its own elemental skill cooldown. This is especially helpful for Qiqi due to her long cooldown duration.
Otherwise, you can go for the 3 star Skyrider Sword if you want to have greater Energy Recharge but have not obtained the other Gacha weapons. This will be useful whenever using Qiqi's ultimate as it gives an increase in ATK and Movement Speed.
Of course, you can use the Festering Desire sword that was obtained for free during the Dragonspine event as it has a sub-stat of Energy Recharge as well. That is the best option for free to play players, as the Prototype Rancour and Iron Sting are both not as optimal for Qiqi.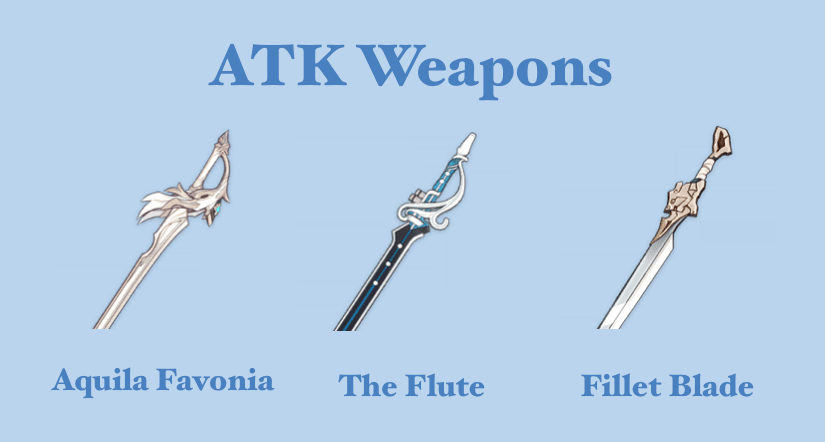 The Aquila Favonia is another 5 star weapon that can be used on Qiqi, although the Physical DMG bonus sub-stat on it will render it slightly useless as Qiqi should ideally be swapped onto the battlefield for her Elemental Skill or Ultimate. I would recommend using the other options in the article instead and saving the Aquila Favonia for another DPS sword character that will benefit more from Physical DMG bonus.
The Flute can be obtained from the Gacha and is also helpful due to the ATK sub-stat. It is better in Early game when you require more healing but becomes progressively less useful due to the Burst support that comes with greater Energy Recharge on Qiqi.
Lastly, the Fillet Blade is a great 3 star alternative for greater ATK, especially at Refinement 5. I used this for Qiqi for quite some time as I required more healing, but if you have a shield character on your team you could use a Burst DPS Qiqi instead.
Though it is good to have a 1:2 Crit Rate Crit DMG ratio on Qiqi, it's better to use Energy Recharge weapons instead of CRIT Rate or CRIT DMG ones to fully utilise her Ultimate whenever possible.
Artifacts
The best artifacts to run on Qiqi would be a 4 set Ocean-Hued Clam. Contrary to popular belief, the Maiden's 4 set does provide greater healing but falls short in Late game when you require more DMG and would benefit more from a Burst DPS Qiqi.
The 2-set increases the Healing bonus by 15%. For the 4-set, when the character healing heals a character in the party, HP recovered from healing and overflowed HP will accumulate for 3 seconds.
Thereafter, DMG will be dealt to opponents based on 90% of the heals. This can only occur once every 3.5s and a maximum of 30,000 HP can be accumulated, including overflowed healing. This effect can be triggered when the healer character is off-field.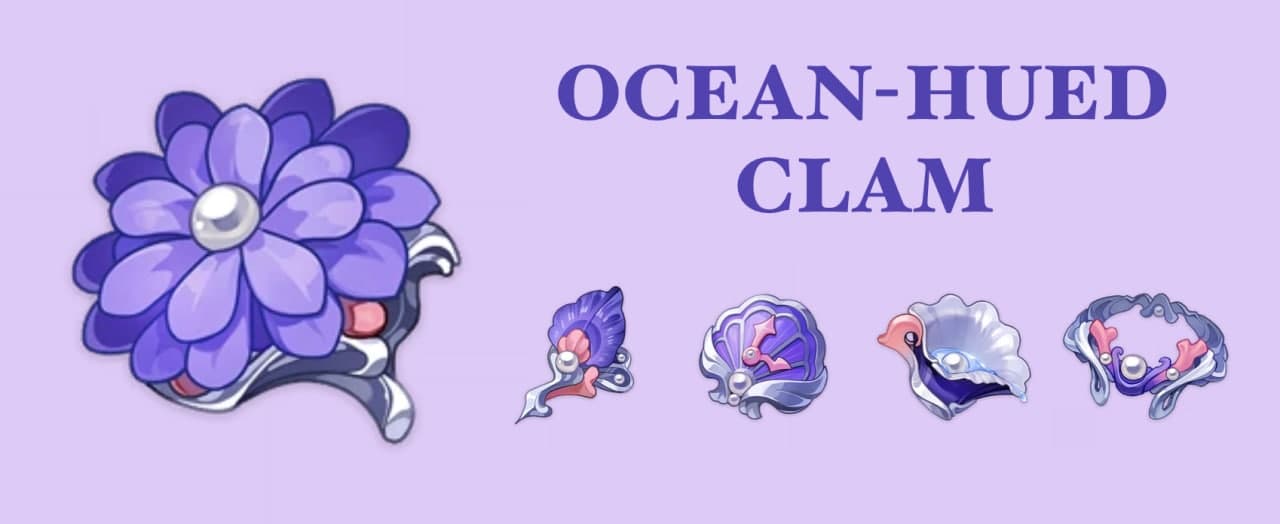 The Ocean-Hued Clam set can be obtained from the Slumbering Court Domain. For a guide on completing the domain, you can click here.
Since Qiqi heals based off her ATK, you should use ATK artifacts to allow for greater heals.
For beginners, use a Resolution of Sojourner or Brave Heart 2 set to increase ATK for greater healing.
The stats and sub-stats that you should prioritise are as below:
Flower sub-stats: Crit DMG, Crit Rate and ATK
Feather stat: ATK; sub-stat: Crit DMG, ATK
Watch stat: ATK
Goblet stat: Cryo DMG Bonus (can be any artifact set, as long as the main stat is Cryo DMG)
Mask stat: Crit DMG or Crit Rate (depending on your other artifact sub-stats)
Talents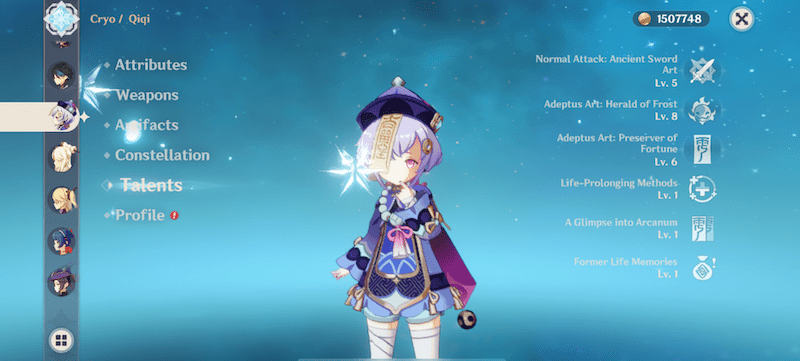 The best order to upgrade your talent is below:
Preserver of Fortune > Herald of Frost > Ancient Sword Art
The example shown above is not the best way to build Qiqi, I have yet to upgrade her Ultimate talent since it requires materials that I do not yet have. Optimally, you should aim for Level 9 Ultimate at least and Level 7 Elemental Skill.
Her normal attack should still be levelled as she can heal with her ATK, but it does not need to be prioritised.
Party Setup
Qiqi has a rather flexible party setup, due to the flexible Cryo element. I would recommend bringing a Pyro character and a Hydro character to allow for elemental reactions.
Her long duration of elemental skill allows for constant elemental reactions, something that works for a defensive play style like permafreeze, or for Melt DMG. I have included my team setup below as an example: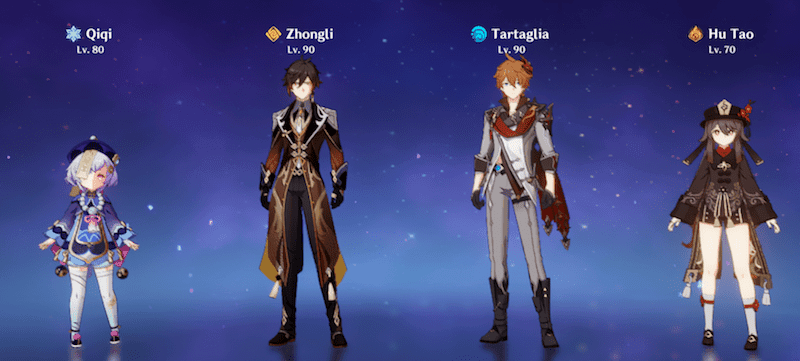 Do note that if you have Xiao in your team, she is particularly useful in helping with HP drain that comes with his Ultimate, especially if you do not have a shield character to protect him when he plunges during his Ultimate.
For Hu Tao, do not use the Elemental Skill while Hu Tao is on the field as this will remove her Pyro DMG bonus from low health. Alternatively, she works great in a Keqing team due to the Superconduct reaction with a Keqing electro build.
Materials

Conclusion
Lastly, do note that her specialty dish for Come and Get It has an amazing CRIT Rate and CRIT DMG buff, and is easier to cook than the Adeptus Temptation. I would recommend cooking it regularly to make your domain or boss runs easier. Having her in your team for exploration within Liyue also helps you see the various Liyue specialties and can be helpful for finishing the Battle Pass.
Overall, Qiqi is definitely an amazing healer if she is built well and can definitely do high DMG if you build her properly. All the best in your exploration, traveller!