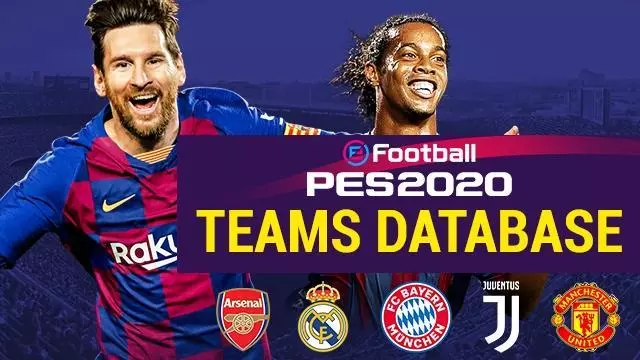 In eFootball PES 2020 there are 19 officially licensed leagues out of 24 total leagues, the most ever featured in a Pro Evolution Soccer title. This year the game also comes with many additional licenses, such as the ones for Barcelona, Bayern Munich and Manchester United, the exclusive partnership with Juventus, and the whole UEFA Euro 2020 competition and national teams.
However, five of the leagues included in PES 2020 are unlicensed, meaning that they don't feature the official team names, and have fictional emblems and uniforms. The player names and likeness are real, though.
Thanks to the brillant and comprehensive Edit Mode in PES 2020, as soon as you get your hands on the game you can immediately customize the names of these teams to match their real life ones. And you can even use Options Files made by the community to directly import the real emblems and uniforms of the teams, perfectly textured, essentially making the unlicensed teams just as official as the licensed ones.
To give you an easier time to find and recognize the fake names of the unlicensed teams, and edit them into their real life counterparts, we've put together this handy guide.
PES 2020 Licensed Leagues
Before we get into that, here is the list of the fully licensed leagues in PES 2020. These leagues feature official Team Names for all clubs, along with their real emblems, uniforms and players. So you don't need to worry about customizing these:
PES 2020 Unlicensed Leagues - Real Team Names
In the tables below, you find the full list of teams for all the unlicensed leagues, with the fake names used in-game in PES 2020 along with their respective real names.
Luckly, this year most team names are a lot more easily recognizable, because Konami realized they could name the teams based on the city and/or neighbourhood they play in, without incurring in any copyright infringment.
English League (English Premier League) - Real Team Names
In the English Premier League, Arsenal and Manchester United make exception and are the only two teams to be officially licensed.
English 2nd Division (English Championship) - Real Team Names
Italian Serie A - Real Team Names
Despite the italian Serie A league being officially licensed, there is one team that makes exception and is unlicensed, it being Brescia. This is just temporary though, as Its official License will be implemented after launch via free DLC Update.
| Real Team Name | PES Fake Name (in-Game) |
| --- | --- |
| Brescia | Brutie |
| | |
Italian 2nd Division (Serie B) - Real Team Names
Note: The Official License for Serie B in PES 2020 was implemented after launch via free DLC Update. These were the fake names of the teams before Data Pack 2.0:
Spanish League (La Liga) - Real Team Names
Barcelona is the only team that makes exception in the Spanish Liga, and is the only one to be officially licensed.
Spanish 2nd Division (La Liga 2) - Real Team Names
Other European Teams - Real Team Names
Unfortunately, the German Bundesliga is still absent from Pro Evolution Soccer, as FIFA holds exclusive rights to the league. However, PES 2020 does feature three licensed German teams in the "Other European Teams" league.
In this extra league, there are also two additional teams which are completely unlicensed, meaning the players names and likeness are also fake, originally made-up.
To browse through all the Clubs and National Teams included in Pro Evolution Soccer 2020, with custom filters and ability to sort them by any statistics, see the complete PES 2020 Teams Database.