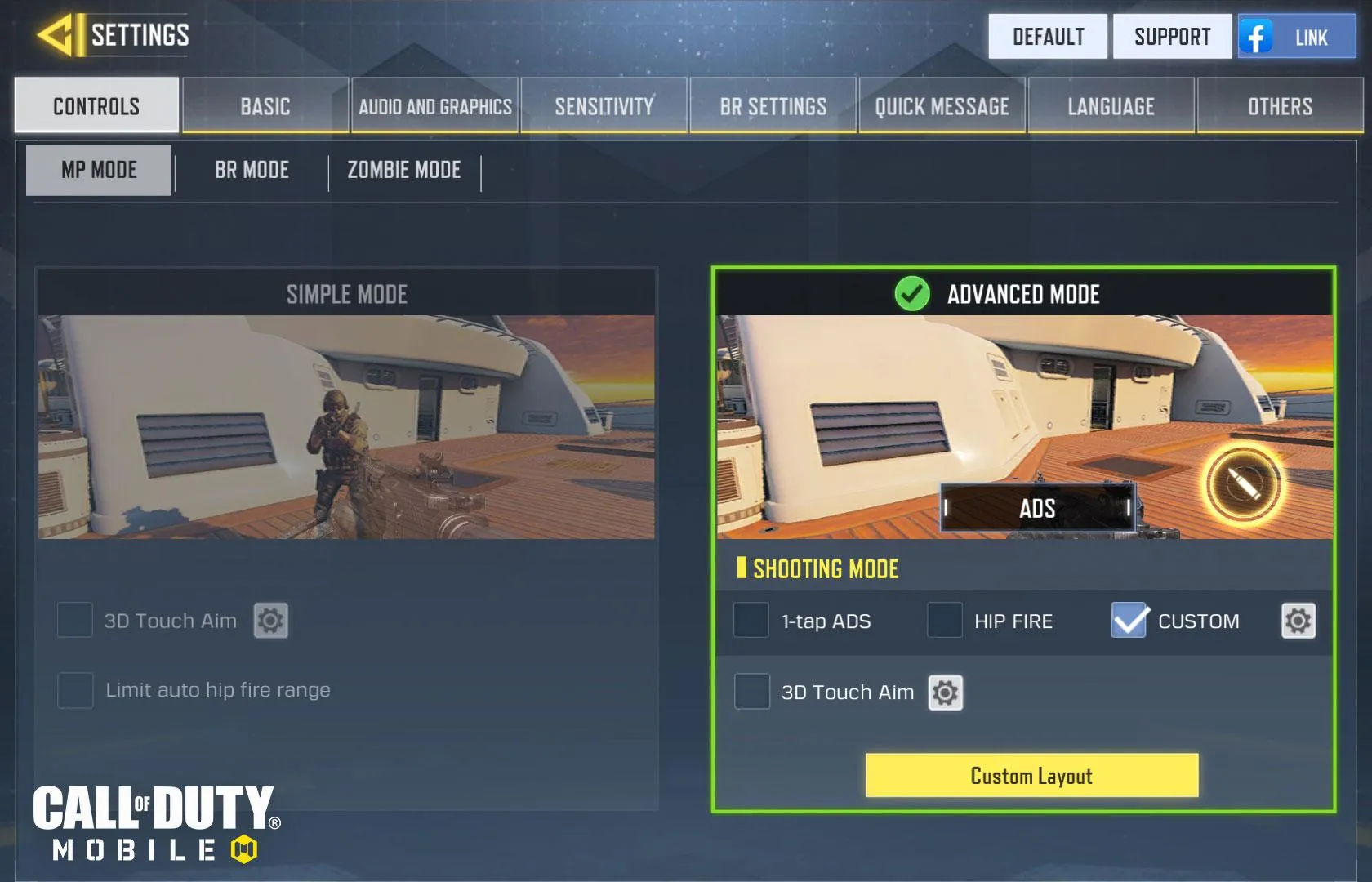 If you're looking for a "Best Settings Guide" it's because you might be feeling that you just can't find the sweet spot on the sensitivity slider. Or the app is lagging too much.
Fear not, we're here to help you. We've spent hundreds of hours playing COD: Mobile lately.
So, we'll take a look at all the different suggested settings you should use.
Basic Mode vs. Advanced
The first, major settings choice relies on playing with the Basic or Advanced mode.
The one you choose depends mostly on your skill level. If you're new to the game or the mobile shooter's genre, then you should opt for the Basic control scheme.
With Basic Mode, you just take care of moving your player and aiming. Once your crosshairs pass by an enemy, it automatically shoots. It helps you get accustomed to the movement and aiming dynamics before you go on to shooting.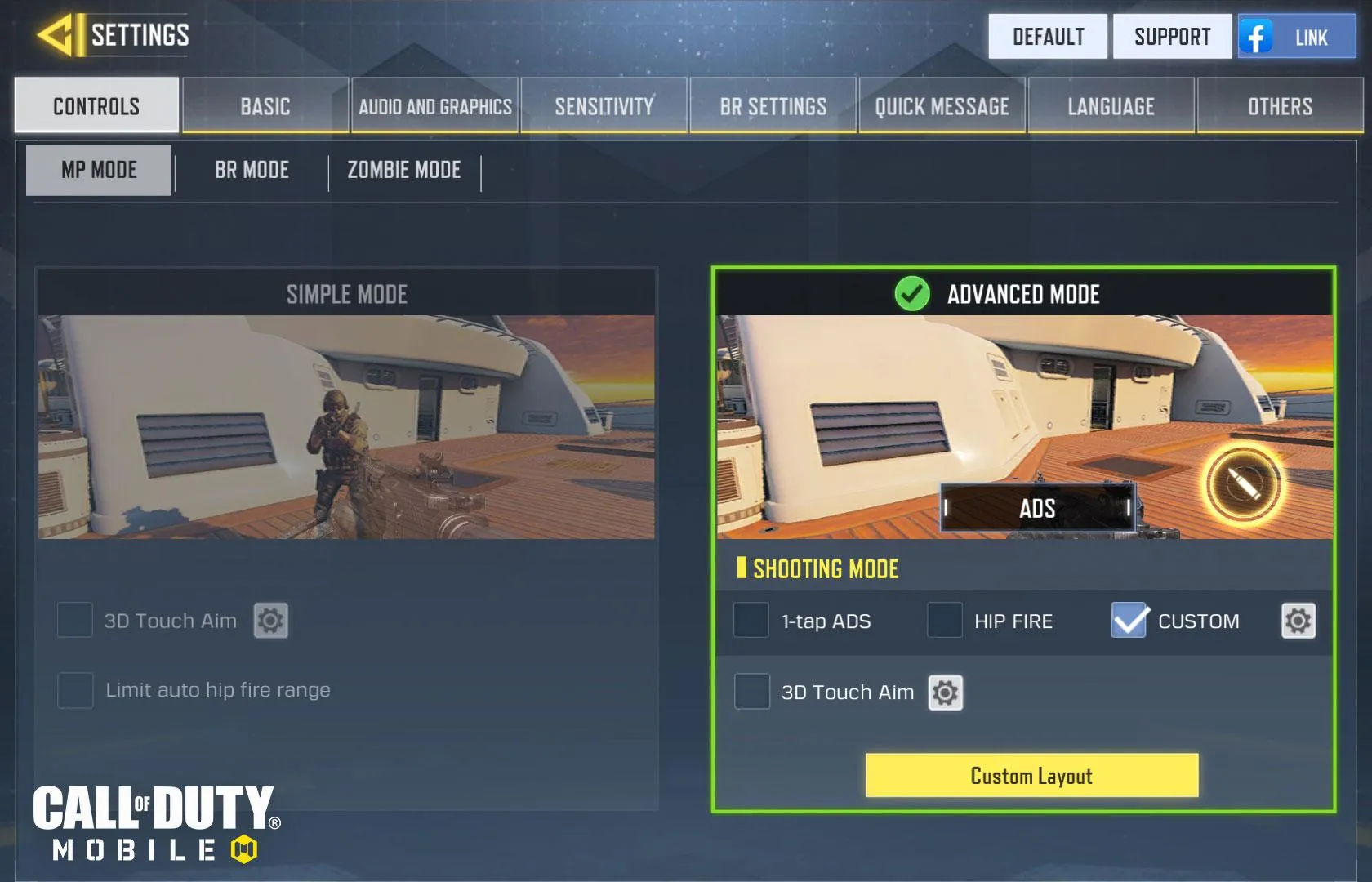 Then, it's recommended to upgrade to the Advanced mode once you get used to the fundamentals of the game. Especially when you start playing Ranked matches and you can't waste as much ammo with the auto-firing, among other examples.
Let's move on to other basic settings on Call Of Duty: Mobile
Best Control Settings for Call of Duty: Mobile
Almost everybody that has gotten into the settings section of COD Mobile has seen the Basic and Advanced settings. But there are a few other options that you might have never heard of. There are pretty important ones and others which aren't as important.
For example, the mentioned Aim Assist is not to be used in most games but can make a difference in those you enable it. But there are other settings and shortcuts that you should consider activating:
Joystick Auto-Sprint: Allows you to sprint forward when keeping the movement joystick in forward position.
Fixed Joystick: Lock the Joystick to one location on the screen, so it doesn't appear every time and everywhere you tap the left side of the screen.
Fixed R-fire: As the previous one, it locks the Fire button rather than moving to where your thumb taps the screen.
For those of you who use Advanced Controls, we'd suggest you use the version that puts you in ADS mode when you start firing. This will make you slower, but you'll be more accurate. You'll also learn when to fire and when not to wait for the right moment.
If you're playing in Battle Royale mode, the Gyroscope option should be kept enabled. It allows for much greater combat, and it will make you better in the game.
Pros have also suggested using a camera FOV of 60-65, as it feels natural.
Speaking of pros, many of them suggest you change the ADS (Aim-Down-Sight) settings according to the weapon you choose. For guns other than the Sniper Rifles, pros suggest you use hipfire.
So that's enough about the general settings of Call Of Duty: Mobile. Let's get into the sensitivity settings.
Best Sensitive Settings for Call of Duty: Mobile
Since Call Of Duty: Mobile has a Multiplayer and a Battle Royale mode, you can choose different sensitivity settings for each mode.
For both modes, we would suggest you adjust your Turn/View sensitivity. This is different for every single one of you, since some of you may have smaller phones.
When you want to change your Sensitivity settings, keep the Rotation speed at "Fixed". By doing that, you'll build up the muscle memory to move your finger as much as is needed every time.
You should also adjust your Sniper sensitivity according to your liking. Especially if you want to improve your quick-scoping skills. When you start playing against others, you'll notice that you need really good reflexes to keep up with them.
A great way to test your in-game sensitivity is by doing the following trick: Swipe your finger from the middle to the edge of the screen. Your camera should be looking behind you now (180 degrees). If that didn't happen, adjust your sensitivity accordingly.
Disclaimer: The following suggestions for both camera and firing sensitivity settings (multiplayer and battle royale modes) differ from each device. What may be the best option for you, may not be the same for other players in the game.
Multiplayer
| | |
| --- | --- |
| -------------------------------- Camera Sensitivity | Firing Sensitivity ------------------------------------- |
| Standard sensitivity: 60 | Standard sensitivity: 70 |
| ADS sensitivity: 88 | ADS sensitivity: 88 |
| Tactic scope sensitivity: 129 | Tactic scope sensitivity: 120 |
| Sniper scope sensitivity: 80 | Sniper scope sensitivity: 80 |
Battle Royale
| | |
| --- | --- |
| -------------------------------- Camera Sensitivity | Firing Sensitivity ----------------------------------- |
| Third-person sensitivity: 80 | Third-person sensitivity: 75 |
| FPP view turning sensitivity: 65 | FPP view turning sensitivity: 65 |
| Optics: 90 | Optics: 90 |
| Tactic scope sensitivity: 80 | Tactic scope sensitivity: 89 |
| 3x tactical scope: 60 | 3x tactical scope: 48 |
| 4x tactical scope: 50 | 4x tactical scope: 50 |
| Sniper scope sensitivity: 45 | Sniper scope sensitivity: 35 |
Then again, having the best settings might not prove as beneficial if the game isn't running well.
The Best Graphics Settings for Call of Duty: Mobile
Every extra frame per second can prove deadly. So, this is why you need to find a way to get your FPS at max. This can be done in numerous ways, by altering the graphic settings.
The main setting of the graphics settings is the graphics quality. Most players keep this setting at Low, to achieve as much as 120 FPS. But if you have a powerful device, feel free to up the graphics quality until you stop having 60-120 FPS consistently.
Then there are other settings like Bloom and Depth Of Field. These two are taxing on your CPU, so keep them off to get a smoother experience.
Frame Rate and BR Mode Graphics Style. are two other settings to keep in mind.
Select the "Max" option on Frame Rate, as this will make sure that you have the smoothest experience. As for the BR Mode graphics style, we would suggest the "Dynamic" style.
While this is an option that you can choose according to what you like most, Dynamic makes enemies a bit easier to spot if they are far away.
How about we take a look at some more quick tips?
Bonus COD: Mobile Setting Tips!
Here are some of the settings that we use in COD: Mobile
Two-Thumb Layout
The two-thumb layout is pretty common. It's used by the majority of pros, and it can do wonders in both Multiplayer and Battle Royale matches.
"Always Sprint"
Most players don't use headphones to play COD: Mobile. This means that these players won't care as much for footsteps, since they won't be able to hear them.
So, by activating the Always Sprint option, you'll be able to get around faster. And there are practically no disadvantages to using it.
Auto-Loot on Battle Royale
You always want to pick up everything in the early-stage of every Battle Royale match. This becomes easier to do (faster) with the "Auto-Loot" setting.
But there's a point, especially on the late-stage, when you don't want or need to collect everything that you encounter. Here's when you have to decide if automatic, bulk collecting is worth it or not.
If you decide it is, then at least make sure to alter your auto-loot settings according to your playstyle. If you never use Sniper Rifles, then set the Sniper Scope auto-collect number to 0.
Today's guide was highly-requested since a lot of COD: Mobile players come directly from console versions. But what if I tell you there's a way to play this game with a controller?
How to Play COD Mobile With a Controller?
You read right. Developers have supported Xbox One and Playstation 4 controllers since Season 2 (2020). Any other controllers might not work as well as these two.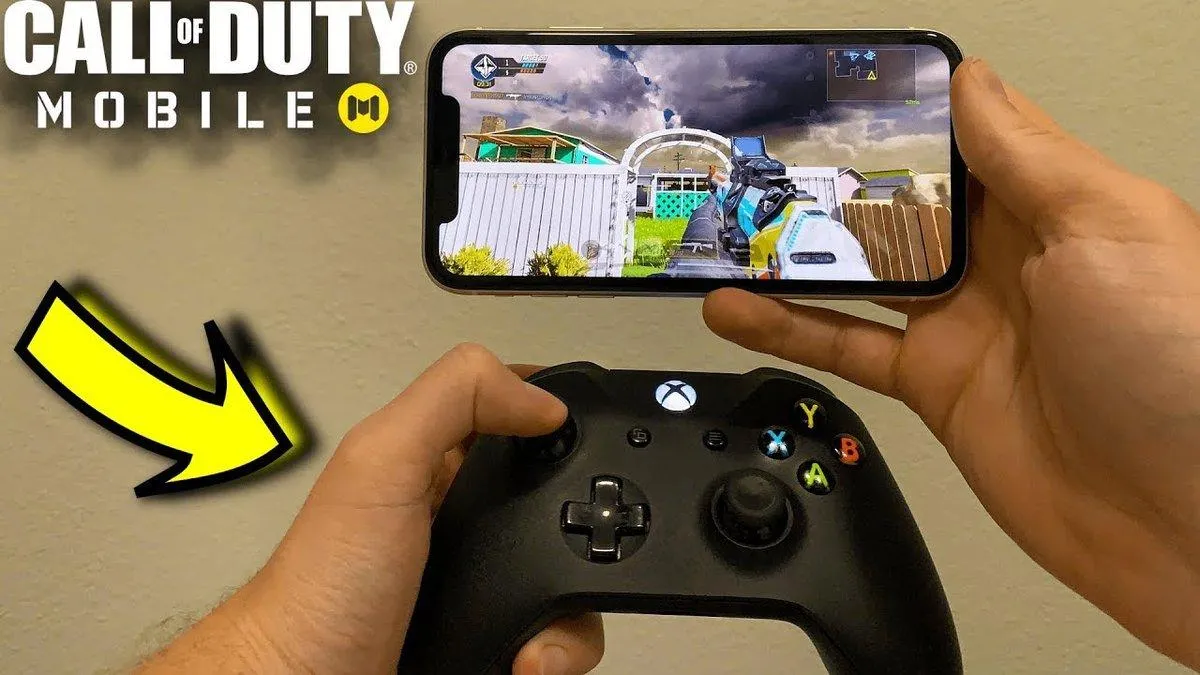 Here's how to connect your controller to Call of Duty: Mobile:
1) Pair your controller to your phone through Bluetooth. To do that, turn on Bluetooth on your iOS or Android phone and tap on "Pair New Device."
2) When you've got that done, launch Call Of Duty: Mobile.
3) On the top right corner of the settings screen, select the "Controller" option.
4) Once you're there, tap on the settings on the controller tab, and enable "Allow to Use" Control.
You can also use an iOS or Android phone's adapter (which functions as a converter of a typical USB to USB-C).
Keep in mind, however, that you will be matched against other players who are using controllers. So forget about getting an advantage and taking the lead because of that.
---
Now, speaking of advantages… Are you planning to use these best settings for Ranked? Let me know in the comments below!