All Weapons Platforms in Modern Warfare 2 and Warzone 2 (2022) Full List
On this page, you can find all the new Weapons Platforms available in Call of Duty: Modern Warfare 2 (2022) and Warzone 2.
All your progressions through the Weapons Platforms will be shared between Modern Warfare 2 and Warzone 2.
Weapons Platforms are one of the main addition to Call of Duty's Gunsmith, let's take a look at what is a weapons platform and how it works in the game.
All Weapons Platforms in Modern Warfare 2 and Warzone 2:
Here are all the confirmed weapons platforms available in COD Modern Warfare 2 and COD Warzone 2:
What is a Weapon Platform in Modern Warfare 2 and Warzone 2?
Modern Warfare 2 is introducing the Weapons Platforms system to the COD series. You can consider a Weapon Platform as a family of base weapons. For example, the M4 Platform includes the following base weapons: M4 (AR), M16 (AR), 556 Icarus (LMG), FTAC Recon (Battle Rifle), and FSS Hurricane (SMG).
Weapons Platforms allow you to upgrade a base weapon in your loadout beyond its class. For example, you can turn an assault rifle into an SMG, or LMG by swapping its Receiver attachment.
Unlike previous years where every weapon was considered a unique element and not part of a family, Weapons Platforms streamlines progression and create attachment pools for easier swaps between playstyles via the Gunsmith.
In addition, weapons Platforms will also let you use the attachments that you unlock for a specific weapon on all the weapons within a Platform.
Here you can find all the weapons platforms available in Modern Warfare 2 and Warzone 2.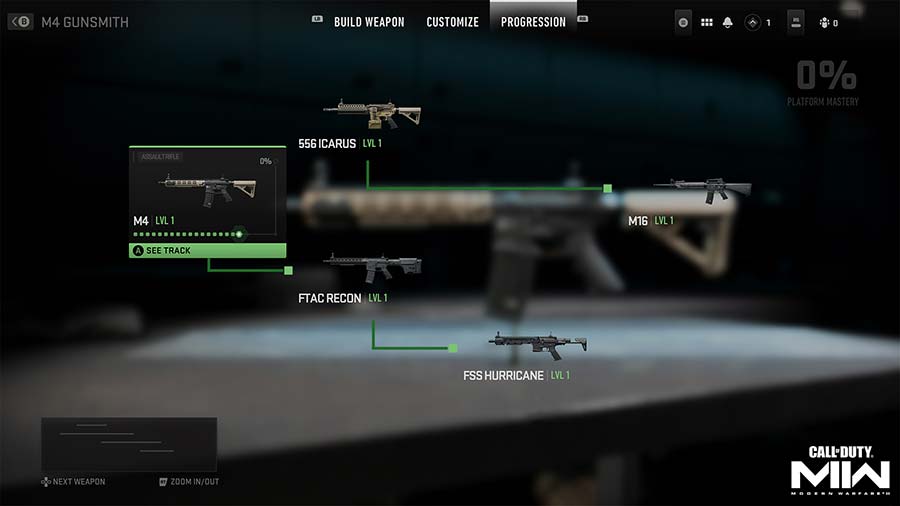 How to Unlock Weapons in Weapons Platforms in Modern Warfare 2 and Warzone 2:
When levelling up your base Military Rank (Rank 1 to 55) you'll unlock one base weapon for each weapon platform of the game. For example, the above M4 Platform is the first unlocked Weapon Platform of the game, and it is unlocked with the M4 Assault Rifle.
When in the M4's Gunsmith, you will see the new Receiver attachment in addition to the other classic attachment slots. Just like in previous games, when levelling up a weapon you'll unlock attachments for that weapon, and in Modern Warfare 2, these unlocks include Receivers.
When you level up a weapon and unlock a receiver for a "new" weapon, you will also unlock that new base weapon for your Loadout.
Once a weapon from the Platform is unlocked, you'll also find it as a base weapon in its designated Weapon Categories in the Loadout Screen.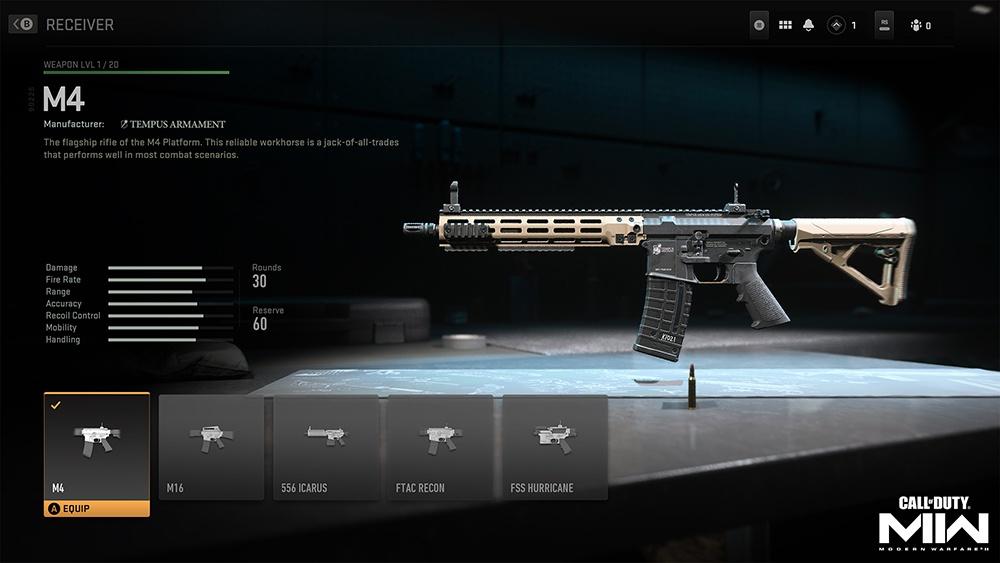 COD Modern Warfare 2 Weapons Platforms List (2022):
Here's the full list of the COD Modern Warfare 2 weapons platforms that have been confirmed for the game:
Basilisk 500 Platform
Bruen 890 Platform
Bruen Bullpup Platform
Bryson 800 Series Platform
Bryson Long Rifle Platform
Expedite Platform
Fennec Platform
Imperatorium Platform
Kastovia Platform
Lachmann Meer Platform
LMP Platform
Lockwood Sport Platform
M4 Platform
Mark 2 Platform
MRBA Platform
Ordnance Platform
RAAL Platform
SAKIN G Series Platform
SAKIN MG Platform
Signal Platform
Tactique Defense Platform
Tactique Verte Platform
XRK Platform
---
Call of Duty: Modern Warfare 2 released on October 28, 2022, for Xbox Series X|S, PlayStation 5, Xbox One, PlayStation 4, and Windows PC, with a globe-trotting single-player campaign, immersive Multiplayer combat, and co-op Special Ops experience.