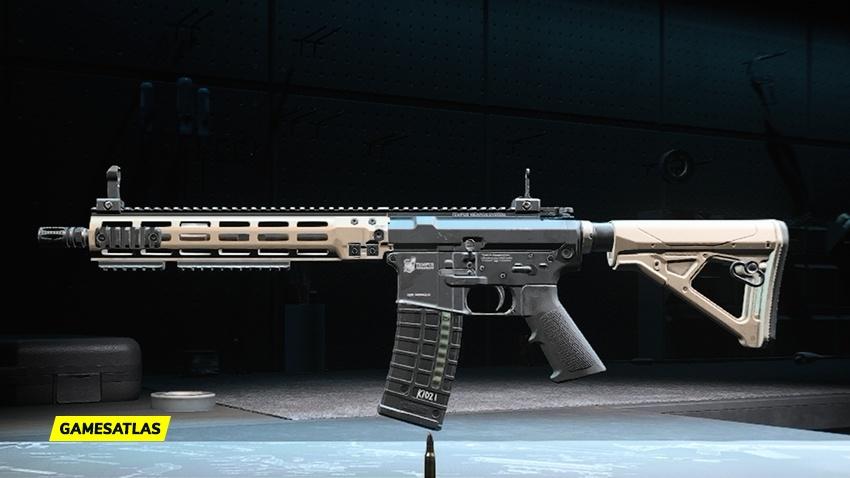 The M4 is a weapon featured in Call of Duty: Modern Warfare 2 (2022), it is one of the Assault Rifles available in the game.
The M4 was released in Modern Warfare 2 with the launch of the game on October 28, 2022, and on Warzone 2 when the game releases on November 16, 2022, along with Season One.
The design of the M4 is based the real-life gun Colt M4A1.
The M4 is part of the M4 Platform family of weapons.
Here you can find the main information about the weapon, the best M4 loadout for the MW2 multiplayer and Warzone, and the complete Weapon Blueprints list for the M4 available in COD Modern Warfare 2 and COD Warzone 2.
M4
The flagship rifle of the M4 Platform. This reliable workhorse is a jack-of-all-trades that performs well in most combat scenarios.
M4 Weapon Info
Game

Modern Warfare 2

Weapon Class

Assault Rifles

Phonetic Alphabet

Alpha

Release

Game Launch

Weapons Platform

M4 Platform

Weapon Type

Primary Weapon

Based on (Real Life)

Colt M4A1
Users Rating
M4 Best Loadout in Modern Warfare 2:
Here's the best M4 loadout for Modern Warfare 2 multiplayer:
These are the best attachments setup for the MW2 M4 weapon, updated to December 2022.
The Cronen Mini Red Dot attachment adds Precision Sight Picture, while decreasing Aim Down Sight Speed.
The Komodo Heavy improves Horizontal Recoil Control, while decreasing Aim Down Sight Speed, Aiming Stability.
The Hightower 20" Barrel attachment improves Hip Fire Accuracy, Recoil Control, Damage Range, Bullet Velocity, while lowering Aim Down Sight Speed, Hip Recoil Control, Movement Speed.
This top Modern Warfare 2 M4 loadout is perfect for close to mid-range combat, giving you lower recoil and higher damage.
M4 Blueprints List in Warzone 2 and Modern Warfare 2:
You can see the full list of all the blueprints for the M4 released in Modern Warfare 2 and Warzone 2 via Store Bundles, Season Pass, or challenges.
Click on a Blueprint to see their specific attachments and how to build them in the Gunsmith menu. Here are all the blueprints for the M4 in MW2 and Warzone 2:
List of Attachments Unlockable with the M4 in MW2 and Warzone 2:
Here are all the attachments that you can unlock with the M4 in MW2:
M4 Attachments in Modern Warfare 2 and Warzone 2:
Here are all the attachments for the M4 weapons that you can equip in Modern Warfare 2 to build your custom M4: