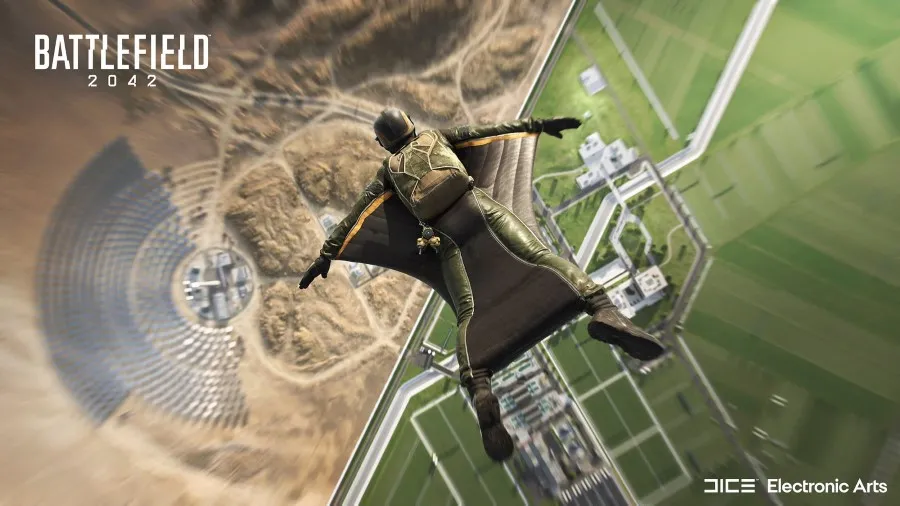 Location

Eastern Desert, Egypt
Renewal Map Description:
Renewal is a multiplayer map that will be featured in Battlefield 2042. It is a large-sized map designed for 64 vs 64 battles.
Wrestle for control of an agriculture technology center in the Egyptian Desert.
From the screenshot we received from Electronic Arts, we can see that Renewal looks like a huge map full of fields, and small buildings. It will be a great map for aerial combat, as well as huge tank battles in the middle of the crops. We can imagine running on foot with our Specialists and hiding in the high, growing wheat that could be flattened with heavy vehicles.
We can also assume that many creative players would draw on the fields if that feature is included in Battlefield 2042. One more assumption we can make is based on the parachuting soldier. It may be also a part of the Battle Royale map, that would allow you to skydive into the battlefield. However, we know that battlefield has parachutes outside of Battle Royale so it is a long shot.
The Renewal is also divided into two parts, the second part is focused on some facility in the middle of the desert, right beside the fields and crops on the right.
Renewal Map Layout:
Coming Soon.