Battlefield 2042 Weapons (2021)
This is the home for all Battlefield 2042 Weapons. Here you can find all the confirmed weapons for Battlefield 2042, releasing on October 22nd, 2021.
Battlefield 2042 Confirmed Weapons List:
SIG Sauer MCX Spear (2020)
AK-12 (2012)
Colt M5 Enhanced Carbine (2017)
FN Scar-H CQC (2004)
LWRC SMG 45 (2019)
KRISS Vector (2006)
PKP Pecheneg (2001)
KAC LAMG (2017)
Remington M870 MCS (2003)
Chukavin SVCh
DSR-1 Precision (2000)
Carl Gustaf M4 Rocket Launcher (2014)
Sako TRG
Glock 19 Gen 4
M4V7
More To Be Announced Soon
All these weapons have been spotted and identified in the official Reveal Trailer of Battlefield 2042 from the Reddit user TheRealSpaceHosh.
This is just an initial list of all the weapons that we will see in Battlefield 2042, more weapons will be revealed in the upcoming weeks.
Battlefield 2042 Weapon Attachments and Plus System
One of the new features of Battlefield 2042 is the Plus System, the ability to swap attachments on the weapons in real-time, while playing, without accessing any menus.
A button tap will show you a plus-shaped UI menu over your weapon where you'll be able to change optics, muzzles, magazines, and grips of your current weapon while you're in the game. You can take a first look at the new attachments Plus System in the in-game picture below.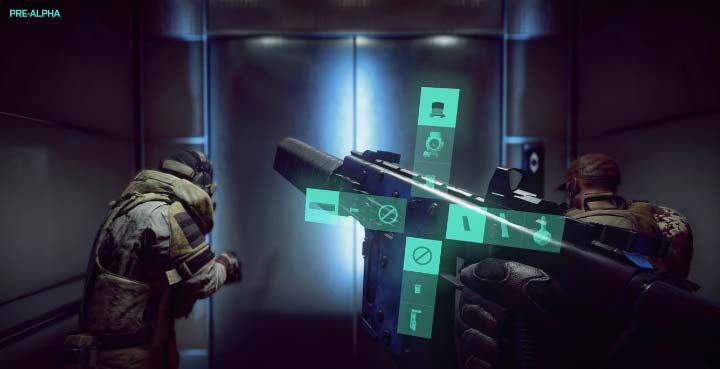 ---
Battlefield 2042 is scheduled to release on October 22nd, 2021 on PS4, Xbox One X/S with support for up to 64 players, and PC, Xbox Series X/S, and PS5 with support for up to 128 players.