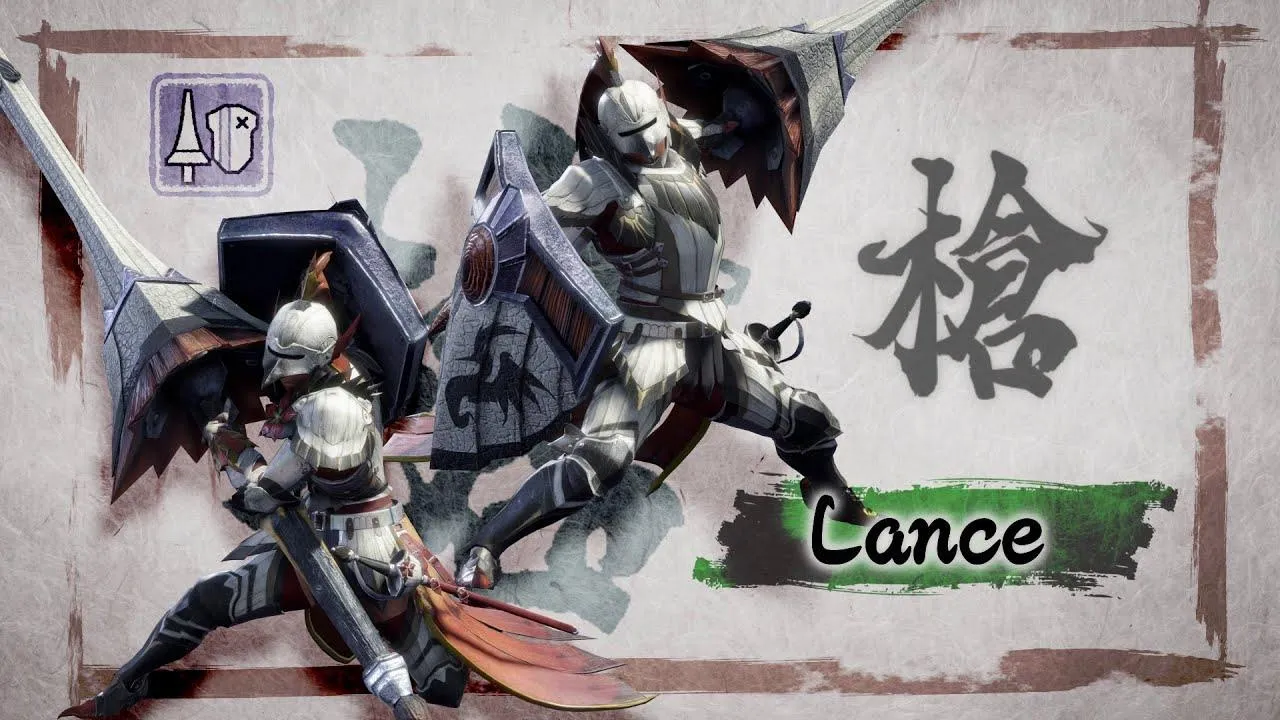 A fantastic weapon with a great defense whose shield is able to withstand powerful attacks without affecting mobility. Ideal for fighting right in the monster's face. At first, it might seem slow, but looks can be deceptive. Now, with this Monster Hunter Rise Lance guide, you have control over the battlefield, blocking everything the monster throws at you (well, at least, nearly everything) and retaliating with ferocious poking.
Monster Hunter Rise Lance Guide
Lance Weapon Traits
Thrust-based damage weapon,
Charge attack that hits multiple times,
High range and counter-attacks,
Strongest blocking ability in the game, matched only by its cousin, the Gunlance.
Lance Controls
Mid Thrust: X
High Thrust: A
Wide sweep: X+A
Guard Dash: ZR+LS+X
Dash Attack: ZR+X+A
Counter-thrust: ZR+A
Guard: ZR
Charged Wide Sweep: Builds up power as you hold down the buttons. Release both buttons to unleash a devastating Charged Wide Sweep.
Counter-thrust: Hold ZR to hold up your shield, and you'll automatically counter; tap it to Cancel Thrust fast.
Power Guard: Press ZR+A while charging Counter-thrust or during guard reactions to activate Power Guard. Your stamina will deplete as long as your shield is readied, but stun time from guarding will be greatly reduced until your stamina runs out, allowing you to swiftly counter-attack.
With the combination of all these attacks, you can never let the monster catch a breath. If it runs away, you can chase it with your charge or the wirebugs available in Rise. Remember that if you do take a hit, the lance's sheathe takes about a millennium, so decide if it's better to tank the following hits or if you'll sheathe to heal up.
Lance Silkbind Attacks
Bonds that tie! Jabs a kunai into the target to get its attention. Pressing the corresponding buttons while the kunai is still lodged into the target will launch you towards it while guarding. Press ZL+X
Let the anger flow! Attacks absorbed while your shield is up, temporarily boosts your attack power. The strength of the boost depends on the power of the attack absorbed. Press ZL+A
Lance Weapon Useful Combos
Basic Combo
X, X, X, B
Mid Thrust I > Mid Thrust II > Mid Thrust III > Backstep
Closing Attacks while Guarding
ZR+LS+X, A, X, X
Guard Dash > Leaping Thrust > Mid Thrust II > Mid Thrust III
Endless Thrusting Combo
ZR+A, A, A, ZR+A
Cancel Thrust > High Thrust I > High Thrust II > Cancel Thrust

---
There will more weapon guides for monster hunter rise here at GamesaAtlas soon, as well as everything you need to know about the best games around.