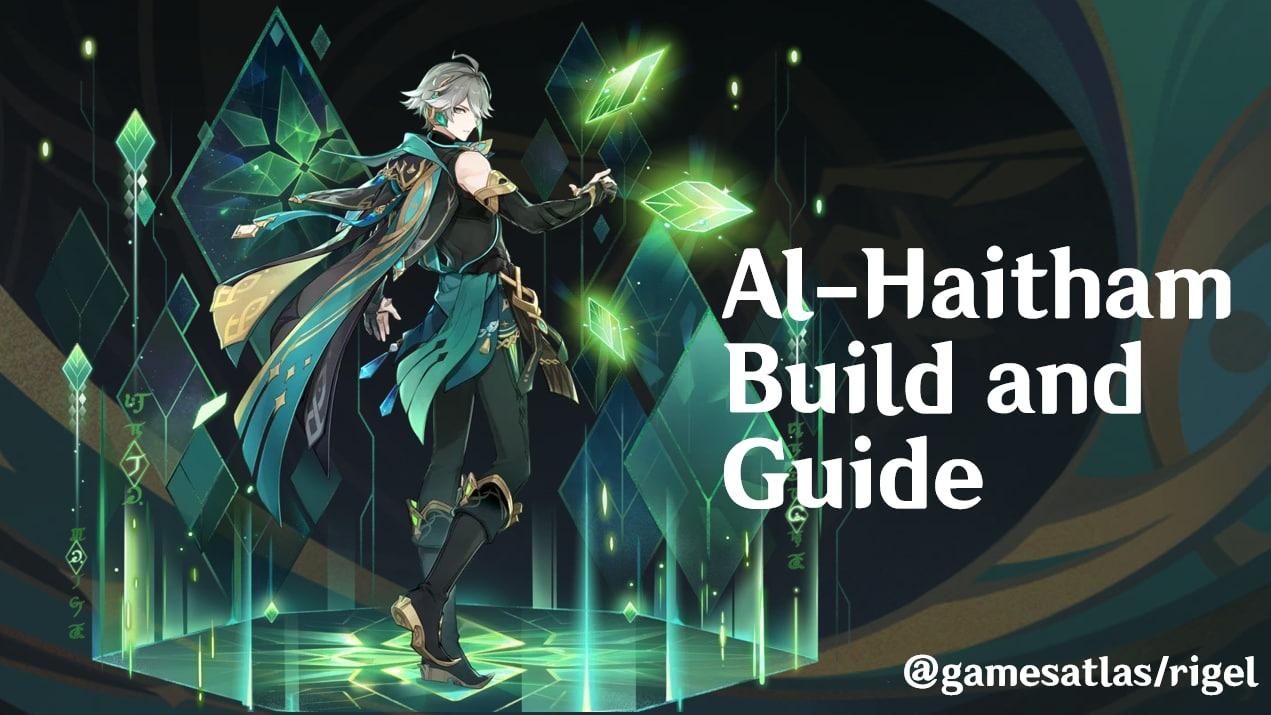 Preview
Al-Haitham is a Dendro 5-star sword character that was released in the current 3.4 patch of Genshin Impact. He is a Main DPS character that can excel in the open world and Spiral Abyss and he seems to be rather strong given the current Dendro meta. Although he might be rather challenging to build, with his various CRIT/ATK/EM requirements, his damage output makes up for it once you've found a good balance. The materials he requires are below: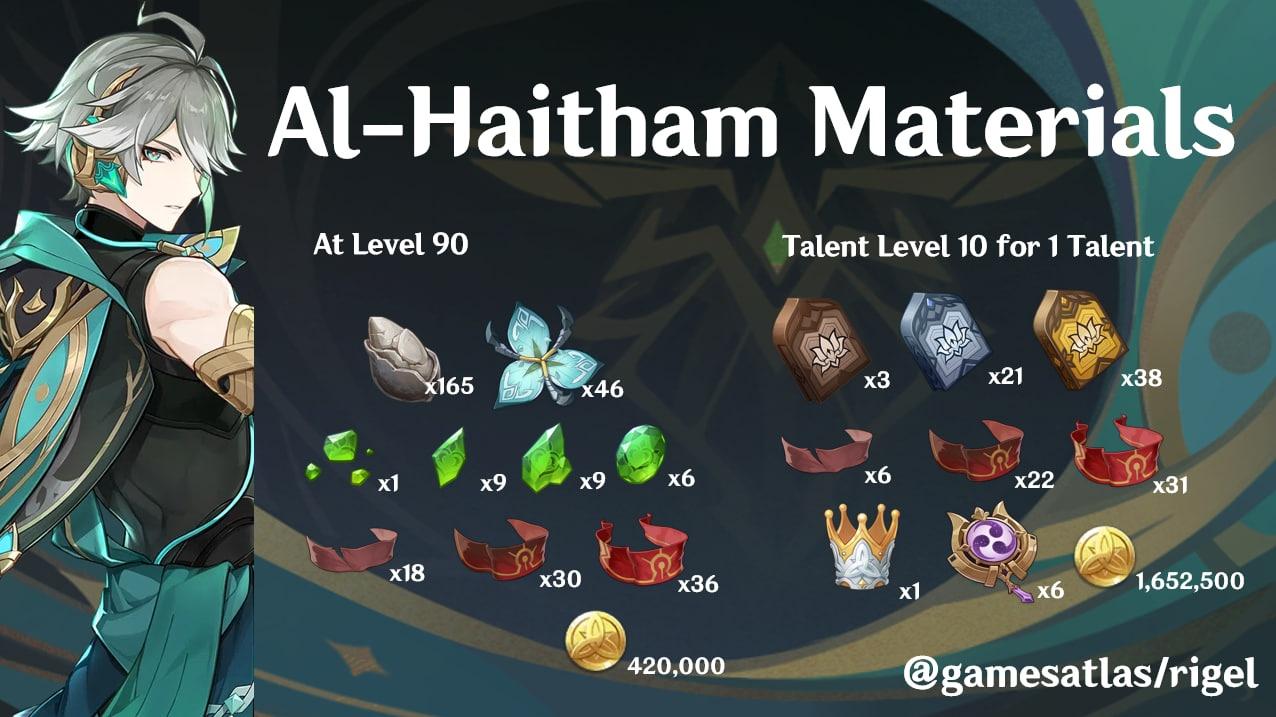 The Mirror of Mushin is earned through defeating the weekly boss Scaramouche, giving 2 or 3 each time at higher levels, while the Pseudo-Stamens required for levelling are obtained from the Setekh Wenut located in the newest desert region in Sumeru. The Faded Red Satin is used to level Al-Haitham and his talents and is dropped by Eremites which can be found throughout Sumeru. His talent books required are Philosophies of Ingenuity, which can be obtained in the Steeple of Ignorance Domain. He uses Sand Grease Pupa as his levelling material.
This article will introduce you to the weapons and artifacts to use on Al-Haitham and the party setup you can use with him. I will include options for free-to-play players as well. As someone with C2R1 Al-Haitham, I am very pleased with his damage output and feel that learning his playstyle isn't too challenging.
Al-Haitham Weapons
Al-Haitham works best with CRIT sub-stat weapons. If possible, I would recommend using a 5-star weapon (Light of Foliar Incision, Primordial Jade Cutter, Mistsplitter Reforged). Otherwise, you can also use the F2P weapon Harbinger of Dawn for its CRIT DMG sub-stat. You can use the weapons below: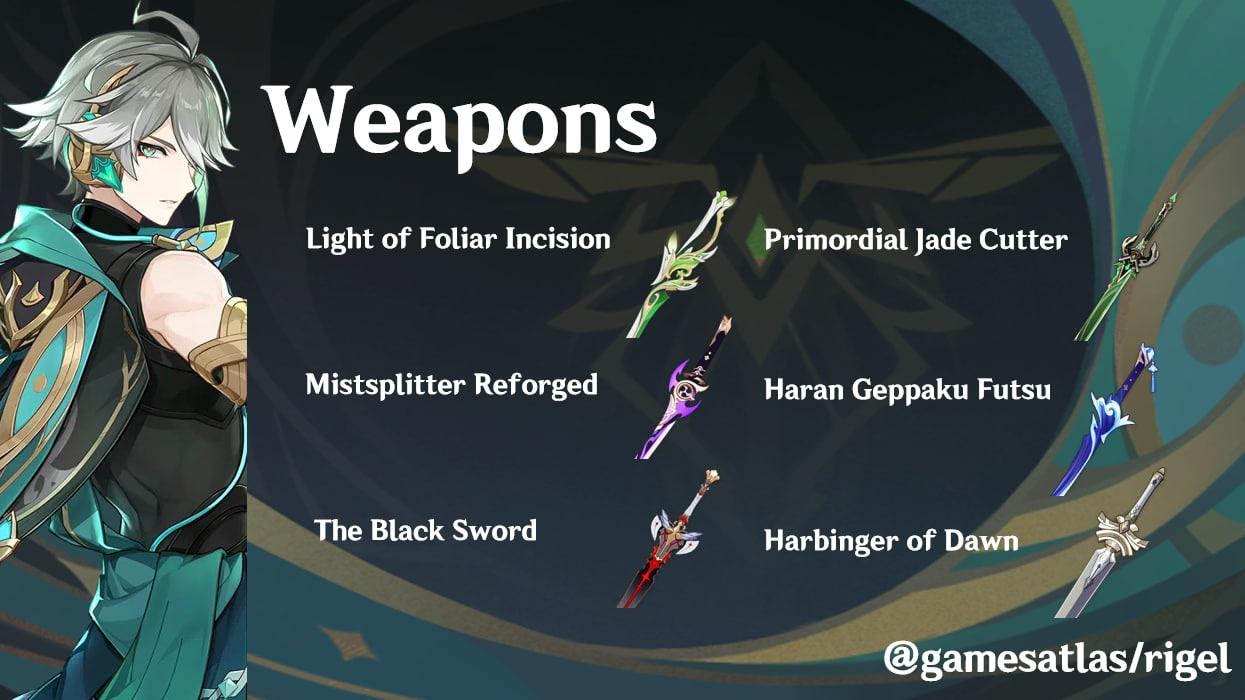 The Light of Foliar Incision sword is the best option for Al-Haitham, but might not be very attainable for F2P players. It has the highest CRIT DMG sub-stat of 88.2%. The passive of the sword increases CRIT Rate by 4%. After Normal Attacks deal Elemental DMG, the Foliar Incision effect will be obtained, increasing DMG dealt by Normal Attacks and Elemental Skills by 120% of Elemental Mastery. This effect will disappear after 28 DMG instances or 12s. You can obtain Foliar Incision once every 12s.
Alternatively, you can use the Primordial Jade Cutter which has a CRIT Rate sub-stat. HP increased by 20%. Additionally, provides an ATK Bonus based on 1.2% of the wielder's Max HP.
Lastly, you can use the F2P-friendly Harbinger of Dawn. It has a CRIT DMG sub-stat. When HP is above 90%, it increases CRIT Rate by 14%.
Al-Haitham Artifacts
Al-Haitham should use a 4-set of Gilded Dreams. The Gilded set increases Elemental Mastery by 80 for its 2-set. Within 8s of triggering an Elemental Reaction, the character equipping this will obtain buffs based on the Elemental Type of the other party members. ATK is increased by 14% for each party member whose Elemental Type is the same as the equipping character (Dendro), and Elemental Mastery is increased by 50 for every party member with a different Elemental Type. Each of the buffs will count up to 3 characters and this effect can be triggered once every 8s. These effects can be triggered when the character is not on the field. The Gilded Dreams set can be obtained from the Spire of Solitary Enlightenment Domain.
For more information about the party setup and characters you can use with him, please refer to the "Party Setup" segment below.
The stats and sub-stats that you should prioritise are as below:
Flower sub-stats: CRIT DMG, CRIT Rate, EM, ATK%
Feather sub-stats: CRIT DMG, CRIT Rate, EM, ATK%
Watch stat: EM
Goblet stat: Dendro DMG Bonus
Mask stat: CRIT Rate/CRIT DMG depending on your weapon. Try to have a 1:2 ratio to ensure consistent DMG output. As he is not a Burst DPS, it isn't too bad if your CRIT Rate is slightly lower.
Having some ER% is good as well as his Ultimate has a rather high energy cost of 80.
Al-Haitham Talents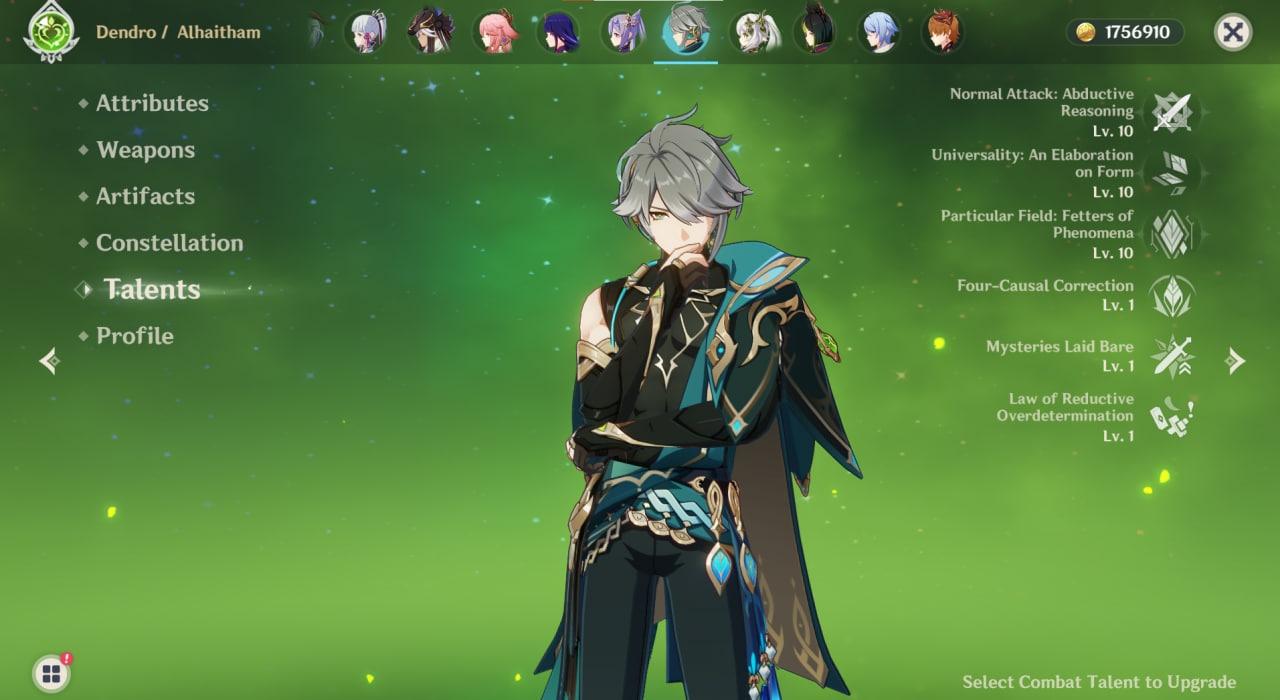 The best order to upgrade your talents is below.
Universality: An Elaboration on Form > Particular Field: Fetters of Phenomena > Abductive Reasoning
Since he is a Main DPS, it is important to upgrade all his talents. Note that when playing Al-Haitham, you should try to have a few Mirrors up to increase his DMG output. Since he gains back Mirrors after using his Ultimate, I would recommend using his Ultimate when he possesses 1 mirror, to generate 2 mirrors.
Party Setup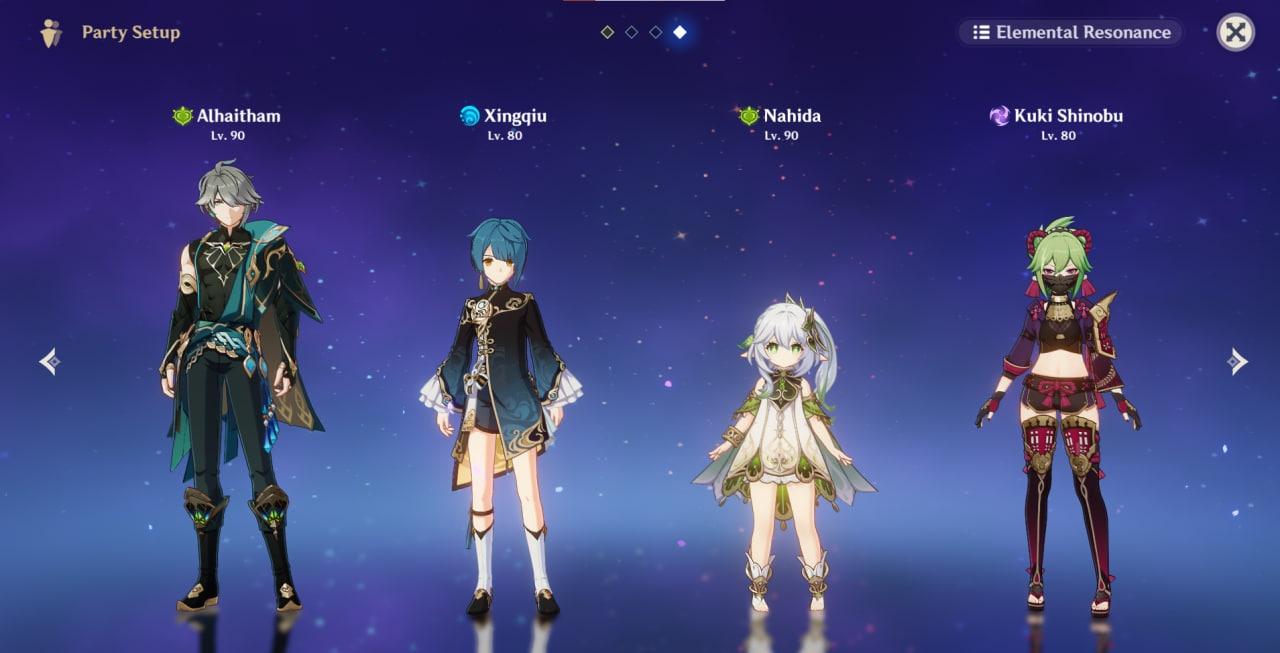 With Al-Haitham as the Main DPS, you should use characters of varied elements, to fully make use of the 4 piece Gilded Dreams set. Al-Haitham should be run with Hydro/Electro characters to trigger Dendro reactions like Bloom/Hyperbloom/Aggravate, so you will have increased EM from this set. Ideally, running him with another Dendro character is good to act as a battery and to reduce Dendro RES. The double Dendro resonance will also give increased EM, especially with Dendro reactions.
An example of my team comp (shown above), is Xingqiu as Support by providing a shield with his rainswords and triggering Hyperbloom by producing the Bloom cores. He has a 4 piece Noblesse Oblige set to increase Al-Haitham's ATK by 20% every time he uses his Ultimate. Nahida is using a 4 piece Deepwood Memories to decrease Dendro RES and is an excellent support for Al-Haitham. Kuki Shinobu is a healer with a 4 piece of Tenacity of the Millelith to increase Al-Haitham's ATK by 20% and to trigger Dendro reactions. Note that the ATK+20% can stack for both 4-piece sets.
Conclusion
Overall, Al-Haitham is an excellent Main DPS character, though his selfish playstyle and high effort required to find good artifacts might make it a little challenging to build him.
We hope that you have found this article helpful! For more information on Yelan, you can check out my Yelan build article here. To learn how to build Xiao, you can refer to my article here or this article on his constellations and team compositions. Do look out for more Genshin guides from me and let us know if there are other articles you would like to read!