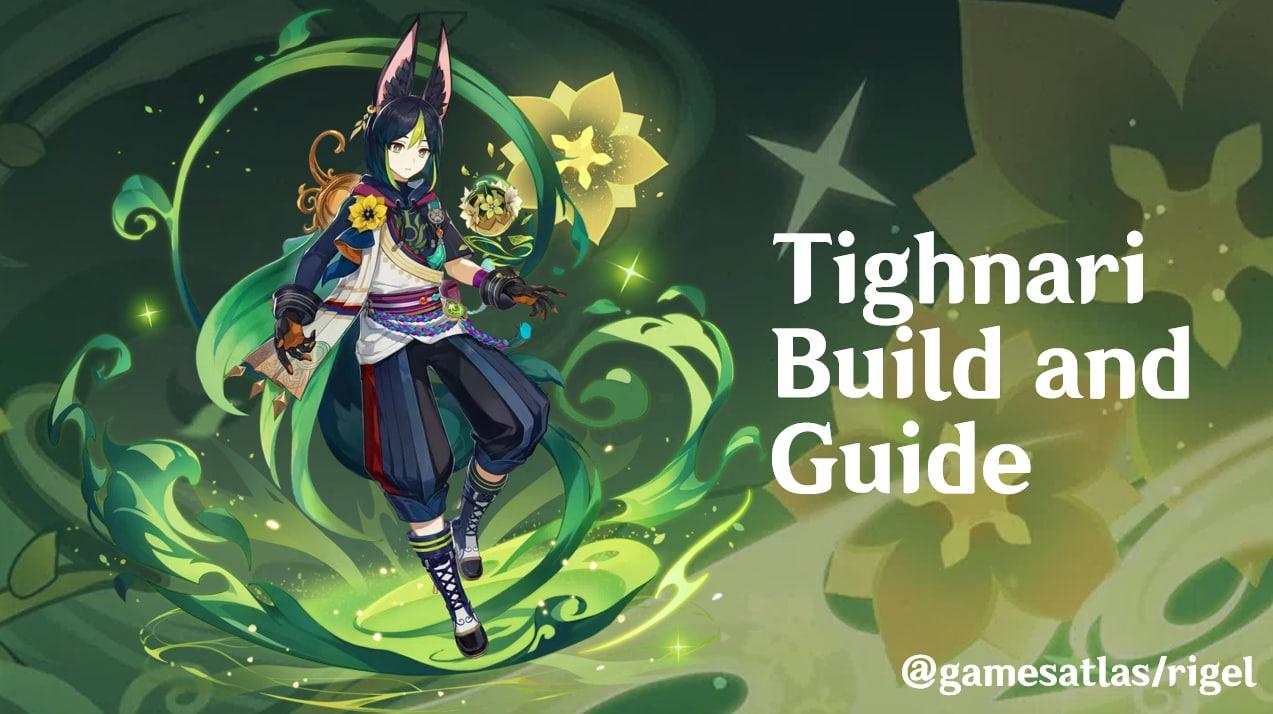 Preview
Tighnari is a Dendro 5-star bow character that was released in the 3.0 patch of Genshin Impact, along with Sumeru. He is a Sub DPS character works well in a quick swap playstyle due to the low energy cost of his Ultimate. He can do quite a bit of damage with Spread/Aggravate reactions and the right combos. The materials he requires are below: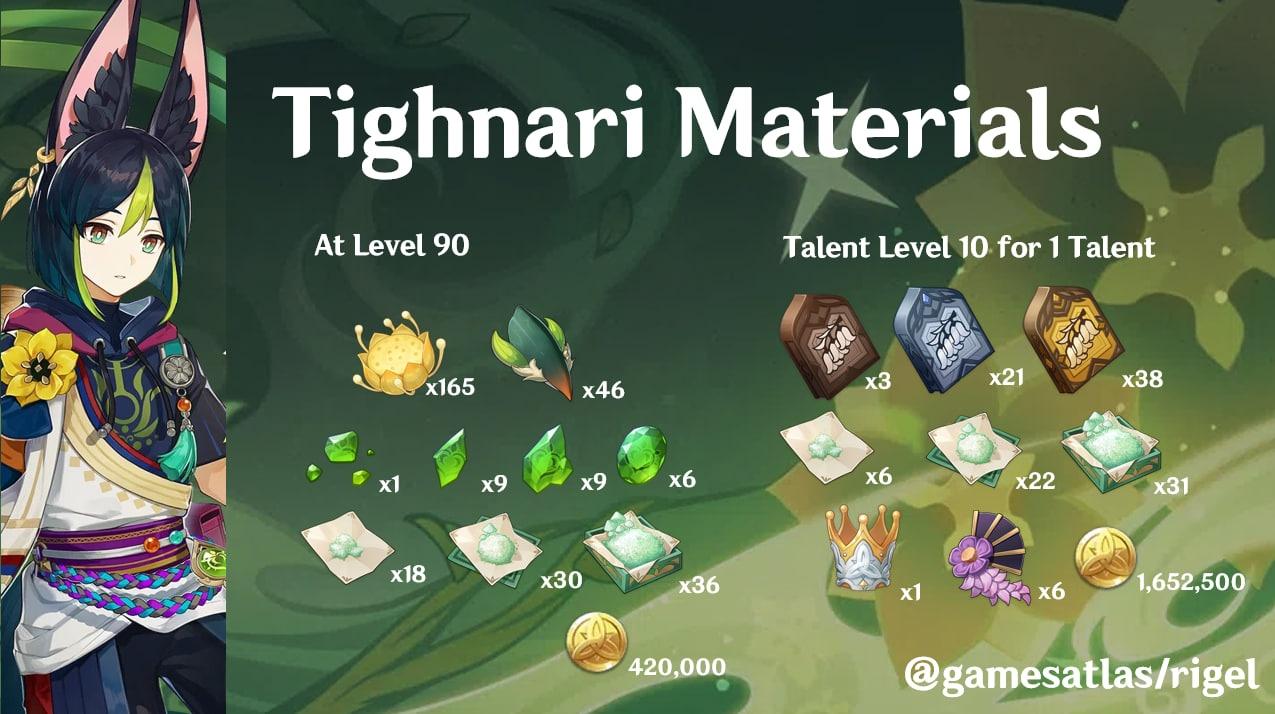 The Meaning of Aeons is earned through defeating the weekly boss Raiden Shogun, giving 2 or 3 each time at higher levels, while the Majestic Hooked Beak required for levelling is obtained from the Jadeplume Terrorshroom located in Sumeru. The Fungal Spores used to level Tighnari and his talents and is dropped by Fungi which can be found throughout Sumeru. Ensure that the Fungi are not affected by Pyro or Electro when defeating them to get the right materials! His talent books required are Philosophies of Admonition, which can be obtained in the Steeple of Ignorance Domain. He uses Nilotpala Lotus as his levelling material.
This article will introduce you to the weapons and artifacts to use on Tighnari and the party setup you can use with him. I will include options for free-to-play players as well. As someone with C1 Tighnari, I am quite pleased with his damage output and the variety of teams I can use with him.
Tighnari Weapons
Tighnari works best with CRIT sub-stat weapons. If possible, I would recommend using a 5-star weapon (Hunter's Path, Aqua Simulacra, Polar Star). Otherwise, you can also use the F2P weapon Slingshot for its CRIT Rate sub-stat. You can use the weapons below: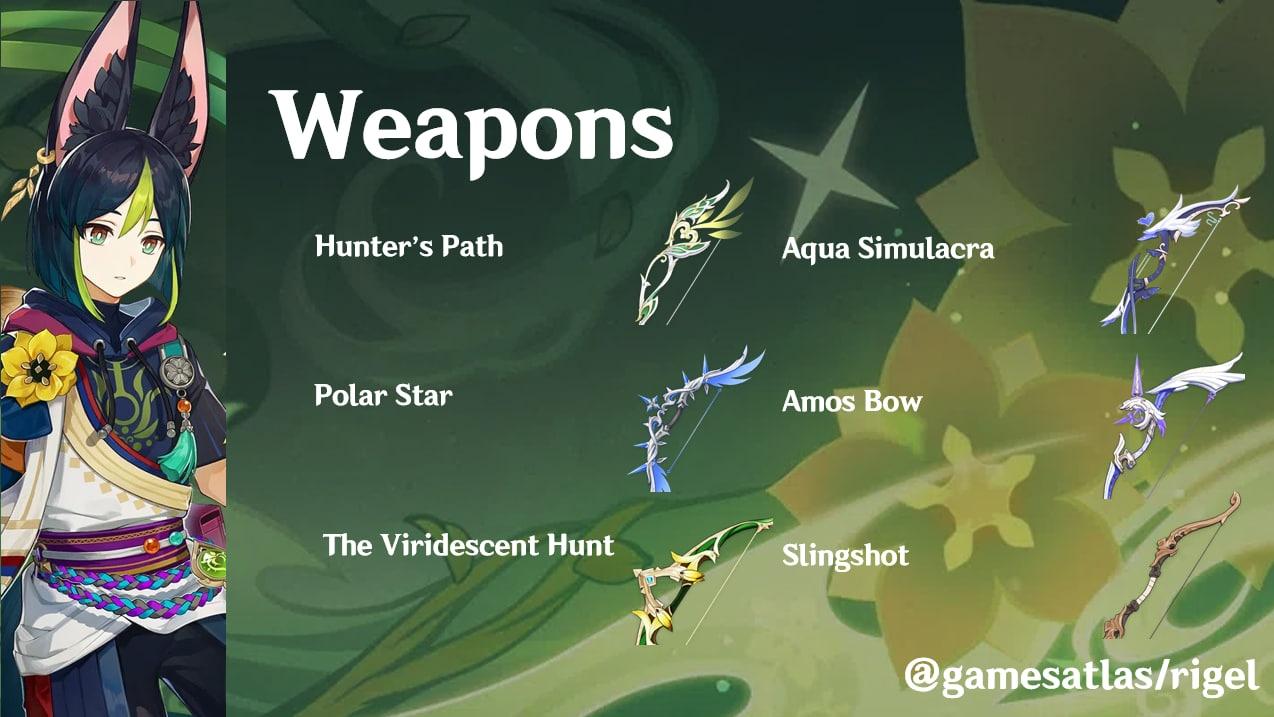 The Hunter's Path bow is the best option for Tighnari, but might not be very attainable for F2P players. It is his BIS and has a CRIT Rate sub-stat. Its passive gives 12% of all Elemental DMG Bonus. Upon hitting an opponent with a Charged Attack, you obtain the Tireless Hunt effect. This effect increases Charged Attack DMG by 160% of Elemental Mastery. This effect will be removed after 12 Charged Attacks or 10s. Only 1 instance of Tireless Hunt can be gained every 12s.
Alternatively, you can use the Polar Star which also has a CRIT Rate sub-stat. As a quick swap character, I prefer a higher CRIT Rate on him to ensure that he lands his shots and CRITS each time. Its passive increases Elemental Skill and Elemental Burst DMG by 12%. After a Normal Attack, Charged Attack, Elemental Skill or Elemental Burst hits an opponent, 1 stack of Ashen Nightstar will be gained for 12s. When 1/2/3/4 stacks of Ashen Nightstar are present, ATK is increased by 10/20/30/48%. The stack of Ashen Nightstar created by the Normal Attack, Charged Attack, Elemental Skill or Elemental Burst will be counted independently of the others.
Lastly, you can use the F2P-friendly Slingshot. Though it has a rather low ATK as a 3-star weapon, its passive is rather handy at R5 and the CRIT Rate sub-stat is very useful. If a Normal or Charged Attack hits a target within 0.3s of being fired, increases DMG by 36%. Otherwise, decreases DMG by 10%.
Tighnari Artifacts
Tighnari should use a 4-set of Wanderer's Troupe. The Wanderer's set increases Elemental Mastery by 80 for its 2-set. The 4-set increases Charged Attack DMG by 35% if the character uses a Catalyst or Bow. The Wanderer's Troupe set can be obtained from the defeating Weekly Bosses or Normal Bosses in the game.
The stats and sub-stats that you should prioritise are as below:
Flower sub-stats: CRIT DMG, CRIT Rate, EM, ATK%
Feather sub-stats: CRIT DMG, CRIT Rate, EM, ATK%
Watch stat: EM/ATK% (depending on what you need more, from your sub-stats on other artifacts)
Goblet stat: Dendro DMG Bonus
Mask stat: CRIT Rate/CRIT DMG depending on your weapon. Try to have a 1:2 ratio to ensure consistent DMG output. As he is typically used in a quickswap team comp, CRIT Rate is quite important.
Having some ER% is good for quickswaps, but his energy cost for his Ultimate is quite low (40), so it should not be a problem to use it quickly after swapping him back into combat.
Tighnari Talents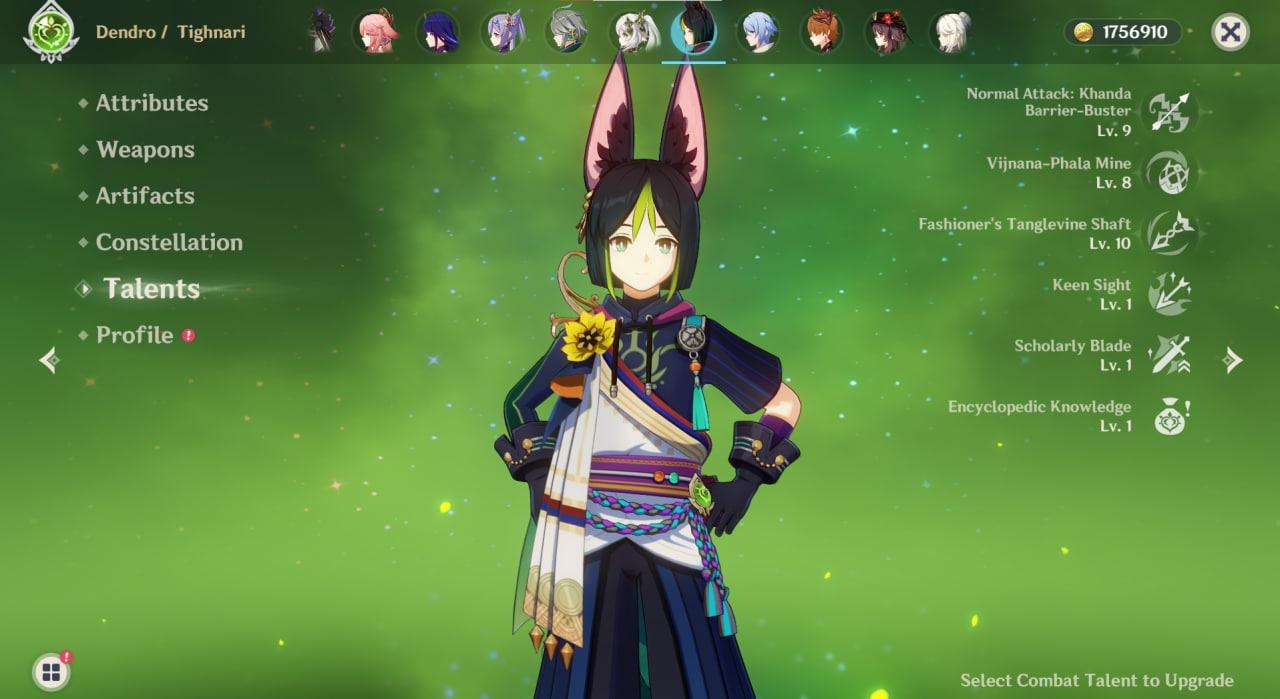 The best order to upgrade your talents is below.
Khanda Barrier-Buster > Fashioner's Tanglevine Shaft > Vijnana-Phala Mine
The best rotation you can use with Tighnari would be Skill -> 1 Charged Attack -> Burst -> 2 Charged Attack. This allows his Ultimate to be affected by his ascension passive talent that increases his Elemental Mastery by 50.
Party Setup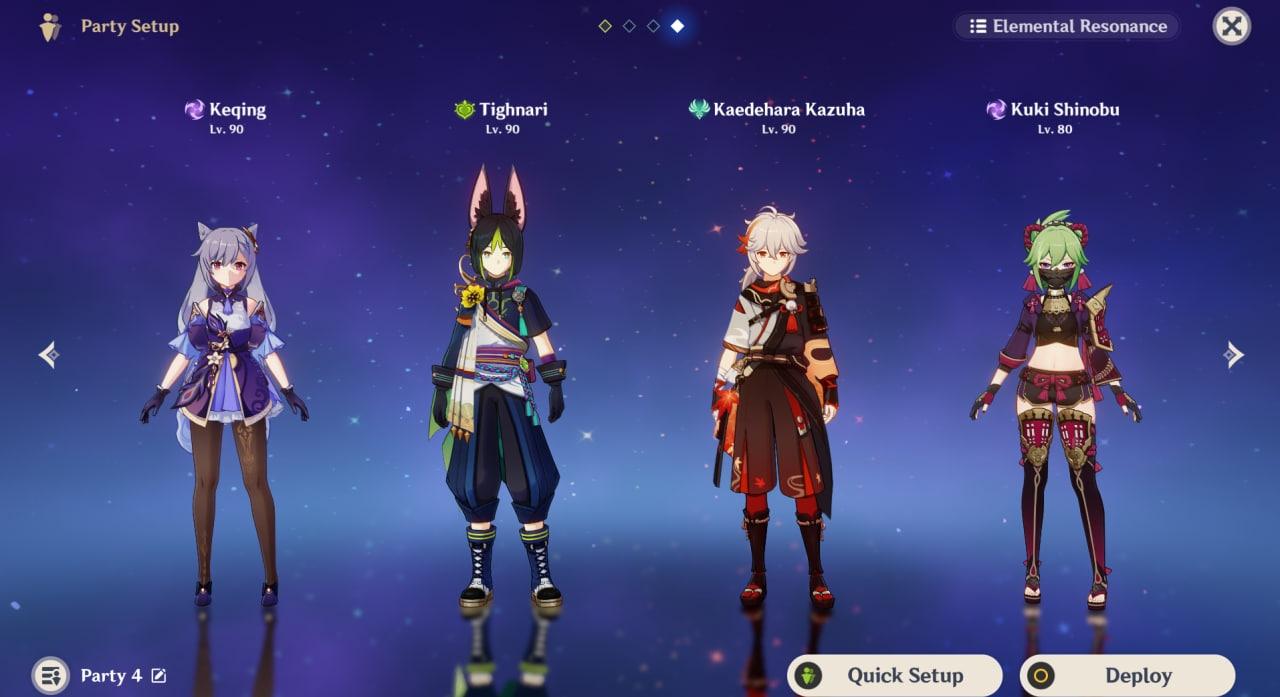 With Tighnari as a Sub DPS, you should use characters of varied elements, to trigger Dendro reactions like Bloom/Hyperbloom/Aggravate.
An example of my team comp (shown above), is Keqing as Main DPS with an Electro build. Kazuha acts as a Support here with 4 Viridescent Venerer to decrease Electro RES and is an excellent support in general. Kuki Shinobu is a healer with a 4 piece of Tenacity of the Millelith to increase ATK by 20% and to trigger Dendro reactions. You can swap Keqing out with other Electro DPSes like Yae Miko.
Conclusion
Overall, Tighnari is a great Sub-DPS character that can be used in many Aggravate/Hyperbloom team comps. He can be built using a Main-DPS build as well, if you prefer, but his low Ultimate cost makes him a great choice for a quick-swap team.
We hope that you have found this article helpful! For more information on Yelan, you can check out my Yelan build article here. To learn how to build Al-Haitham, you can refer to my article here. Do look out for more Genshin guides from me and let us know if there are other articles you would like to read!