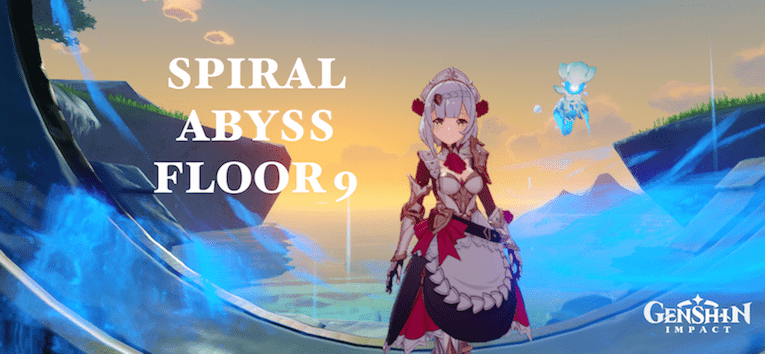 As the first floor of the Abyssal Moon Spire, you should definitely attempt this level when you have enough levelled characters. With enemy levels from 72-76, I would recommend bringing at least level 75 characters into this floor. I brought level 80-90 characters into this floor of the Abyss and it was rather easy. This article will detail the tips for Floor 9 of Spiral Abyss, and how to benefit from the specific Ley Line Disorder to get all the possible rewards.
Floor 9 Tips
Unlike the Spiral Abyss, the Ley Line Disorder for this floor does not give specific benefits to any playstyles. All you need to do is stay close to the Ruin Braziers, luring enemies closer to you and preventing death to Sheer Cold.
In Chamber 2 second half, deal as much damage as possible before the Fatui gunners gain their shields. You can do so by saving your Ultimates in Chamber 1 second half and spamming them in Chamber 2. Additionally, always kill the Cryo Abyss Mage first (in Chamber 1 and Chamber 3's second halves), as they pose the most danger to you through higher damage attacks.
Party Setup
For each half, ensure that you have Electro/Pyro characters to break Cryo shields, otherwise ensure you bring Geo or Claymore characters. This is extremely important as you could take extremely long to break shields otherwise, risking your 3 stars for each floor. Since the enemies such as Cryo Abyss Mages and Cryo Hilichurl Shooters can affect you with Cryo, you might want to refrain from bringing Barbara and use Non-Hydro healers so that you will not be "Frozen". I have included 2 party setups, one with mostly F2P available characters and another that includes 5 star characters.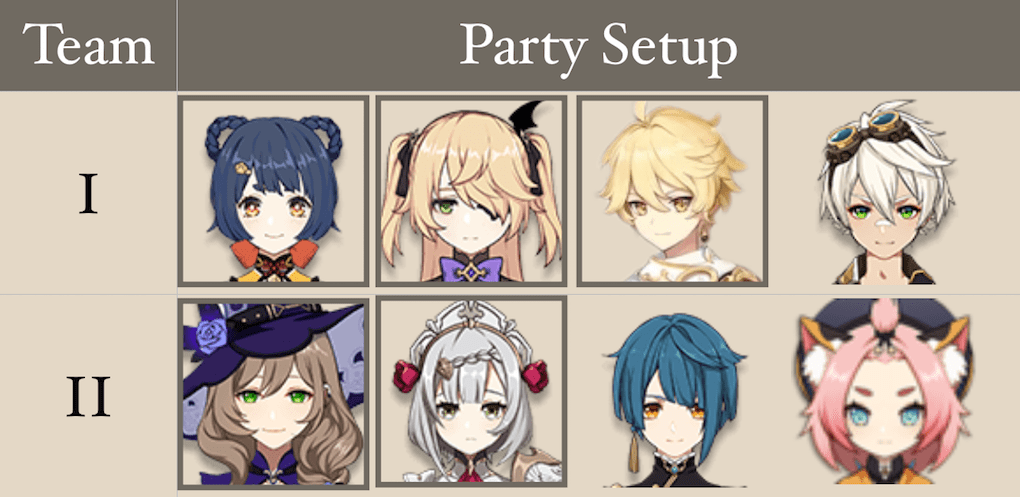 This is the Free to Play setup above, I would recommend bringing Xiangling and Fischl particularly to break the shields. For each setup, ensure that you bring a Main DPS, which could differ based on your various character builds for Xiangling and Fischl while Bennett provides healing with his Ultimate. You can use the Anemo traveller here to group enemies. In the second half, Noelle can be used as Main DPS, Lisa and Xingqiu as Sub DPS and Diona for shields and healing.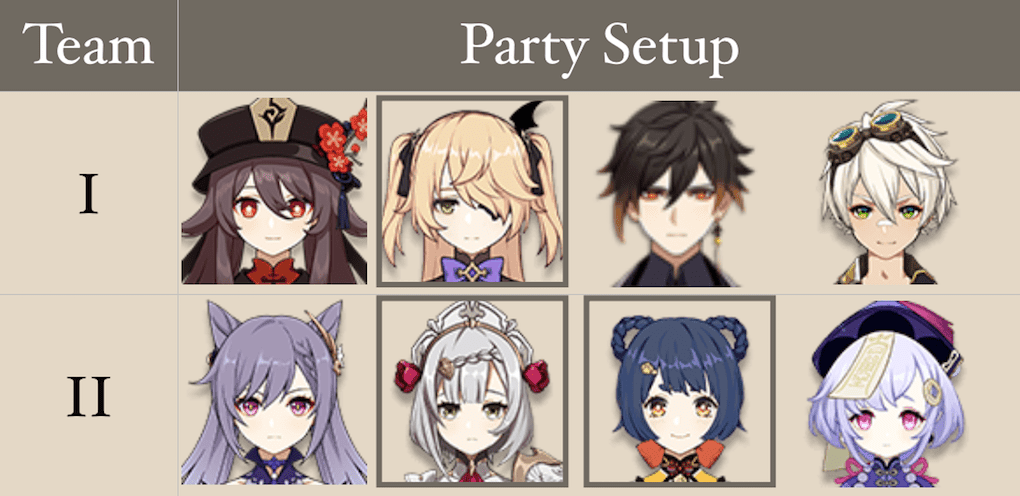 This is the non-Free to Play setup, where Hu Tao is Main DPS, Fischl is Sub DPS and Zhongli with a Burst Support Build allows for greater DMG, while Bennett heals. Here, the double Pyro setup gives the Fervent Flames benefit for higher ATK. Additionally, Bennett's heals synergises with Hu Tao better as she will not heal if not within his circle. For the second half, Keqing is the Main DPS, with Xiangling as Sub DPS and Noelle, Qiqi as Utility.
I have included my own setup below: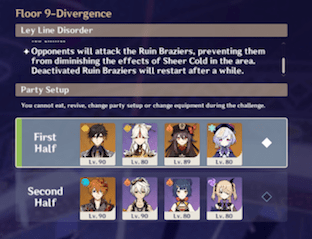 Hope this guide has been informative and helpful, you can read the guide for Spiral Abyss Floor 8 here. I will be writing more guides for the remaining upper floors of Abyssal Moon Spire that require 2 teams, do let us know in the comments if there are other guides you are interested in!