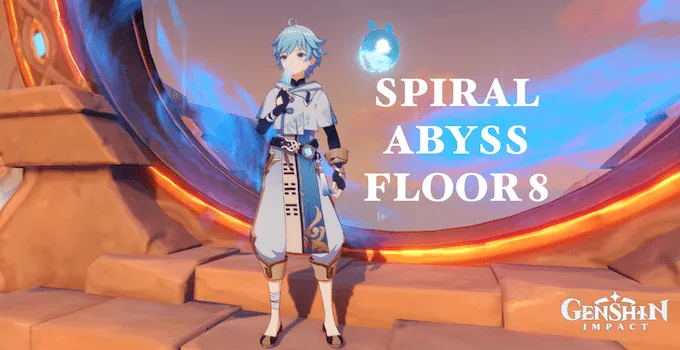 As the last floor of the Spiral Abyss, this floor definitely poses some challenges, especially for players just starting to play Genshin Impact. With all enemy levels at 70, I would recommend bringing at least level 70 characters into this floor. I brought level 70 and 80 characters into this floor of the Abyss and it was manageable. This article will detail the tips for Floor 8 of Spiral Abyss, and how to benefit from the specific Ley Line Disorder to get all the possible rewards.
Floor 8 Tips
The Ley Line Disorder for this floor makes a risky playstyle more rewarding. With lower HP, there is an increase in ATK, DEF, SPD and CRIT Rate, CRIT DMG. To have lower HP, you could refrain from bringing a shield character. You should still bring a healer with a passive heal to avoid dying if your HP becomes too low. To have low HP and not let your characters die, ensure that you do not get a damage "combo" from enemies. In Chamber 1 First half, ensure that you are not "Frozen" by the two Abyss Mages and in Chamber 2, ensure that you do not get caught up when the Ruin Guard starts to spin. Dodge the attacks from the Regisvines by bringing a ranged character (catalyst or bow) that can prevent you from taking damage. Lastly, avoid bringing Barbara for the first half due to the Cryo Regisvine that can affect you with Cryo and will cause you to be Frozen.
Party Setup
I have included 2 party setups, one with mostly F2P available characters and another that includes 5 star characters. For the first half of floor 8, bring a Pyro character to break the shields of Cryo and Hydro Abyss Mages. You might want to bring a Cryo character if possible for the first half as well, to break the shield of the Hydro Abyss Mage quickly. In the second half, bring a Hydro and Cryo character to break the Pyro Abyss Mage shields.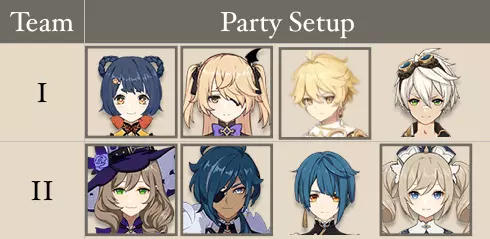 This is the Free to Play setup above, I would recommend bringing Xiangling and Fischl particularly in the first and second halves of floor 8 to break the shields. I have included the Traveller as well, I would recommend bringing the Anemo traveller to group enemies and breaking shields. For each setup, ensure that you bring a Main DPS, which could differ based on your various character builds for Xiangling and Fischl while Bennett provides healing with his Ultimate. In the second half, Kaeya can be used as Main DPS, Lisa and Xingqiu as Sub DPS and Barbara as Utility.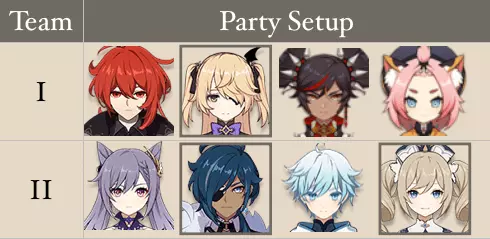 This is the non-Free to Play setup, where Diluc is Main DPS, Fischl is Sub DPS and Xinyan with a Physical Build allows for greater DMG, while Diona heals. Here, the double Pyro setup gives the Fervent Flames benefit for higher ATK. For the second half, Tartaglia is the Main DPS, with Chongyun as Sub DPS and Sucrose, Barbara as Utility. The double Hydro setup gives a shorter effect from Regisvine's Pyro "Effect" and increased incoming healing. Additionally, using Barbara with Sucrose's skill (decreased Elemental RES from 4 set Viridescent Venerer) allows for lower Hydro RES of the Pyro Regisvine. Hence, you can do greater DMG with Childe's Ultimate.
I have included my own setup below: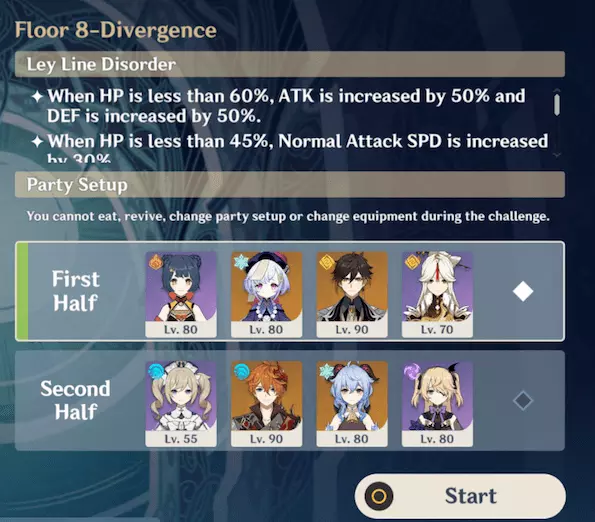 Hope this guide has been informative and helpful! I will be writing more guides for the remaining upper floors of Spiral Abyss that require 2 teams, do let us know in the comments if there are other guides you are interested in!