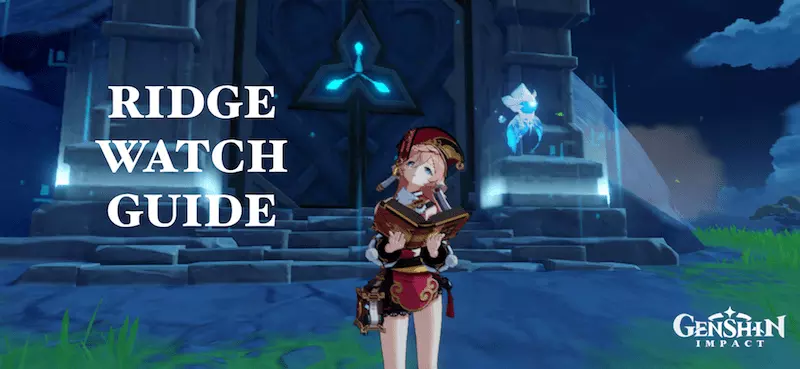 If you have obtained Zhongli from the current banner or would like to build a character for Physical DPS, Ridge Watch is the domain to grind. This article will introduce the characters to bring to the domain and will outline the uses of the various artifact sets you can obtain from this domain. I would recommend only completing Level IV of this domain at AR45 and above to ensure that you can get more 5 star artifacts.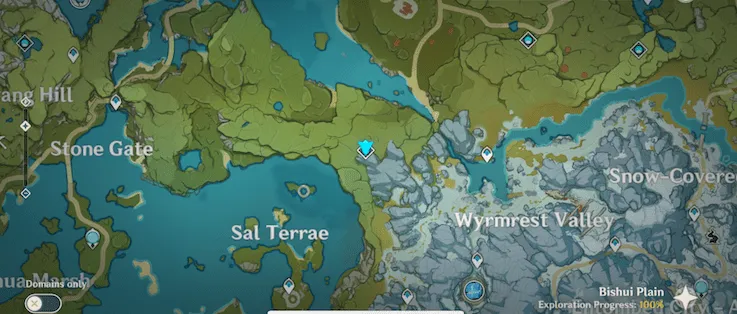 Ridge Watch is located between Dragonspine and Stone Gate, making it a convenient new teleport waypoint.
Recommendations
For all levels of the domain, I would strongly recommend bringing a Geo character (Zhongli, Noelle etc.) that can generate shields. All levels of this domain give a backlash when enemies hit characters protected by shields, unleashing a shockwave that deals AoE DMG.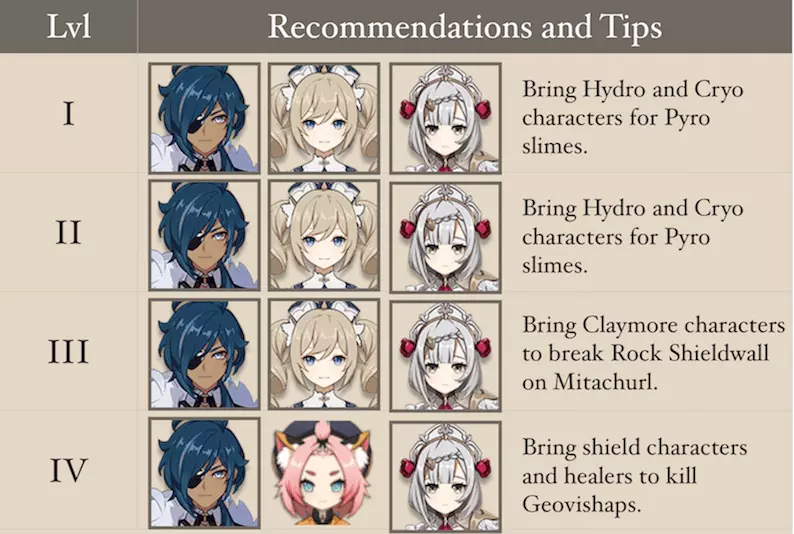 For Levels I-III, bringing Hydro and Cryo characters is integral as there are Pyro slimes.
It is especially important to bring a Geo character and shield character for Level IV of this domain since the Geovishaps can deal lots of damage and you can complete it quickly with more AoE shockwaves from shields. You might want to bring a healer for this level as well if you do not have a strong shield character such as Zhongli, to prevent your characters from dying. Ideally, bringing Zhongli for Level IV of this domain will make it much easier for you to complete it!
Fortunately, the Ley Line Disorder of this domain does not have any drawbacks for bringing any elements, so as long as you can have shields, your character will be of use.
Artifact Sets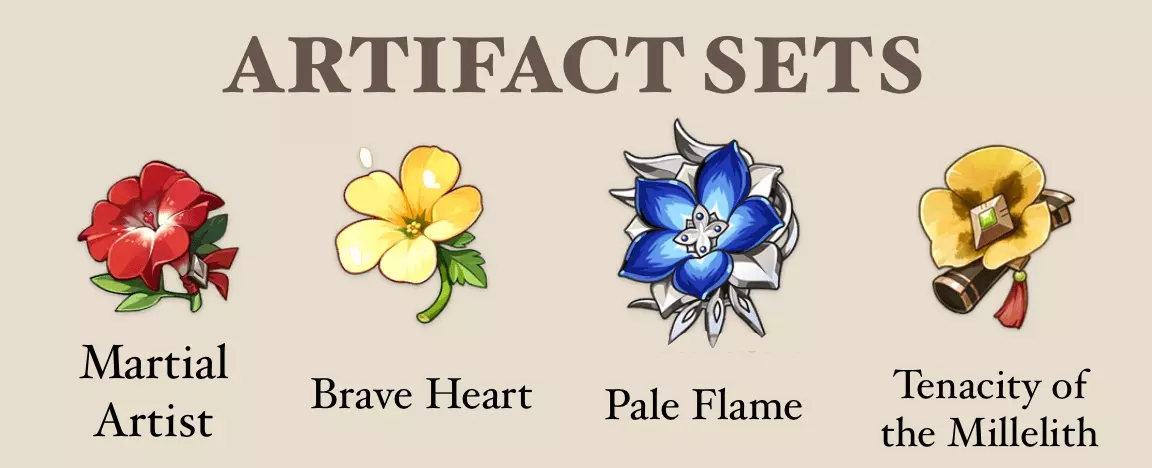 Martial Artist is also a great set if you are just starting to play Genshin Impact - I often call it the budget Gladiator's set. The 2-set of Martial Artist gives an increase in 15% of normal and charged attack DMG. The Brave Heart set is another budget Gladiator's set with a 2-set that gives increased ATK by 18%. However, the 4-set is a little too specific with an increased DMG of 30% against opponents with more than 50% HP. These sets can be used on your Main DPS characters, but do switch to Gladiator's later in the game for better ATK percentages.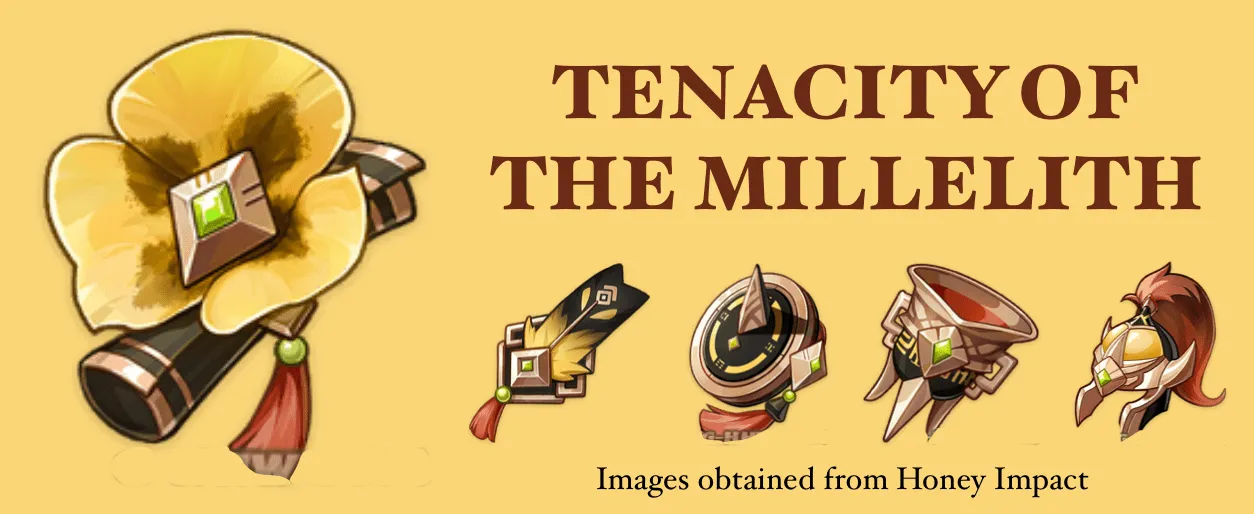 Tenacity of Millelith increases HP by 20% in a 2-set. The 4-set increases ATK of all nearby party members by 20% and their Shield Strength is increased by 30% for 3s when an Elemental Skill hits an opponent. This effect can still be triggered even when the character who is using this artifact set is not on the field. Thus, Zhongli and Diona can use this 4-set as they are support characters who scale off HP (Zhongli's Ultimate and Diona's shield strength).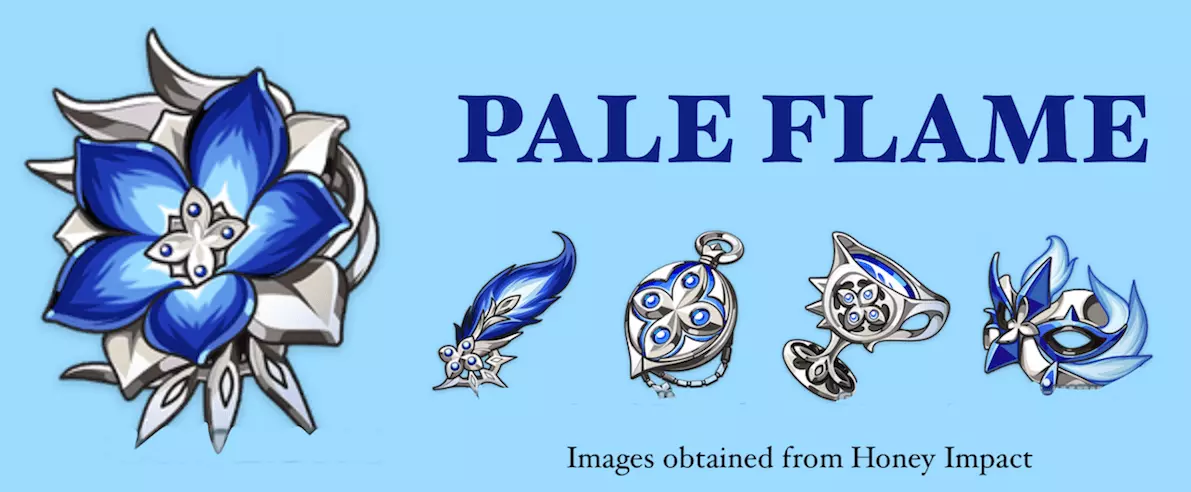 The 2-set increases the Physical DMG bonus by 25%. The 4-set increases ATK by 9% for 7s when an elemental skill hits the opponent. This effect stacks up to 2 times and can be triggered once every 0.3s. Once 2 stacks are reached, the 2-set effect is increased by 100%. This will be amazing for a Physical build and is viable on Razor and potentially Eula. Comparing this with the Bloodstained Chivalry set, I would say that the overall benefits from this set still outweigh the Bloodstained. The 125% Physical DMG Bonus could go up to 200% with a goblet and a Physical DMG Bonus sub-stat weapon.
If you would like to read more of the comparisons between these sets and the older similar sets available for your character builds, you can read this article.
Overall, we hope this domain guide has helped and do let us know if there are any other articles you'd like us to write about! This is the last artifact domain guide of the series but I am open to writing about talent/weapon level up material domains if that is helpful. Happy travelling explorers!