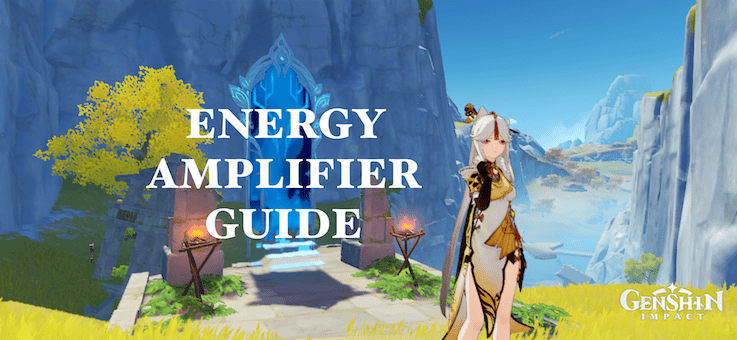 Preview
The Energy Amplifier Event has launched on 30 April and involves several mechanics including a domain similar to the Hypostatic Symphony. This guide will explain the mechanics for each segment (Places of Interest, Twisted Realm Domain, Energy Amplifier) and list the specific difficulties you should tick to select to collect all the rewards.
Places of Interest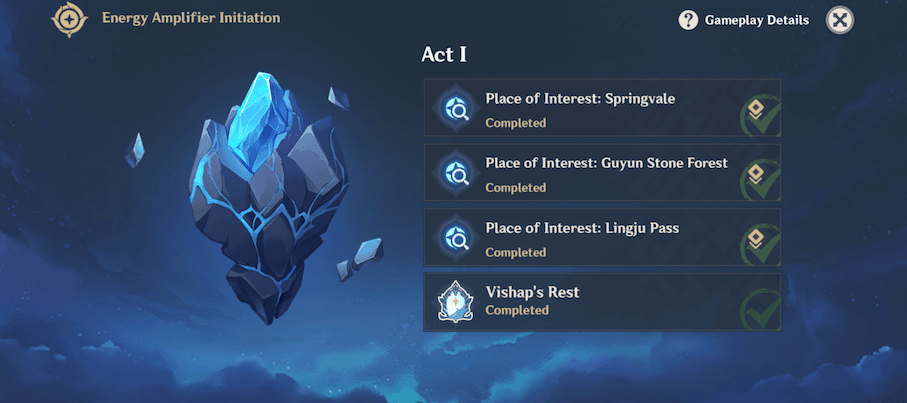 Each act has 3 places of Interest, with each place of interest having 3 different specific locations. The rewards scale as you continue to complete each location and each location is typically harder than the last. When completing these places of interest, ensure that you destroy the stone that buffs enemies. Otherwise, it would be extremely easy to get one shot by the elemental attack combinations. In some of the locations, there could be more than one stone to destroy, so if your attacks are doing less damage and you are taking more damage from enemies, look for the last stone! Trust me, it's way easier to break the stone than to attack while the buffs are on.
Twisted Realm Domain and Recommended Buffs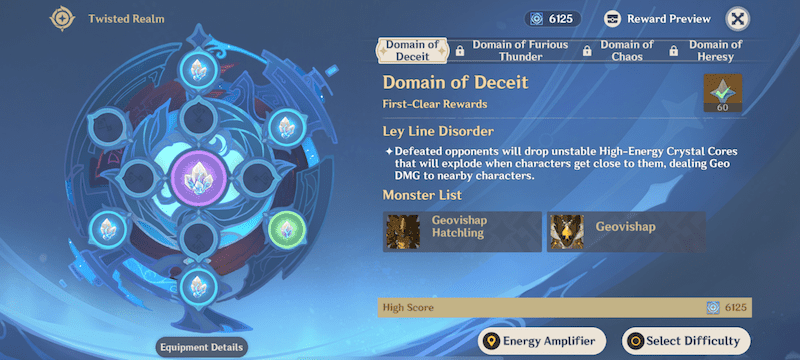 Since this event is similar to the Hypostatic Symphony event, it might be easier to complete this in Co-Op mode. I completed this with 6125 in Co-Op, but the required difficulty to collect all rewards is slightly less. You can scroll down to "Event Shop and Required Scores" for more details on the scores required to obtain all items in the event shop! Unlike the Hypostatic Symphony event, this does not have specific characters with buffs for each domain. Defeating the enemies in each domain is rather simple, the true difficulty lies in the buffs chosen when selecting difficulty.
The buffs you select for difficulty should be based on which characters you would like to bring. When I completed this domain in Co-op, we brought Zhongli, Ningguang, Hu Tao and Ganyu. I personally feel that it is easier to set a shorter time limit and increase the opponents' HP by a smaller amount, for example, 180seconds limit and +25% HP. Using shield characters and no healers allows you to decrease healing effectiveness and increase opponents ATK, so I would recommend using Zhongli or building Diona for this event. Additionally, you can try bringing characters with Physical DMG builds or other elements apart from those with higher RES in the difficulty selection.
Energy Amplifier

The energy amplifier works using Fractured Fruit Cores and Splinter, where you can select only 1 Core and a few Splinters that make up the maximum Motive Force. Motive Force can be increased by using your friend's characters that are highly levelled.
Since your amplifier can be arranged for both single-player and co-op mode, ensure you have set up your amplifier correctly before attempting the domain. You should pick the fractured fruits that benefit your characters elements and your playstyle. For example, I selected this "Starcrystal Dance" that benefits Geo reactions, as I have Zhongli and Ningguang on my team. Ensure that you read each fragment carefully before placing them in the amplifier -- some of the splinters have benefits for shield strength, which would be useless if you do not have a shield character on your team. Additionally, do clarify with your co-op teammate which characters they will be bringing before selecting your co-op configuration!
Event Shop and Required Scores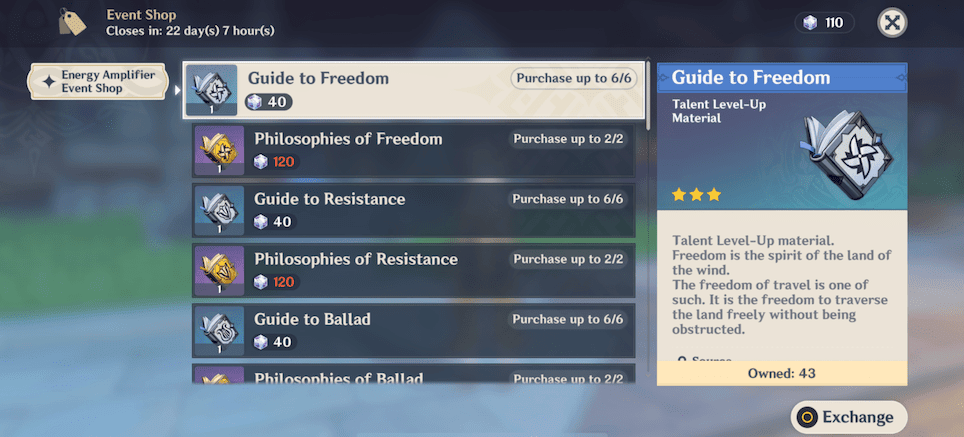 The event shop has Primogems, a Crown of Insight, Talent Books, Ascension fragments, Hero's Wit, Mystic Enhancement Ores and Mora. Ensure that you use 1000 of the event currency to obtain Diona as well! To obtain all the event store items including Diona, you need to have a combined score of 19000. With 4 domains, this brings your average required score for each domain to 4750. If you are looking at only obtaining the namecard for this event, you need a combined score of 15000. The average required score will then be 3750.
We hope that you have found this article helpful and that you are enjoying the new updates in the 1.5 version of Genshin Impact! Head here if you would like to read a Yanfei build guide or here to read about the new domain, Ridge Watch. Let us know if there are other articles you would like to read!