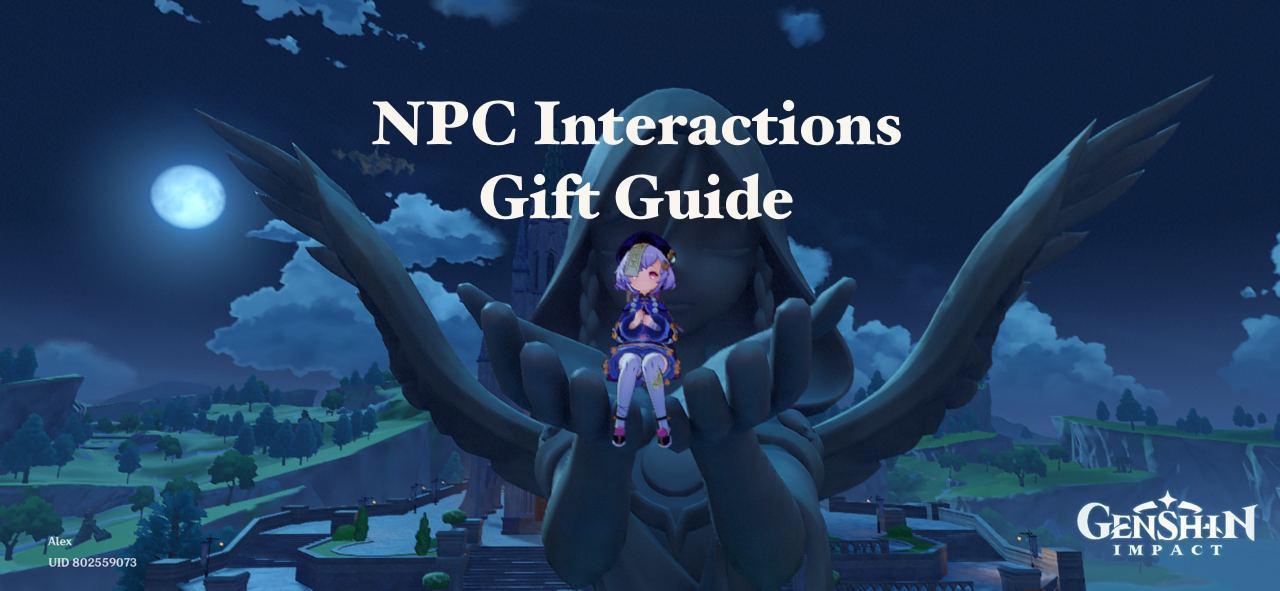 There are loads of hidden gems in Genshin Impact and when it comes to NPCs, Genshin does not disappoint. Apart from the many touching World Quests that can be activated by speaking to numerous NPCs, some NPCs do give various rewards for speaking to them. This article details the rewards that you can get from speaking to these NPCs. I did not include the NPCs that give less valuable artifacts (i.e. less than 4 stars) and those that give 1 star foods such as Steaks or collectable books. I will include photographs of the locations and characters if they are difficult to find, otherwise, there will be a verbal description of the location and conversation options.
Artifacts
Stevens, a researcher in the Dragonspine camp near the entrance of Dragonspine, will give you a 4 star Broken Rime's Echo. The artifact is the tiara in the Blizzard Strayer set and can be used on Cryo characters to boost Cryo DMG. Just ask him "Have you gained anything from your trip so far?" to receive the artifact.
Victoria, a nun found in the Mondstadt Cathedral will give you a 4 star Bloodstained Chevalier's goblet. The goblet is a great addition to your character particularly if you are new to this game, but otherwise can be used as quality level up material. Ask Victoria "Is there anywhere good to go in Mondstadt?", then "Surely it isn't as simple as that...".
Character Level Up Materials
I have only included the NPCs that give you 7 Adventurer's Experience books or more.
Cyrus is found in front of Mondstadt's Adventurer's Guild Headquarters in the daytime. Ask "Who are you?" and he will give 7 Adventurer's Experience books. Ensure that you ask him in the daytime to get the books.
Herman, a retired adventurer, walks around the headquarters of the Knights of Favonius in the daytime. If you ask who he is, you will get 7 Adventurer's Experience books.
Iris is an adventurer located at the Dragonspine base camp. Ask her what she can tell you about Dragonspine and she will give you 4 Hero's Wit books.
Lan stands before the information board located next to the Adventurer's Guild at Liyue Harbour. She will give 7 Adventurer's Experience if you ask her how she became Master of the Liyue branch.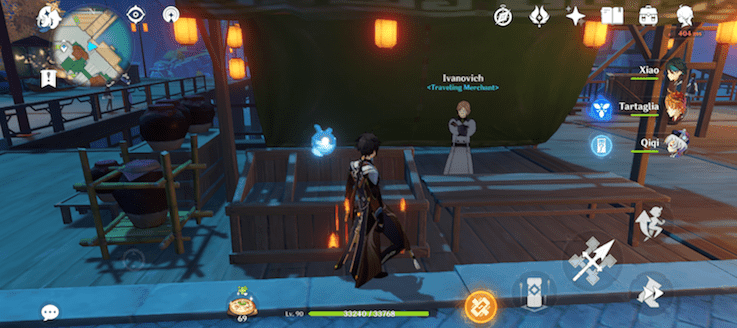 Ivanovich is a Snezhnayan merchant in Liyue Harbour next to the Theatre Mechanicus start point. He gives 1 Shivada Jade Fragment if you ask him what he sells.
Character Talent Level Up Materials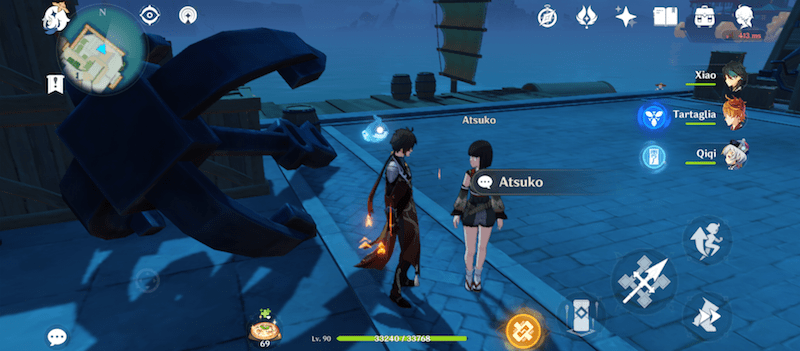 Atsuko gives you a Guide to Freedom if you speak to her and ask about Inazuma. She can be found near the docks at Liyue Harbour, just turn left once you leave the reputation point in Liyue. If you have not already completed the Archon Quest, do speak to Ningguang's secretaries when inside the Jade Palace to get various Guide talent books. Baishi will give you the Guide to Diligence, Baiwen gives the Guide to Prosperity and Baixiao gives the Guide to Gold.
Character Ascension Materials
Chang the Ninth is located in Qingce Village, Liyue. After completing Xingqiu's quest (Bookworm Swordsman), he will give you 4 Noctilucous Jade after you ask about Xingqiu. To find him, just teleport to the waypoint nearer to Granny Ruoxin and head north towards the ladder leading up the mountain.
Chunshui is a fervent follower of Barbatos rather than Morax and is located in Liyue Harbour's northern wharf in the day. You can find her closer to Ivanovich, the merchant mentioned above. Asking her about whether she "worships the Anemo Archon" will give you 5 Windwheel Asters.
Speaking to Madame Ping from the Archon Quest will give you 5 Glaze lilies. She can be found near the teleport waypoint in Liyue that is closer to the souvenir shop, just climb up the stairs to find her. She will be present with her teapot after 6 am, you can find her precise location here in my Local specialties farming guide.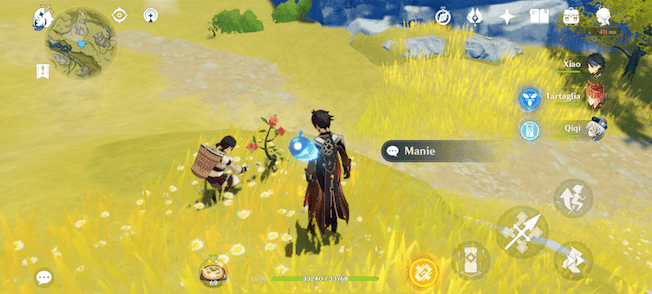 Manie will give you 5 Jueyun Chilies if you speak to her. She can be found at Jueyun Karst, where there is an abundance of Jueyun Chilies in the area for you to collect as well. This is especially helpful if you need to ascend Xiangling, as a few routes around the area will give many Jueyun chillies.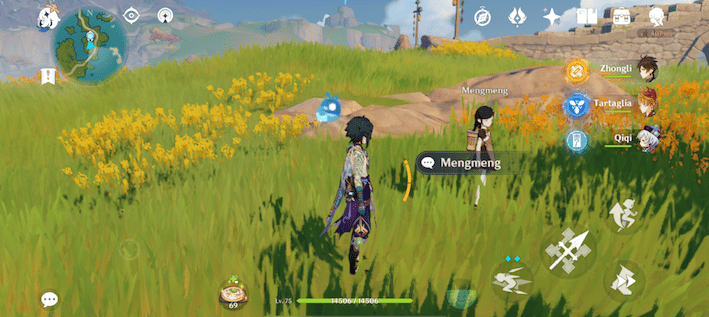 Mengmeng is located near the God statue at Dihua Marsh, closer to the house and the cart. She can be found running around the house in the daytime. If you ask her what flowers she is collecting, she will give you 5 Violetgrass, definitely a godsend if you are trying to level up Qiqi or Xinyan.
Michelle will give you 6 Philanemo Mushrooms if you speak to her. She can be found under the windmill closest to Knights of Favonius and you can see her exact location in my previous guide about Local specialties farming here.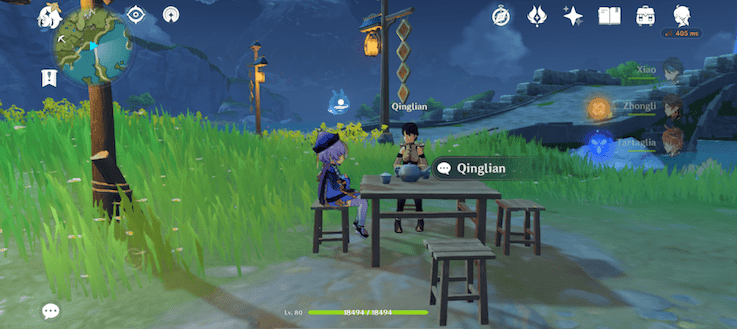 Qinglian gives 3 Qingxin if you say "You look well to me" and can be found between Stone Gate and Dihua Marsh. With Qingxin located on the mountain peaks, these 3 Qingxin can save you some time if you need to ascend Ganyu or Xiao.
Sharp can be found at Starsnatch Cliff at night (from 7 pm to 6 am) and will give you 5 Cecilias if you ask what he is doing. Cecilias are mostly found on the Starsnatch Cliff, to begin with, but note that when you see him in Mondstadt city in the day, he will not give you the Cecilias.
Ziwei is an Astronomer found at night in Dunyu Ruins, near the Statue of the Seven, who will give you 4 Small Lamp Grasses. Simply ask "What are you doing?" until the conversation leads to "Isn't it inconvenient to get around at night?".
Foods, Ingredients and Recipes
Adelinde stays in Dawn Winery Mondstadt and is inside the house itself. Asking her who she is and what she can tell you about the rumours will give you 3 Sticky Honey Roasts. These are 3 star dishes that decreases sprinting and climbing stamina consumption, something particularly valuable when exploring.
Chef Mao, the head chef who runs Wanmin Restaurant, will give you 4 Black-Back Perch Stews after speaking to him. The Wanmin Restaurant is located near to the teleport waypoint (closer to the crafting table). He sells a variety of other ingredients such as Matsutakes, recipes and even Violetgrasses after the 1.2 Update. Simply ask if he has any recommendations and he will give you the Black-Back Perch Stews. Since these require Violetgrasses to make, this is definitely a dish you do not want to miss out on.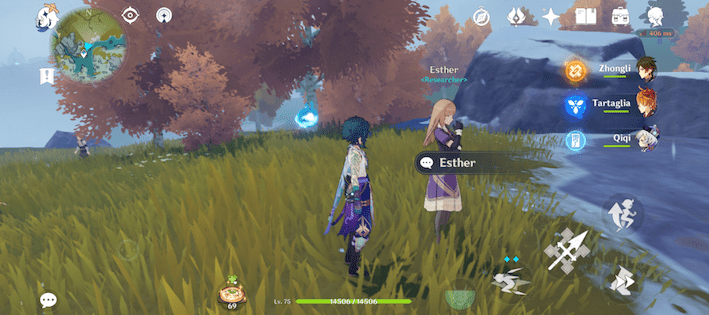 Esther is found slightly north of the teleport waypoint outside Dragonspine. The waypoint is closer to Wyrmrest Valley and she will give you 4 Frostshield Potions. These potions increase Cryo RES by 25% and can be helpful when completing domains with many Cryo enemies, such as the Forsaken Rift.
Geri can also be found in Liyue Harbour, describing himself as a Gourmet hailing from Mondstadt. Ask him what he will eat in Liyue and she will give you 3 Tea break Pancakes, a 2 star dish that can revive characters and give 400 HP. He is found next to Wanmin restaurant, in the food cart that is closer to the Adventurer's Guild.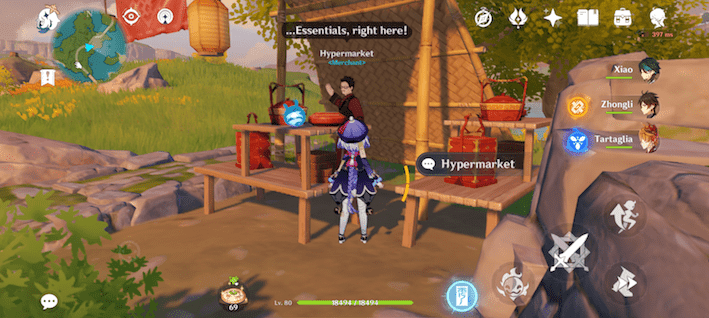 Hypermarket, a merchant located in Dihua Marsh, will give you 4 Matsutake Meat Rolls after you ask him if he sells artifacts. The 2 star dish is rather helpful as a HP food. The house near the stall has 2 points to investigate that give 1 star artifacts, if you require artifacts for levelling.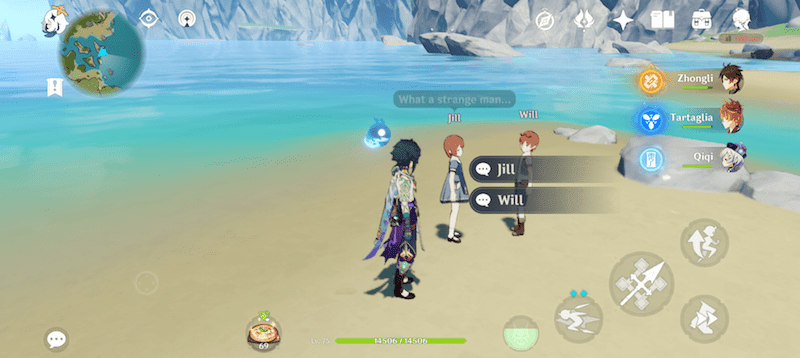 Head to Falcon Coast within Mondstadt from 6am to 7pm to speak to Jill, a young girl playing with her friend Will. She will give you 4 Crabs if you ask her if she "found anything nice on the beach", valuable ingredients if you are inclined to using crabs to cook Adeptus Temptations and Crab Ham Veggie Bakes. Speaking to Will gives 4 Fishes as well.
Sara, the waitress of Good Hunter, will give you 4 Satisfying Salads if you ask her to tell you about Mondstadt. Satisfying Salad is a 2 star dish that increases CRIT Rate by 9%, which can be incredibly useful if you have a character with a rather low CRIT Rate. This can be a great boost before attempting to kill bosses or complete domains. Additionally, you can buy other useful processed foods such as Crab Roe, Flour and recipes such as Flaming Red Bolognese and Pile 'Em Up.
Su Er'niang is a food stall vendor located next to Wanmin Restaurant in Liyue Harbour. Asking about Chop Suey will give you 4 Zhongyuan Chop Suey. She can be found together with Geri, the Mondstadt gourmet. Zhongyuan Chop Suey is a 2 star dish that decreases stamina consumption for sprinting and climbing, another dish great for exploration.
Ulfr is located near Cider Lake, right outside the city walls of Mondstadt City. Asking about the boat he is building will give you 4 Crabs.
Vind is a Storm Watcher located at the very tip of Stormbearer Point, close to the small hilichurl tower. Asking about her family will give you the Barbatos Ratatouille Recipe, another dish that decreases stamina consumption for sprinting and climbing. The ingredients required for this dish can all be store-bought, so you can consider obtaining this recipe. On the way, there are several Valberries that you can collect on the cliff as well.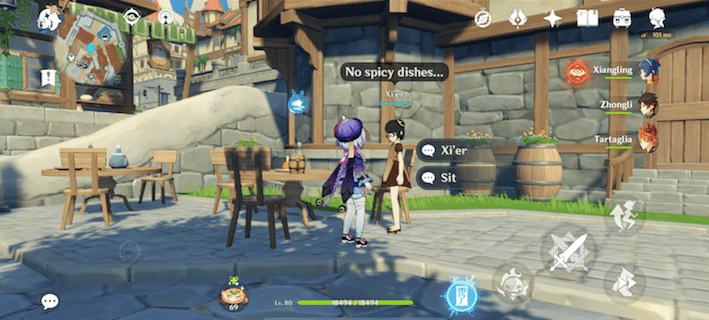 Xi'er is a young gourmet found in Mondstadt City. She can be found right behind the crafting bench in the daytime (6 am to 7 pm) and asking her about Li cuisine will give 4 Black-Back Perch Stews.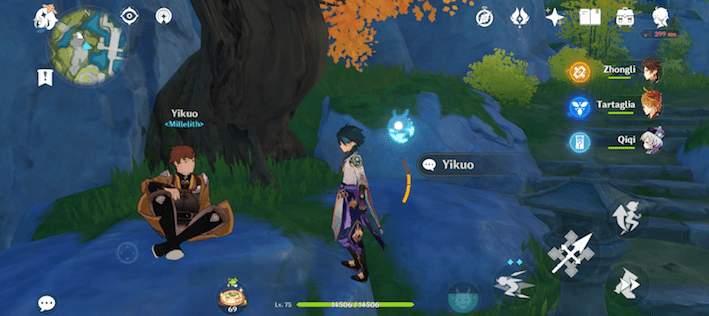 Yikuo is a Militeth found on the mountainside near the Bubu Pharmacy in Liyue Harbour. Asking "Shouldn't you be at work now?" will give 4 Fried Radish Balls. These are 2 star dishes that can increase ATK and are a great boost for faster and easier domain grinding. Around him, there are many Glaze lilies that you can collect as well if you need to ascend Ningguang.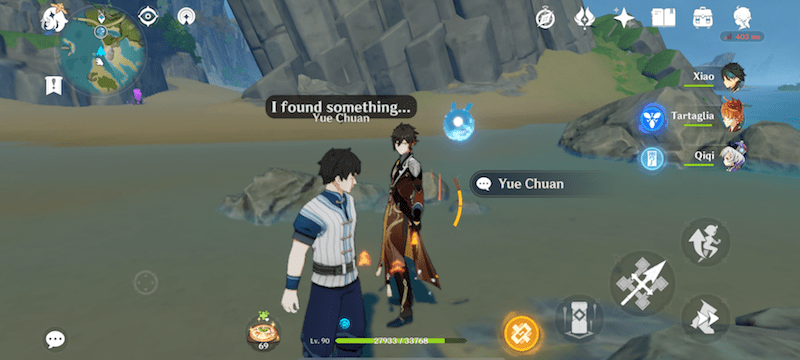 Yue Chuan is found on Yaoguang Shoal, on the coast from the opposite end of the teleport waypoint. If you ask what he is doing, he will give you 4 Crabs.
We hope that you found this article helpful and have reaped some of the rewards of speaking to these NPCs!