Grab your Bolter and all the ammo you can, because with Necromunda: Hired Gun, we are going to deliver tons of lead to the depths of Necromunda in the new FPS set in the Warhammer 40,000 universe. How good is the game? Learn in my Necromunda: Hired Gun review!
Necromunda: Hired Gun Review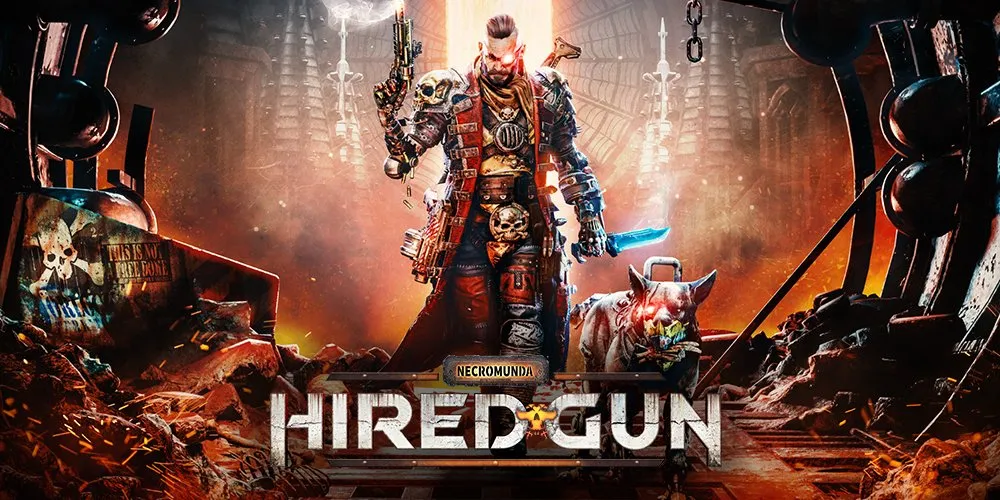 On June 1, Necromunda: Hired Gun was released (the physical format will not arrive until June 30), the work of Streum On Studio, who has developed a bloody FPS set in the vast universe of Warhammer 40,000.
Focus Home Interactive (Vampyr, Farming Simulator) is the publisher of the title, which is available now on PC, PS4, PS5, Xbox One, and Xbox X / S series. Once the presentations are made, we are faced with a classic FPS that will remind us, saving a lot of distances, to DOOM for the good and for the bad.
Even more, if we take into account the small team of people behind Necromunda: Hired Gun who have put all their love so that it is at the level of a franchise like Warhammer 40k, and for anyone who has connected at some point with this universe, both in video games and board games, you feel identified with an immersive experience and with a lot of blood.
The Setting
Let's start with the premise: you are a mercenary who makes a living in the underworld of one of Necromunda's hive cities. Imperial credits and alcohol is the only thing you wake up for every day.
In Necromunda, there are three belligerent Houses facing each other: The Orlocks, the Goliaths, and the Eschers. Each of them also includes several sub-gangs that, well, let's say that, in the game, their destiny is to become fodder for your weapons.
However, this power game has brought in all kinds of go-getters who see a business opportunity in the race, and if they have to get you out of the way to achieve their goals, they are sure to give it a try. Of course, you have an entire arsenal and a faithful friend with which to respond to their audacity.
Room for Improvement
Although, in general terms, Necromunda: Hired Gun manages to more than fulfill its objective: to entertain and to test our skills, there are many aspects in which the game needs to improve.
During our time playing, we suffered some crashes that returned us to the PS5 menu, in addition to some performance problems within the game, such as involuntary movements of the character when executing a takedown or some other automatic movement. In addition, the aiming assistance option does not work, which makes those of us who have two left hands when we play some FPS on consoles have it much more complicated.
Sticking with aiming, aiming sensitivity is not properly balanced, and it doesn't fit particularly well in the options menu, making it almost advisable in many cases to risk close combat rather than wasting ammo on distant targets.
In principle, they have told us that they are working to solve these errors in a patch, but if you are playing or are going to play these days, although you can enjoy the title, note that you may encounter some of these problems that, for a moment, overshadow the experience.
Potential for Multiplayer Mode
A striking aspect is that an FPS of this type does not have a multiplayer mode, although it is something understandable, coming from an indie studio, with a reduced size of troops. However, we believe that this modality would earn the game many points.
In fact, it has all the bases to be able to have a multiplayer or cooperative mode; the side quests themselves would perfectly serve as arenas for multiplayer, or multiplayer battles against the AI.
At the moment, there is no news about a multiplayer mode of Necromunda: Hired Gun, but it would be a great move in order to extend the time we dedicate to the game.
Necromunda: Hired Gun Review Recap
If you are fans of the Warhammer 40,000 universe in general, and the history of Necromunda in particular, you are going to really enjoy the campaign mode of Necromunda: Hired Gun.
However, avoid comparing it with titles like DOOM or other frantic FPS. It is a very daring independent project, which manages to meet its objectives, but misses that "final push" in some respects.