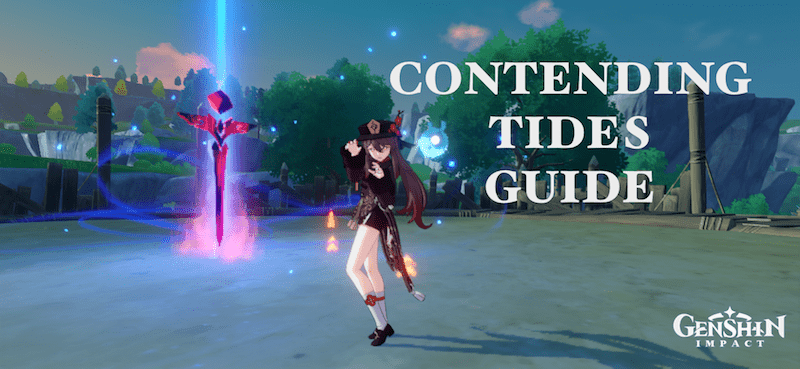 Preview and Rewards
Contending Tides is a new event in the 1.4 update, with a new stage released every day. You will need to fight enemies within an arena and complete the challenge within a certain fixed time. Each stage has a unique buff to your character, similar to the ley-line disorder of the Spiral Abyss. If you would like to read about the Peculiar Wonderland event part of the update, you can read the guide here.
There are three different difficulties, if you are confident in your characters, you can complete the highest difficulty and it will automatically clear the lower difficulties. Unlike the Ballads of Breeze mini-game, you will not need to unlock each difficulty one by one. Do note that your world level does not change the difficulty, so there is no point toggling your world level.
For all stages, you must ensure none of your characters dies, so ensure that you have a shield character or healer on your team. Otherwise, you will fail to complete the challenge.
If you complete the whole event at the highest difficulties, you will receive the following rewards: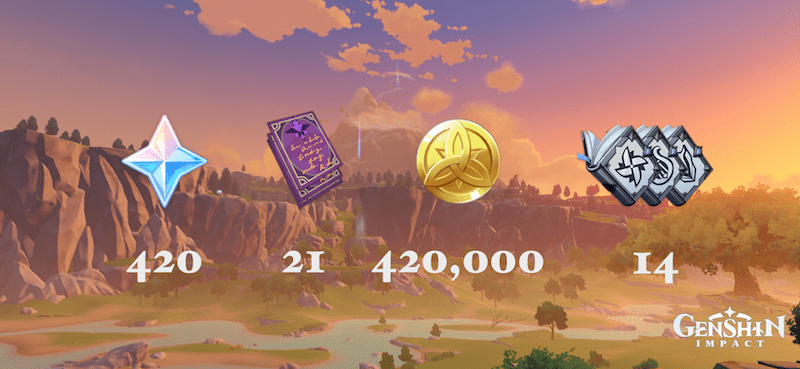 Do note that the 14 talent books you receive will be varied of different types. The rewards are subject to change depending on the later stages, this is just a prediction based on the current rewards.
This article will introduce each stage's attack bonus to you, as well as the teams you can bring for each stage. I will be updating this article daily until the event ends, as information about later stages is not out yet.
Stage 1: Welcome to Easy Mode
The ability bonus for this stage is dependent on the Aura within the arena. Characters within the Aura will have ATK increased by 100% and release a shockwave that deals AoE damage if your stamina is above 50%. The lack of elemental infused or enhanced hilichurls allows you to bring characters of any element. The proposed Non-F2P team setup is below:

Zhongli acts as a Sub DPS who can deal damage with his Ultimate and provide a shield. Ganyu is the Main DPS, with Bennett as Utility to heal and buff her damage by providing Melt reactions. Fischl can provide Overloaded with Bennett or Superconduct with Ganyu.
The proposed F2P team setup is below:

Noelle is a Sub DPS who provides a shield and you can use her Ultimate attacks as her Claymore gives higher damage numbers. Kaeya is the Main DPS, with Barbara to heal and give a Frozen team composition for a more defensive playstyle. Fischl can perform Superconduct with Kaeya or Supercharged with Barbara when Barbara's Ultimate allows for AoE wet status on enemies.
Stage 2: Don't Sweat It
Since this stage has many Hydro slimes, do not bring a Hydro character at all. The mechanic increases Electro-charged damage by 150%, even releasing a shockwave when each Electro-charged reaction is triggered. Ensure that you do not kill too many Hydro slimes at once due to the 20-second cooldown with each enemy death. The proposed Non-F2P team setup is below:

Keqing is the Main DPS here, who can easily proc Electro-charged with the Hydro slimes. Fischl's Oz allows her to have a Sub DPS role to proc Electro-charged too. Diona is a healer who can provide you with a shield. Both Diona and Chongyun have a large AoE Cryo damage for their Ultimate, so this allows for a "Frozen" defensive playstyle as well.
The proposed F2P team setup is below:

Both Lisa and Fischl rely on Electro-charged to kill the opponents due to Lisa's catalyst weapon and Fischl's elemental build. Kaeya can be used to freeze opponents, while Noelle can provide a shield and heal your characters. Since Noelle does not heal substantially, you might prefer bringing Diona, Qiqi, Bennett or Jean instead if possible.
Stage 3: Art Of The Cannonball
Once again, this stage does not have any elemental infused hilichurls, so any element is a good choice. Performing plunge attacks releases a shockwave that deals damage, with the next plunge dealing increased damage by 50%. The proposed Non-F2P team setup is below:

Xiao is clearly the best DPS to bring for this stage due to the Plunging attack buffs. Venti makes it easier to do plunge attacks and helps with Energy Regeneration for Xiao. Zhongli's shield makes it safer for Xiao to plunge into enemies, while Barbara provides the necessary healing from Xiao's HP loss due to his Ultimate plunges. Barbara can also cause Swirl reactions with Venti's Ultimate.
The proposed F2P team setup is below:
The Geo main character makes it easier for you to perform plunge attacks due to his platforms. Noelle provides a shield and her claymore weapon allows her to deal more damage with plunging attacks. Barbara heals and can affect the Wet status on enemies, so Kaeya can freeze the enemies. Kaeya works well as a DPS as well due to his weapon choice.
Stage 4: Battle of an Epoch
This stage only has Ruin Guards that come in pairs. Causing your enemies to be Frozen causes a shockwave dealt to them as damage. Ideally, you can bring both a Hydro and Cryo character to freeze enemies. The proposed Non-F2P setup is below:

Mona and Ganyu work as your "Freeze Comp" here, with Mona's Elemental Skill and Ganyu's large AoE Ultimate being extremely effective for this challenge. Diona can provide the AoE Cryo effect as well as heals and shielding, while Bennett buffs your attacks and provides Melt or Vaporise damage.
The proposed F2P team setup is below:

Barbara's Ultimate has a large AoE that can affect all enemies with Hydro. Using Kaeya as the Main DPS, along with his Ultimate and Elemental Skills allows him to freeze enemies consistently. I would recommend Xiangling for Melt or Vaporise damage, and Noelle due to her shield as well as claymore weapon.
Stage 5: To the Bitter End
Similar to how Stage 3 is made for Xiao, Stage 5 seems to be made for Hu Tao. The arena effects give a damage buff if your character HP is lower.
When HP is less than 70%, ATK is increased by 50%
When HP is less than 50%, the character's Normal and Charged Attack SPD is increased by 25%
When HP is less than 30%, attacks from the character that hit opponents will unleash shockwaves that deal AoE DMG.
Hence, bringing a shield character is important to ensure that your character will not die during the challenge despite having low HP. Having a healer could be slightly counterproductive, but you can bring a healer if they heal through passives instead of damage. For example, bringing characters like Noelle who give minimal heals is ideal. The proposed Non-F2P setup is below:

Here, Hu Tao and Ganyu are your Main DPS characters, with Hu Tao benefitting most from the arena effects. Ganyu and Hu Tao have synergy as well since they can create Melt reactions for more damage. Zhongli can provide a shield, while Bennett can give some heals while in his Ultimate AoE circle, or temporary buffs when using your other character ultimates.
The proposed F2P team setup is below:

Noelle provides a shield and gives minimal healing, Kaeya works as the Main DPS that synergises and procs Melt with Xiangling as a Sub DPS. Refrain from using Barbara's Ultimate as it will cause your characters to heal too much to benefit from the low HP buffs.
Stage 6: Shock Me, I Dare You!
Stage 6 capitalises on Charged attacks, making it better to bring bow characters. The shorter timeframe in this arena makes it key to keep using your charged attacks. Since the enemies are not infused with elements, bring any element that you would like. The proposed Non-F2P setup is below:

Hu Tao and Ganyu both benefit from charged attacks and affecting enemies with either Cryo or Pyro will allow the other character to do more damage. Having Mona as a Burst Sub DPS will also allow for more reactions such as Vaporise with Hu Tao. Jean here can act as a healer and also stun enemies using Anemo through her charged attacks.
The proposed F2P team setup is below:

Noelle can do greater damage with charged attacks, especially when her Ultimate is in use. Xiangling and Fischl as Sub DPS characters will allow for more Overloaded reactions and Barbara can affect enemies with Hydro on top of healing.
Stage 7: Want to Know How I Got These Icicles?
Stage 7 has an Aura in the middle of the arena. If any of your party members spend more than 5 seconds in the Aura, it will be consumed and all your characters will gain an increase in their ATK by 100%. Their Normal and Charged Attacks will release a shockwave on a hit that deals AoE DMG. One shockwave may be unleashed in such a way every 15s. A new Aura will appear 10s after the previous Aura has been consumed and you have the aforementioned effects. A maximum of 3 additional Auras will appear during this challenge.
The monster is a Frostarm Lawachurl, so ensure that you bring an Electro, Pyro or Geo character to break their shield. This challenge is rather difficult to complete if you do not make use of the aura, as the Lawachurl has a high HP bar and you only have 90 seconds to defeat the character. Since the Lawachurl has charging attacks that could knock you out of the arena, ensure that you dodge these attacks to prevent yourself from failing the challenge. The proposed Non-F2P setup is below:

Here, Keqing and Hu Tao can break the Cryo shield through Melt and Superconduct, while Bennett buffs your attacks within his Ultimate and heals. Zhongli can provide a tanky shield as well as be a good Sub DPS for your team.
The proposed F2P team setup is below:

It is important to bring a healer as the enemy attacks can deal great damage, so Barbara is a good option. Xiangling's Guoba and Fischl's Oz can break the Cryo shield through Melt and Superconduct respectively, while Noelle provides a shield.
Conclusion
We hope this guide has been helpful for the new Contending Tides event, do let us know if there are other articles you would like to read!