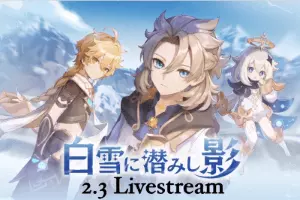 Codes
The codes that can be redeemed from this live stream are below:
KB6DKDNM7H49

BSNDJC747Z7D

AS7CJDP4NG7H
In total, they give 300 Primogems, 5 Hero's Wit, 10 Mystic Enhancement Ores and 500.000 Mora.
1st Banner
The first banner in the 2.3 version of Genshin Impact is a rerun of Albedo and Eula. However, it is rather different from the usual rerun banner as two characters will be rerun simultaneously. There will be two separate banners, one for Albedo and one for Eula. However, the pity for both of those banners adds up. For example, if you pull 40 pulls on Albedo's banner, you are guaranteed a 5 star in 50 pulls (total 90 pulls for pity) on either Albedo's banner or Eula's banner. More information about the banners will be released closer to the 2.3 update.
2nd Banner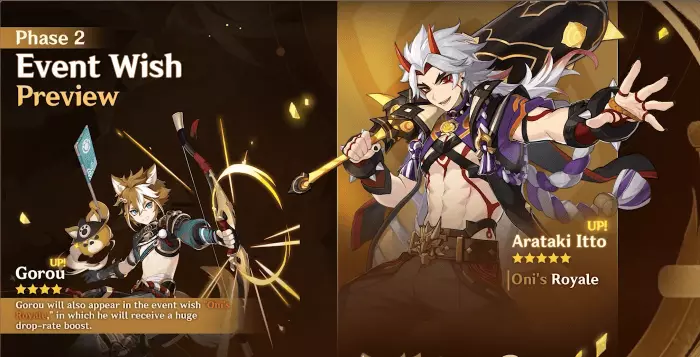 The second banner in the 2.3 version brings Arataki Itto, a new 5 star Geo claymore character. On his banner, we will also have a new 4-star character, Gorou from the Inazuma resistance. He is a Geo bow character that we have previously seen fighting against the Vision Hunt Decree in the main story quest. Do look out for future guides from us about building Arataki Itto and Gorou!
From current leaks, it seems that Arataki Itto's damage scales off his defence, while Gorou benefits greatly from a 4 Geo character team. Gorou's damage also scales off his defence and can increase all party members defence after using his ultimate. However, this is not yet confirmed as the exact and updated kits are currently unavailable.
Weapon and Artifacts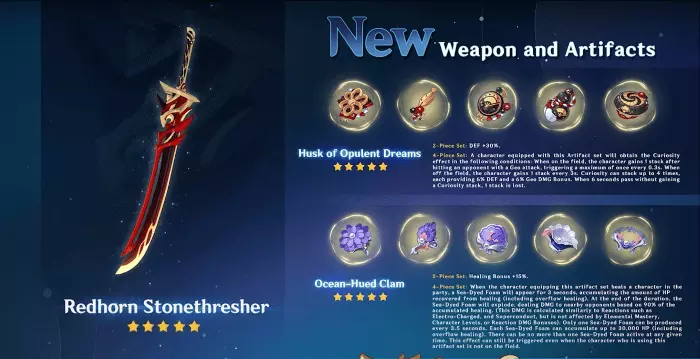 There will be a new 5-star weapon on the weapon banner for Arataki Itto. Since he scales off defence, this weapon has a passive that increases defence but it has a CRIT DMG main-stat that reaches 88.2% at level 90.
Additionally, there will be a new domain with 2 new artifact sets, Husk of Opulent Dreams and Ocean-Hued Clam.
The Husk of Opulent Dreams increases DEF by 30% in a 2-set, while the 4-set gives a stack after the character on the field hits an opponent with a Geo attack, triggering a maximum of one every 0.3s. When off the field, the character gains 1 stack every 3s. This can stack up to 4 times, each providing a 6% DEF and 6% Geo DMG Bonus. When 6 seconds pass without gaining a stack, 1 stack is lost.
The Ocean-Hued Clam increases healing bonus by 25% in a 2-set. For the 4-set, when the character healing heals a character in the party, HP recovered from healing and overflowed HP will accumulate for 3 seconds. Thereafter, DMG will be dealt to opponents based on 90% of the heals. This can only occur once every 3.5s and a maximum of 30,000 HP can be accumulated, including overflowed healing. This effect can be triggered when the healer character is off-field.
For more information on the artifact sets and which characters to use them on, you can refer to my guide here!
Events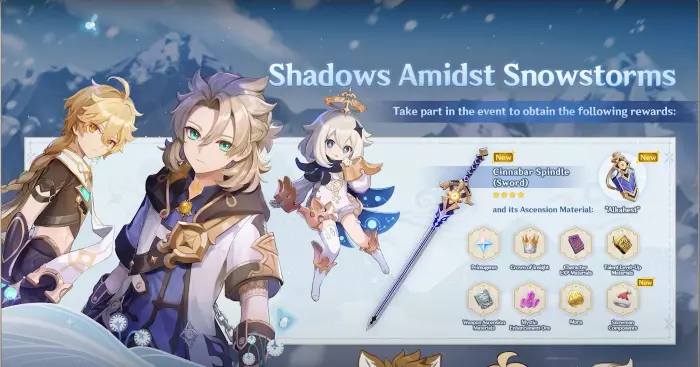 The Shadows Amidst Snowstorms event takes place in Dragonspine and seems to have many mini-games similar to the Windblume Festival, where you navigate by gliding and running to collect event currency. Event currency can then be exchanged for Primogems, Crowns, Levelling materials for weapons, talents, ascension and characters, Mystic Enhancement Ores and Mora. Additionally, you will obtain a free 4-star sword called Cinnabar Spindle. Its ascension materials can also be obtained, similar to the Festering Desire sword given out in Albedo's first run. This sword seems to be Albedo's best weapon with a DEF main-stat that greatly benefits his kit.
You will also be able to obtain decorations for Snowmen in this event and trade accessories with your friends. This works similarly to the current event where you can trade flowers with your in-game friends!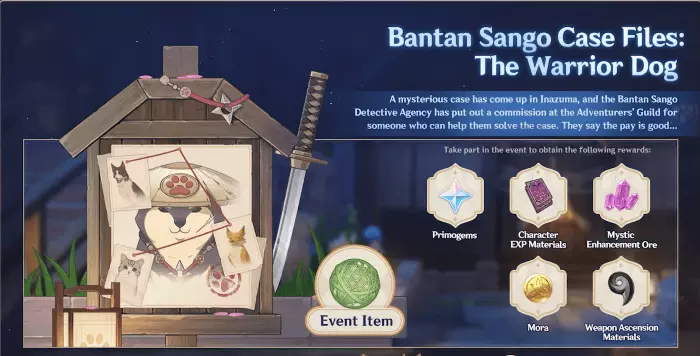 The Bantan Sango Case Files Event allows us to catch pets in-game to place within our Serenitea pots, using a net and ensuring that we are not seen by other animals in the process. From this event, you can place many more animals in your teapot, including the foxes at the outskirts of Inazuma City. You will also be able to obtain Primogems, Hero's Wit, Weapon Ascension materials, Mystic Enhancement Ores and Mora.
Other Events
Other events that we can expect in the 2.3 updates include Misty Dungeon, Energy Amplifier and Marvelous Merchandise. All of these events have been released in previous patches. However, Misty Dungeon includes new characters in this run, including Tartaglia and Raiden. Energy Amplifier has had some tweaks as well, to help us obtain more cores before attempting the dungeon.
New Boss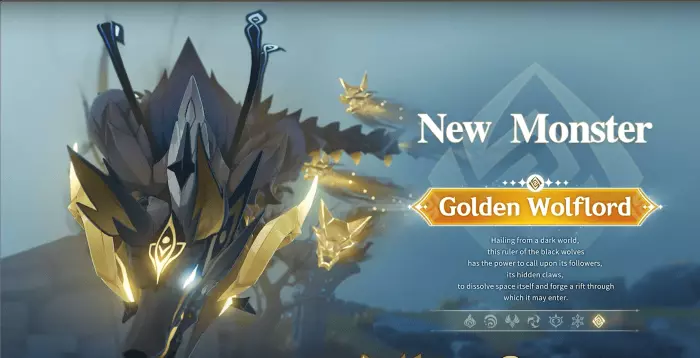 There is a new boss on Tsurumi Island, the "king" to the Rifthounds on this island of sorts. The Golden Wolflord will likely drop materials required for Arataki Itto and Gorou's ascensions. With regards to combat, this boss will have a corrosion mechanic and has increased ATK and lower Geo DEF when its HP drops to a certain threshold.
Hangouts and Quests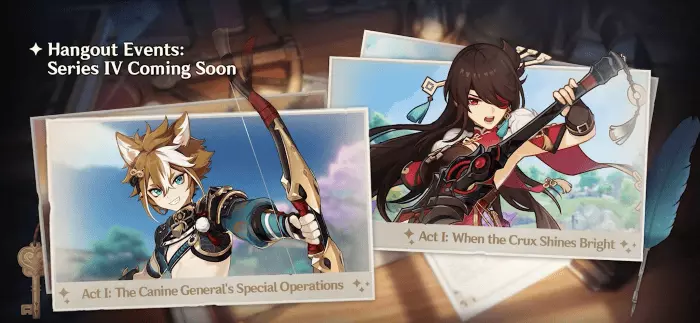 As with every 5 star, there will be an Arataki Itto story quest and 2 new hangout events for Gorou and Beidou respectively.
Teapot Updates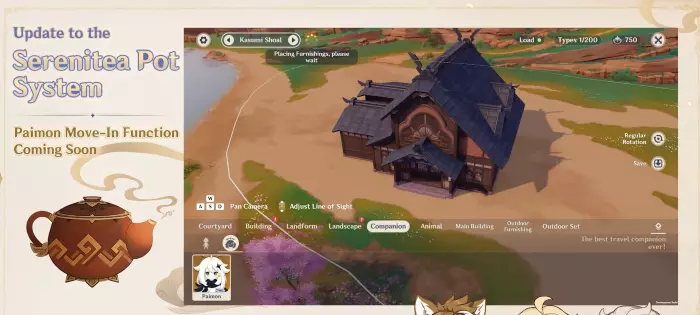 Lastly, the Serenitea pot now allows you to add Paimon as a companion, with new voice lines!
We hope that you have found this article helpful and that you will enjoy the new updates in the 2.3 version of Genshin Impact! Do lookout for more Genshin guides from me and let us know if there are other articles you would like to read!