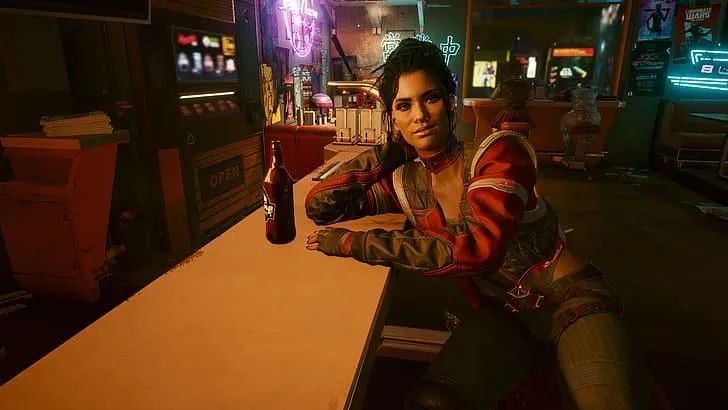 Orientation: Heterosexual
Gender Requirement: Male Body Type; Voice & Genitalia don't matter
---
We first meet Panam in Cyberpunk 2077 through the merc known as Rogue. She will give you the mission "Ghost Town" in which you will meet Panam is she is making repairs to a beat-up car. She seems a little apprehensive of you at first but after you spend some quality time going after some Scavs who have stolen her beloved vehicle.
You'll see she will warm up to you and depending on your gender, you'll eventually romance her or become her BFF.
How to Romance Panam in Cyberpunk 2077 (All Dialogue Choices)
The guideline for the romance are pretty straightforward, the dialogue options will have a symbol of a kiss when it comes to the big moment and overall being kind and thoughtful when given the opportunity will always help.
Ghost Town (Main Mission)
During the "Ghost Town" mission you'll be presented with the choice of perusing the Scavs' hideout. Make sure you pick this with the line "Ok. Where's the hideout"
After wiping out the Scavs, you and Panam will go enjoy a drink together, and eventually, you'll find out you'll be sleeping in the motel for the night. make sure you pick "Maybe we just get one room?" followed with "Not exactly what I meant." she'll agree but relax cowboy! this is her standard reaction.
Life During Wartime (Main Mission)
During the mission "Life During Wartime" you'll find yourself scouting the enemy camp with a drone. After which make sure you tell Panam to stay in the car with "Stay in the car, you're hurt. Won't be too much help out here anyway"
After saving Mitch from the wreckage ask Panam to help you find Hellman. "I gotta get Hellman, will you help?" Followed by "I'll help you settle the score with Kang Tao"
After you capture Hellman, Saul arrives to slam down his iron fist. As he is doing so, you'll be given a quick-response dialogue. Make sure you're quick to say "It really wasn't Panam's fault"
Riders On The Storm (Side Mission - Panam Storyline)
Panam will call you saying Saul is in need of you're help. Take the mission and head to the Aldecado camp where you'll have a quick brief. make sure you select the following. "We're chooms, that's why" "Do it quietly, sure. Perfect for two." Panam will then ask you to ride with her. Agree to it with "Yeah, 'course."

After you've rescued Saul you'll haul up in a broken-down hut. The two are arguing and be sure to take sides with Panam here with "Shitty Idea, Panam is right"

- Important decision
After Saul goes to rest. make sure you select, [Raise a toast] "To Haboobs!" followed with "Pleased with your stay, Ma'am?" "You'd be more comfortable with your shoes off, Ma'am"
[Touch Panam's thigh] "Got a few ideas"

- Important decision!

Panam will reject your approach but fear not. It's all part of the process.

The next morning there are a few dialogue options, so be sure to go with "so-so, back's numb" "Thought you were gonna stay with your family?"

After Panam will make way to her motorcycle you'll be prompt with a quick response [Stop Panam] "About last night"

- Important decision. Panam should turn back and land a kiss on you. Don't get too excited just yet, there's more work for you to do!
With A Little Help From My Friends (Side Mission - Panam Storyline)
Panam will call you as she will with all her missions. Just make sure you accept the mission. Upon arriving at the camp you'll approach Saul and enter a conversation. Be sure you choose "Forbade Panam from doing something?" "Feel like these fights been going on for a while"

- important decision Don't reveal Panam's plan to Saul!

Agree to go on the mission "Ok, I'm in"
After finding the card. Approach Panam who is leaning over a window [Stand by window] "Missed you" followed with, "So, let's start." "Ok. But can we skip the tiptoeing?" "So far, So good." "Why's it different with me?"
Now you'll be presented with an action, be sure to pick [Touch Panam's Hand] "Next time, try following your impulse."

- Important decision. Related to the impulse conversation you'll have later on

Now you'll be sat at a campfire with Panam. Make sure you say the following. "Worried about Saul?" "Think I'll try getting some shut-eye."

[Scooch Closer] "Getting kinda cold"

- Important decision! Now the pair of you will share a romantic moment staring at the stars.
Queen Of The Highway (Side Mission - Panam Storyline)
Panam - for the last time will call you telling you the Basilisk is ready. Head to the camp.
When you find yourself inside the Basilisk say the following. "Anybody get it running earlier?" "Nice and cozy in here"
After quickly defending the camp from attacking Scavs you and Panam find some alone time. Here you'll be presented with a Kiss icon on the dialogue, be sure to pick this [Let Panam touch you] "Oh yeah, let's go."

- Important decision! This will ultimately result in the romance scene with Panam in what would be theoretically the most amazing experience of V's life. Seeing as both V's and Panam's senses are intertwined, meaning they can feel everything the other person can.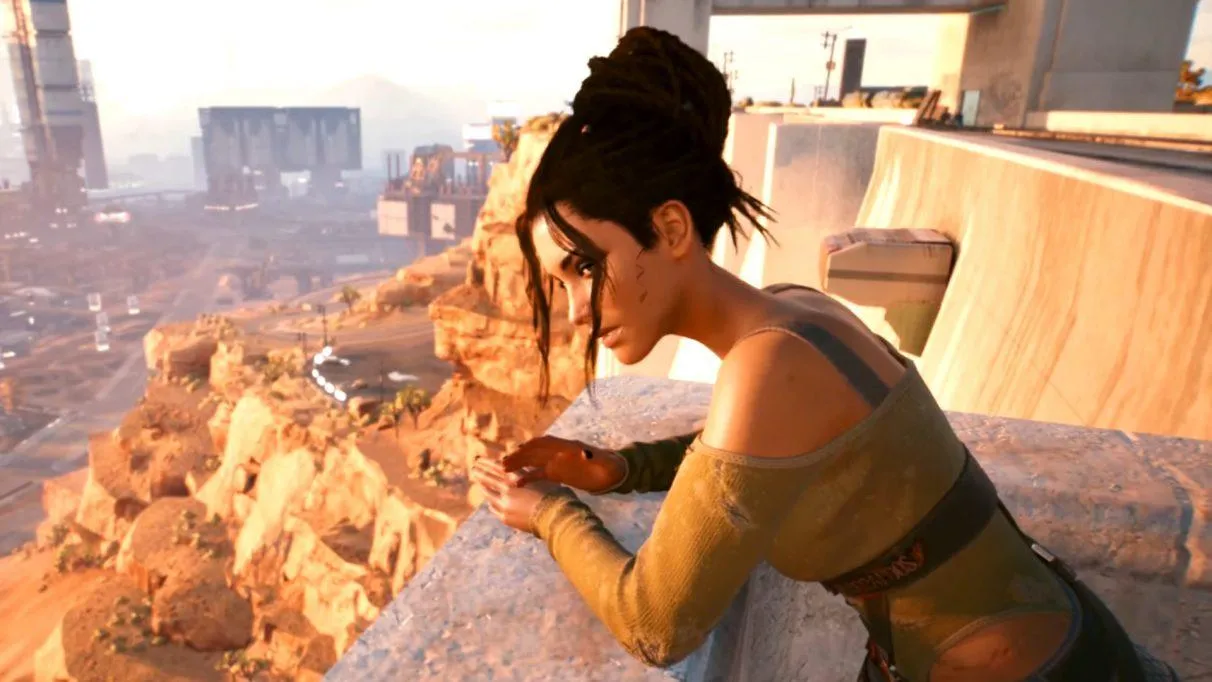 At last! all the work paid off. Now you have the choice to Kiss Panam upon exiting the mission and this will enable you to continue to reply to texts she occasionally sends and be flirty with her during them. This also builds your relations with the Aldecados as they accept you into their "family" and you'll also unlock the "Life of the Road" Achievement for completing Panam's questline.
For all the other Romances in Cyberpunk 2077, see the Full Cyberpunk 2077 Romance Guide (All Romances & Options).