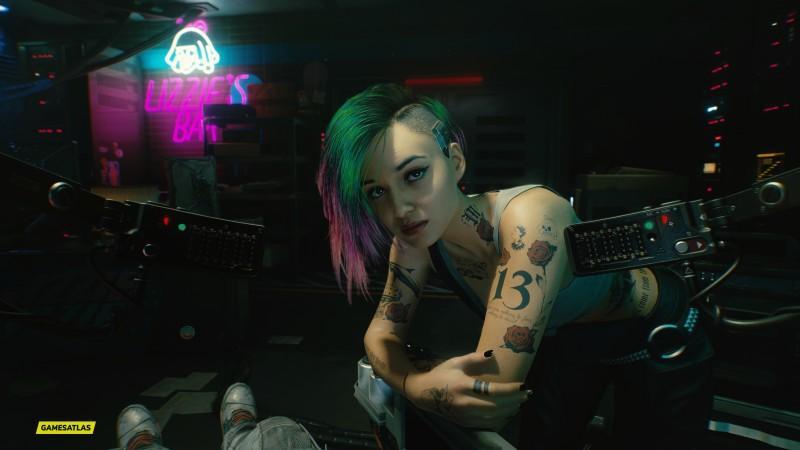 Orientation: Lesbian
Gender Requirement: Female Body Type & Female Voice; Genitalia doesn't matter
---
Judy Alvarez is considered to be the "Canon" romance in Cyberpunk 2077 to a female V, who also has the "canon" ending to go along with. This is also possibly the best ending for a lot of people who finish the game. She is a very loyal friend to have and is someone who acts upon their emotions as you'll soon find out in her questline.
Judy wants nothing more than to escape the hustle, bustle, and ever-increasing death rate in Night City. This was what she was planning to do at least until V showed up with this amazing Arasaka heist.
How to Romance Judy in Cyberpunk 2077 (All Dialogue Choices)
You'll be able to romance Judy during her deep dive mission called "Pyramid Song." Providing you followed all the right steps and in general treated her well (like you have to do for all romance characters), you'll find that much-anticipated kiss icon at the end.
Both Sides, Now (Side Mission - Judy Storyline)
After you complete the main quest "Double Life." Judy will call you after 24 hours.
After completing the mission Judy gives you. Wait for the next! There aren't many important choices to be made, yet.
Ex-Factor (Side Mission - Judy Storyline)
After completing the previous mission. Judy will text you asking for your help. Make sure you text back and hit "Sure I'll help" when she calls you. If you accidentally decline the quest you can still call her back in order to accept it at a later date. However, this may affect your chances of completing her romance.
Complete the quest, You're Choices here don't have much to any impact.
Talkin' 'Bout A Revolution (Side Mission - Judy Storyline)
Judy will text you again after completing the previous mission, reply and wait 24 hours or just skip. You'll then receive a phone call to accept the mission
Upon arrival at Judy's apartment, she'll hatch her masterplan and you'll help train one of her friends, after this, you want to select the following dialogue options. "You can count on me." This will start the next mission.
During this follow up you'll be presented with the following dialogue options, be sure to go with "Out of the question." "Forget about it, It's passed." and [Lean] "Sure, Thanks." You will then fall asleep on her sofa and wake up to breakfast, this must mean you're doing something right, right?
Pisces (Side Mission - Judy Storyline)
Judy will call you again with another quest, be sure to accept it
When you arrive at the penthouse meeting be sure to follow these dialogue options.

"Let's do this." "Who are the other two?" "Do my best, jack 'em out." "Hold on, think you've gone too far!" [Draw Weapon] "Let's cut this quick." (Kill the gang leaders) "what?" "You tried to cheat us all!" [Kill Maiko]

- This is an important part of the mission, if you accept Maiko's payment or any other alternative you won't unlock Judy's final mission.
Complete the mission. When Judy talks to you she'll seem upset about the situation. No dialogue option is important here
Pyramid Song (Side Mission - Judy Storyline)
Judy will need time to process the events of the past days. She will eventually call you asking if you would like to go diving with her. Be sure to pick "Hell yeah I'm in"
Complete the mission. There are optional tasks during this, these let you find out a little more about Judy's past
When you arrive back at the cottage with

Judy she will invite you to stay over, pick [Stand] "Why not"

- Important decision If you decline the invitation the mission will end and no romance for you!
Upon turning on the power, you overhear Judy's thoughts about her old friend.

Approach the bathroom door and select the following. [Sit] "We're still synced." [Touch] "It is ours."

Judy will then proceed to kiss you, leading to the romance scene. - Important decision.
The next day you'll find Judy sitting by the pier, she'll ask you a question, make sure you pick "The beginning of something amazing"

- Important decision. This will trigger a relationship with Judy in which she'll sometimes drunk text or call you, amongst other forms of interaction whether you see her or call her. You will also get a key to her apartment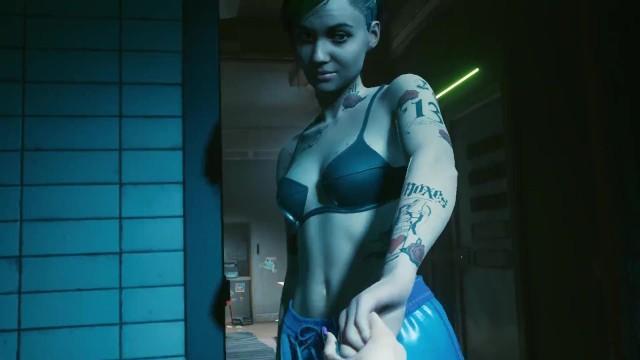 This is regarded as one of the most in-depth and detailed storylines in Cyberpunk 2077 and also key in unlocking the ending with Judy. Upon completing this you'll be rewarded with the "Judy vs Night City" achievement.
For all the other Romances in Cyberpunk 2077, see the Full Cyberpunk 2077 Romance Guide (All Romances & Options).