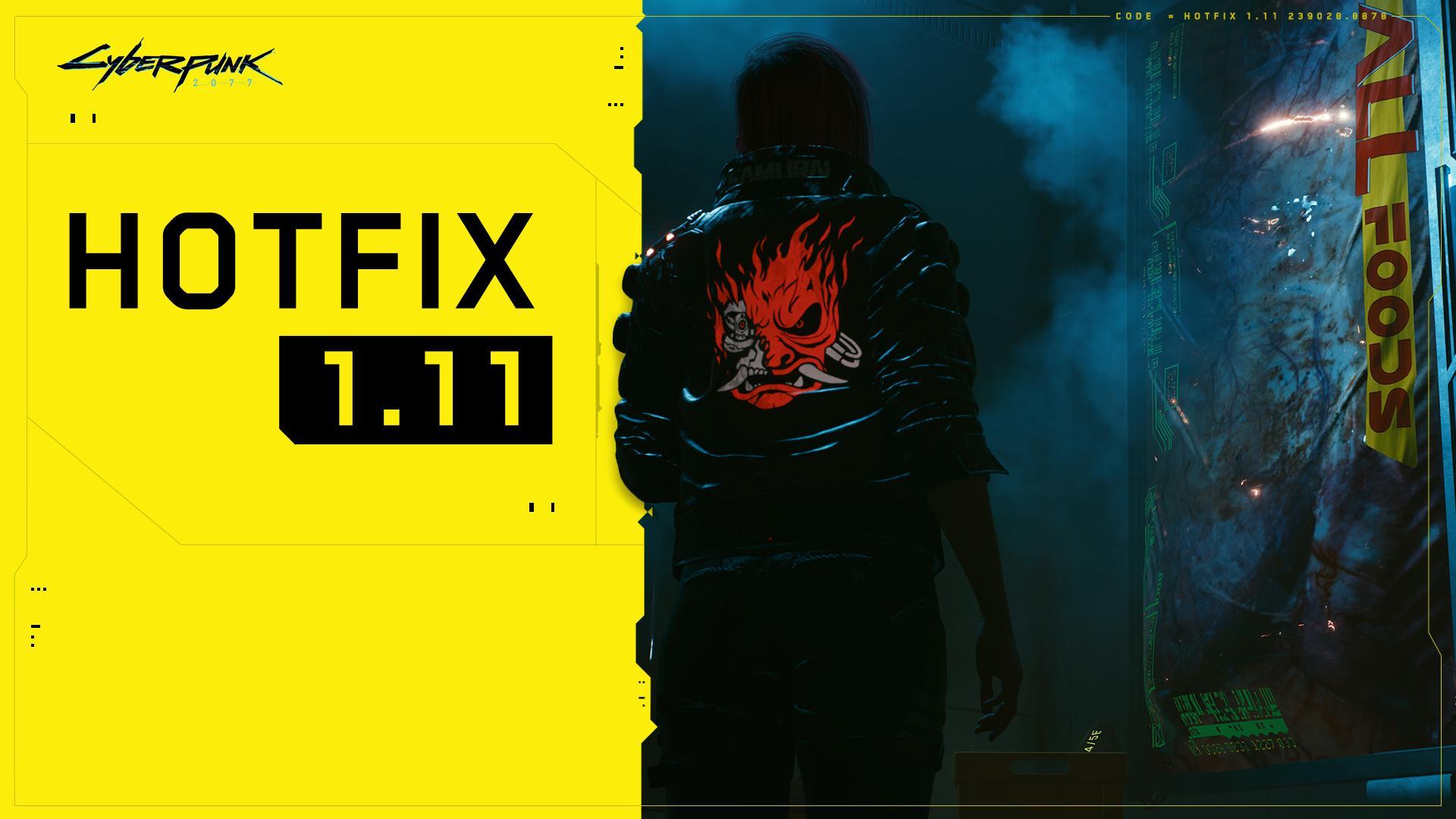 Following update Patch 1.1, a hotfix has been released titled 1.11 for Cyberpunk 2077 that addresses some additional issues regarding item randomization and holocall bugs.
Cyberpunk 2077 Hotfix 1.11 Patch Notes
Hotfix 1.11 is available on PC, consoles and Stadia!

This update addresses two issues that appeared after Patch 1.1:

Item randomization has been restored to the previous state.

The save/load loot exploit will be investigated further.

A bug in Down on the Street quest has been fixed.

It occurred for some players during a holocall with Takemura, when using a save made on version 1.06 with Down on the Street quest in progress at "Wait For Takemura's call" objective. After loading such a save on version 1.1, the holocall would lack dialogue options and block interactions with other NPCs.
Takemura "Down on the Street" Bug Fixed
The previous patch had included a game breaking bug involving the quest "Down on the Street" wherein Takemura's holocall would get glitched.
As reports flooded in about this issue, CDPR released a workaround for this as follows:
Load a gamesave before Takemura and V leave Wakako's office.
Finish the conversation with Takemura outside the office right away
Right after the finished conversation and when the quest was updated, skip 23h.
See if the holocall triggers and the dialogue with Takemura starts.
While it was not an official fix, it was meant to bide over players until this hotfix. Additionally, this workaround required the player to use a save from before the bug occurred. This quest being a key quest prompted the action from the developers to address such a critical issue immediately.
Cyberpunk 2077 Patch 1.2 & Next Updates
Patch 1.2 is slated to arrive in the coming months, which promises even more bugfixes in an attempt to bring the game to an acceptable state across all platforms.
Cyberpunk 2077 has faced no shortage of criticism regarding its release, and developers CDPR have been in the proverbial crosshairs of disgruntled gamers. Bloomberg reporter Jason Schreier wrote a piece chronicling the magnificent disaster leading up to the launch, with quotes and claims from former employees. Some even went so far as to state that the E3 Demo was almost entirely "fake."
Studio Head Adam Badowski, who had previously refused to comment on the article, took to twitter to address some issues he had with the writing. He provided context for the quotes from the employees, as well as addressed the fake demo issue, stating that it is not easy for a demo, which is meant to be a "vertical slice" or a "test of vision" of the game 2 years prior to release. He then went on to draw comparisons between the demo and the final game, pointing out similarities. He also addressed another issue about employee conduct within the company, specifically during meetings with non-Polish speakers. There were claims that sometimes people broke out into speaking Polish with non-Polish speakers in the room, which went against company policy to switch to English in such scenarios. Badowski, however, refuted this claim.
While the journey is far from over for CDPR, the road ahead promises to bring back the players to a game fit for their standards. They constantly acknowledge their success with The Witcher 3, using it to motivate themselves, and their confidence in their own abilities is reassuring. Feel free to check out our other guides on Cyberpunk 2077!