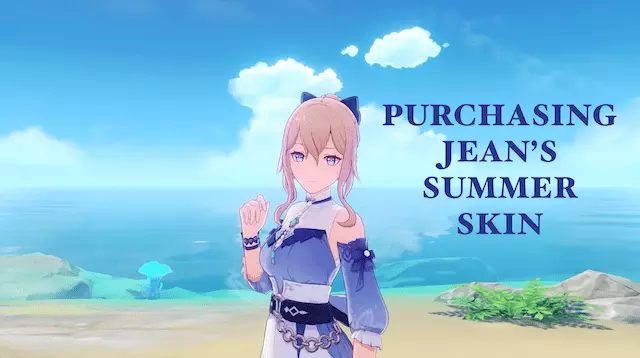 With the 1.6 Version coming on 9th June, the Jean Summer Skin will soon be available to Genshin Impact players. This article will detail the best way to purchase Jean's Summer Skin and answer some commonly asked questions with regards to the event.
Cost
Jean's summer skin will cost 1350 Genesis Crystals during the event period and will be permanently available in the Shop within Genshin Impact. However, after the event, the skin will cost 1680 Genesis Crystals. The price depends on whether you have previously purchased Genesis Crystals, as that dictates how many additional Genesis Crystals you obtain.
Purchasing
I will be basing all this off USD, if you would like to check the respective rates of Genesis Crystals in other currency, you can refer to this website. The best way to purchase the skin would definitely be during this event. To obtain 1350 Genesis Crystals, I would recommend purchasing 5 Blessings of Welkin Moon. The cost of each Welkin Moon is about 5 USD, so 5 Blessings would cost 25 USD. Since each Blessing gives you 300 Genesis Crystals, you will be able to purchase the Jean skin. To check the costs of Welkin Moon in each currency, you can use this website. You will obtain a total of 2700 Primogems with each Welkin Moon, so 13,500 Primogems in total will pretty much guarantee a 5-star character. With the Blessings, you will obtain 84 pulls (typically enough to hit Soft Pity) and the Jean Summer Skin.
If you have not purchased any Genesis Crystals before, you will get double the number of Genesis Crystals for your first purchase of the same amount. As such, if you prefer to buy Genesis Crystals only, you can buy 980 Crystals for 14.99USD. Purchasing the Jean skin during the event gives 610 Genesis Crystals remaining, enough to do almost 4 wishes.
However, if you have purchased 980 Genesis Crystals before, you will need to get a combination of 980 Crystals (it comes with an additional 110 Genesis Crystals) and 300 Crystals. This will cost about 20USD.
Though it seems cheaper to purchase Genesis Crystals purely, if you are desperate to get a new 5-star character or weapon, the Welkin Moons will be more worth it. By spending 10USD more, you are practically guaranteed another 5 star.
FAQ
Can I buy the skin using Primogems instead of Genesis Crystals?

It is highly unlikely that you will be able to purchase the skin using Primogems. You will have to spend money to get her skin.

Does Jean's skin come with new idle animations?

No, there are no new idle animations with the skin. It is purely cosmetic.

Do I need to already have Jean to purchase the skin?

You probably do not need to have Jean to purchase her skin. Though it is not a safe bet to purchase the skin since Jean is a standard character, you can still purchase the skin if you'd like. Genshin Impact will probably follow Honkai Impact in this sense and MiHoYo is unlikely to hurt their own revenue by preventing players from purchasing items.

How much is the Barbara Summer skin?

Barbara's Summer skin is free and can be obtained after completing the event.

How long will the discount on Jean's Summer skin last?

From the start of the 1.6 version to the end of the 1.6 version (both Klee and Kazuha's banner).
We hope that you have found this article helpful and that you will enjoy the new updates in the 1.6 version of Genshin Impact! Head here to read more about what the 1.6 Version has in store or here for Serenitea Pot Realm Depot and Layout tips. Let us know if there are other articles you would like to read!