Call of Duty Warzone Season 3 Reloaded continues, and players continue to search for the best classes to use with their preferred weapons. This is vital because it will help you improve certain parameters of each type of weapon, although always according to your style of play. Keep reading for the best RAM 7-class!
Best RAM-7 Class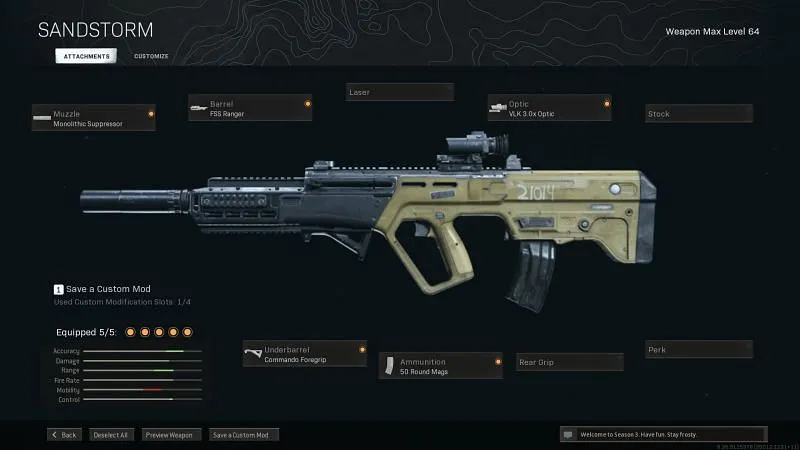 Although previously not a popular weapon, the RAM-7 assault rifle has become one of the most widely used in COD Warzone. Its incredible lethality and good parameters were valued at the end of last year, after discovering that it was one of the most balanced rifles in the game.
Perhaps you are bored of always using the FFAR 1 or the AMAX, so you must take into account the benefits of the RAM 7 rifle. Its best virtue is speed, but it can always be improved thanks to a series of accessories, advantages, and equipment to configure the best possible class.
Do you want to have the best RAM 7 in COD Warzone to raze in Verdansk?
Then pay attention and apply the following accessories, perks, and equipment to get the best RAM 7 class in Call of Duty Warzone, which you can play on PS4, Xbox One, and PC.
The RAM-7 assault rifle is an ultra-fast weapon, one of the most popular for the COD Warzone community today. But, as we always say, it is possible to create a balanced class suitable for your style of play.
Luckily, you don't need to unlock it by challenge or by reaching a certain level, as it was introduced by Activision. It was incredibly popular with season 4 of free-to-play and is a notable alternative to other weapons of a similar nature, such as the AMAX or the popular FFAR 1.
We're going to leave you with the best accessories, perks, and gear to use with your RAM-7 assault rifle, but keep in mind that this setup is geared toward a generic playstyle. You may not adapt to this setup, so keep that in mind and try different types of accessories and gear.
Barrel: Monolithic Suppressor
Barrel: FSS Ranger
Look: G.I Mini Reflex
Underbarrel: Commando Foregrip
Ammo: 50-caliber Round Mags
Advantage 1: E.O.D
Advantage 2: Overkill
Advantage 3: Amped
Tactical: Heartbeat sensor
Lethal: Semtex
Thanks to these benefits, you can carry your RAM 7 alongside a sniper rifle or submachine gun, ensuring that you can fight enemies from any distance in Verdanks. In addition, you can switch from one weapon to another at high speed.
RAM 7 increases its distance range thanks to the monolithic suppressor and the FSS Ranger stock, mainly in terms of midrange. You will also notice that the weapon is more stable and has less recoil, although you will also sacrifice a few seconds of ADS. But it will be worth it.
For its part, the Mini Reflex sight gives you good visibility for the RAM 7 rifle, especially if we talk about medium distances. And of course, it is also a great option for short distances, something essential as it is a fast assault rifle, handy and with very balanced parameters.
Finally, the Commando grip and round 50 caliber ammo will further stabilize your shots, reducing recoil and increasing accuracy. Your fast shots with the RAM 7 will always go towards the selected target, and it will not excessively deplete the ADS levels of the weapon.
---
Do you regularly play COD Warzone? If the answer is affirmative, why not read more guides, here, at GamesAtlas.