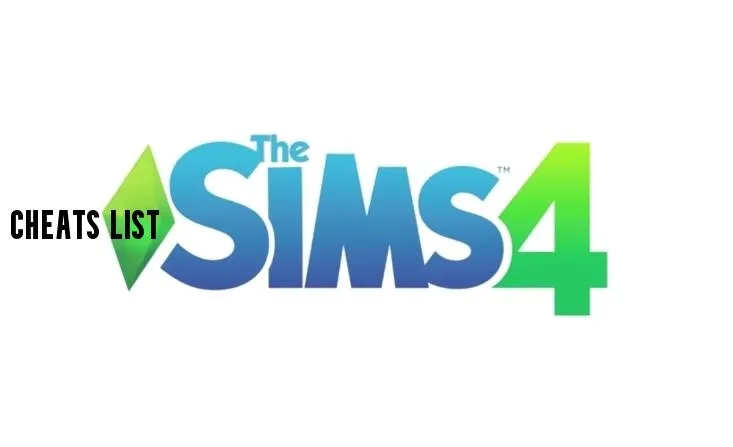 As handy and convenient as quick cash is, we all know you aren't here for kaching and motherlode.
But I've compiled the ultimate The Sims 4 cheat sheet that will upgrade both your gameplay and your characters!
How to Enter Cheats in The Sims 4?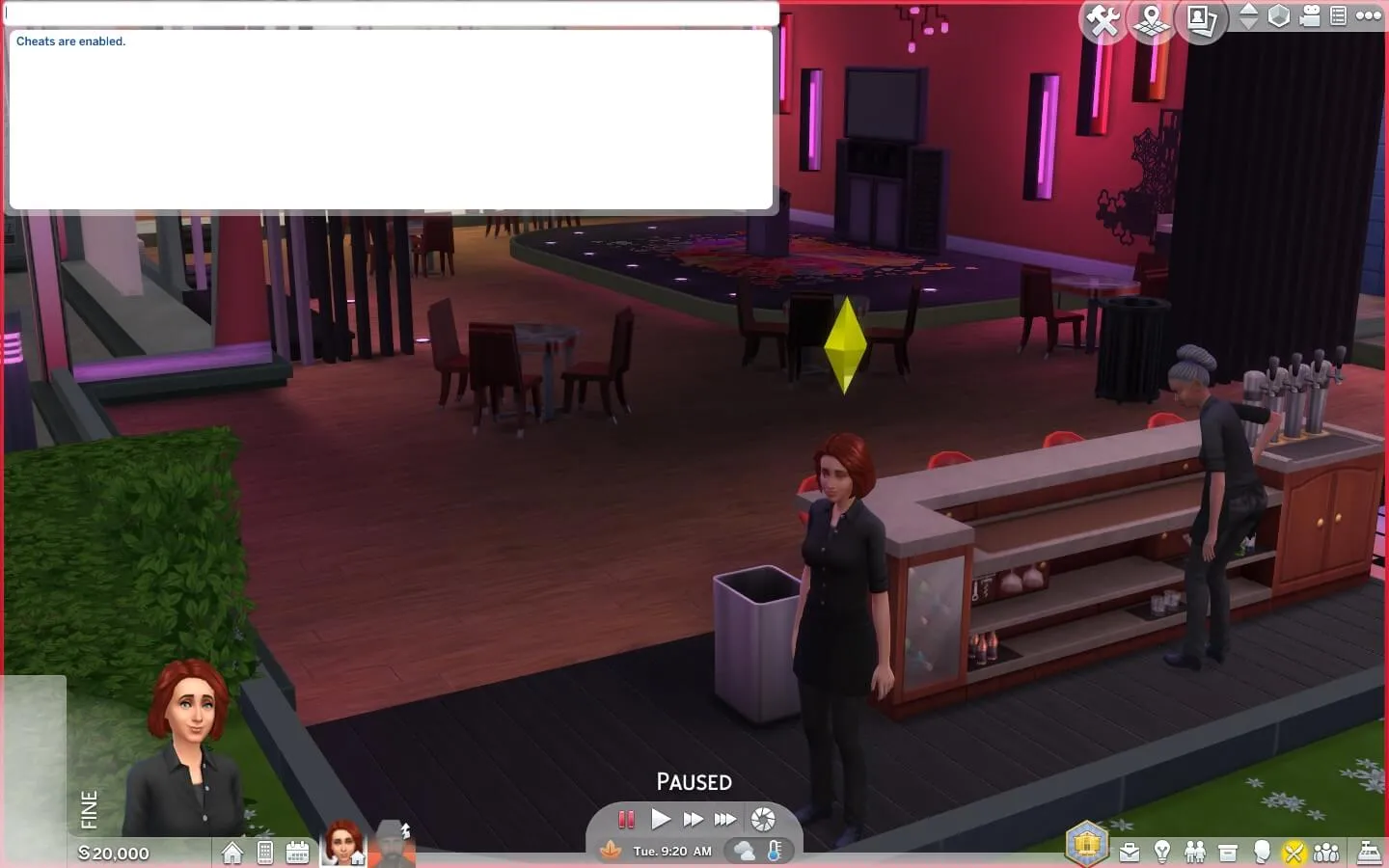 Never tried entering a cheat before? It's super easy. To activate the cheat console:
On PC, press Ctrl + Shift + C simultaneously,
On Mac, press Command + Shift + C,
On PlayStation 4 and Xbox One, press all four shoulder buttons at once.
Then type testingcheats true. Once you do that, you're cheat-ready.
Unique & Useful The Sims 4 Cheat Sheet
Social & Relationship TS4 Cheats
Suppose you're like me, and you've always wanted to create intricate relationships between your Sim families. But: You are also a bit lazy to do it manually. In that case, you'll appreciate the following cheats that allow you to manipulate the social stats easily.
These cheats need to be entered for both of the targeted Sims separately for their relationship to be harmonious. I'll be using Eliza and Bob Pancakes as props here:
modifyrelationship Eliza Pancakes Bob Pancakes 80 LTR_Friendship_Main
modifyrelationship Eliza Pancakes Bob Pancakes 80 LTR_Romance_Main
With these two cheats, you get a positive friendship and a positive romance between the two Sims.
You can also make their relationships negative to add some spice:
modifyrelationship Eliza Pancakes Bob Pancakes -80 LTR_Friendship_Main
modifyrelationship Eliza Pancakes Bob Pancakes -80 LTR_Romance_Main
These social cheats can also come in handy:
relationship.introduce_Sim_to_all_others - to make acquaintances with all Sims
relationships.create_friends_for_Sim - this cheat spawns a new friend on your lot
Career TS4 Cheats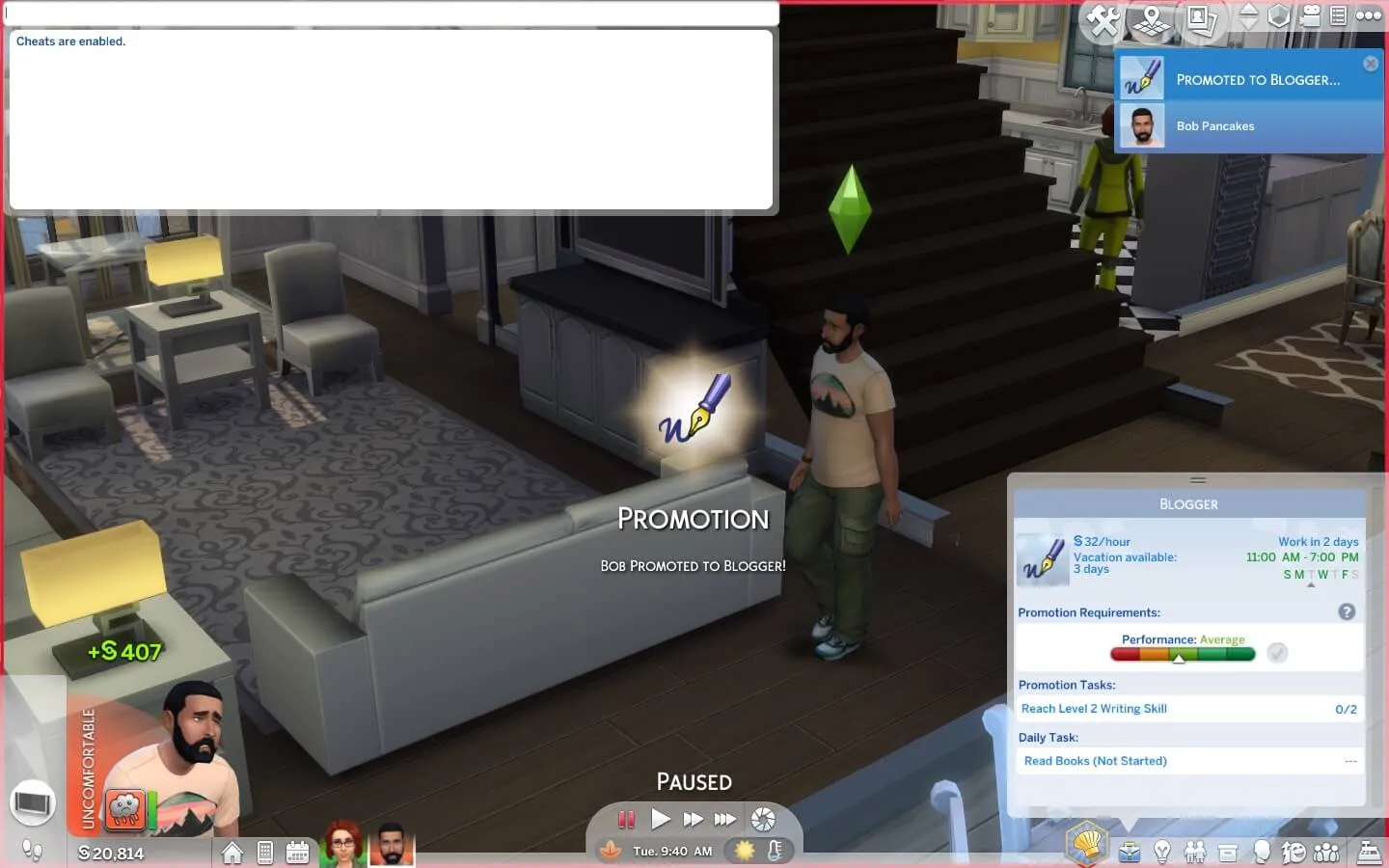 Besides my favorite social cheats, career cheats deepen your character's plots and stories without you having to make them go to work and excel at their career for a promotion.
careers.add_career [career name] - adds a career to your Sim
careers.promote [career name] - promotes your Sim in their careers
careers.retire [career name] - retires your Sim
Skills TS4 Cheats
Specific career skills are much too demanding and time-consuming to obtain manually. Besides, it's way more fun to play with fully developed Sims once you improve their skills with these cheats:
stats.set_skill_level Major_Charisma x - instead of "Charisma", you can put any other skill, and instead of "x", add the desired skill number!
You can set your Sim's skill levels to your liking so that you can choose from 1-10.
Some minor skills need a slight change in the code, and those skills are Dancing, Media Production, Local Culture, and Juice Fizzing:
stats.set_skill_level Minor_Dancing x - minor skills range between 1-5.
Pro tip: Certain skills have weird names in the cheating console, such as basic cooking - HomestyleCooking. The code for the Fitness is also a bit different:
stats.set_skill_level Skill_Fitness x
Toddler and Child TS4 Skills
Children and toddler can max out their skills as well! Toddlers are a handful to play with when they don't have their skills developed, so it's always good to have a headstart with these cheats:
stats.set_skill_level Skill_Toddler_SkillName x - the toddler skills you can upgrade are Communication, Imagination, Movement, Potty, and Thinking. They max out at 5.
Child skills max out at 10, and you can upgrade the following ones: Creativity, Mental, Social, and Motor. Once you drive them up, your child Sims can have regular skills developed.
stats.set_skill_level Skill_Child_SkillName x
Happy Simming with Cheats!
While you can labor all day at developing complex plots and creating relationships in your storyline, it's always easier to play God for a little bit and do things the faster way.
Cheats can undoubtedly upgrade your gameplay and save you so much time while also allowing you to enjoy yourself more!
Now that I've shared my favorite cheat sheet with you, let me know which ones you like using!