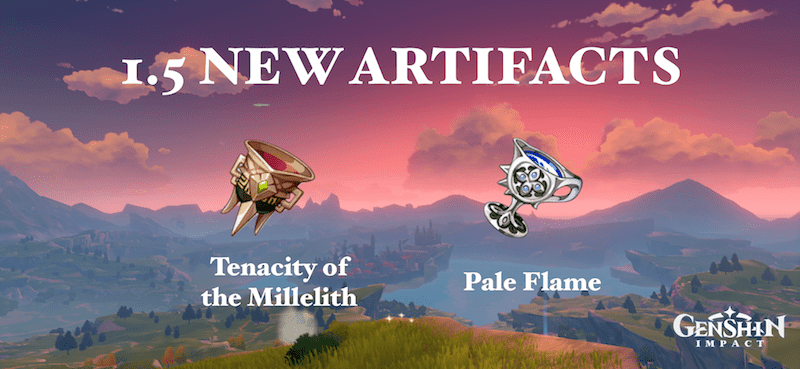 With the new domain that will be available in Version 1.5, there will be two new artifact sets that will be released. This article will focus on the uses of both artifact sets and what characters will benefit from them, as well as compare the sets with existing artifact sets for those characters.
Tenacity of the Millelith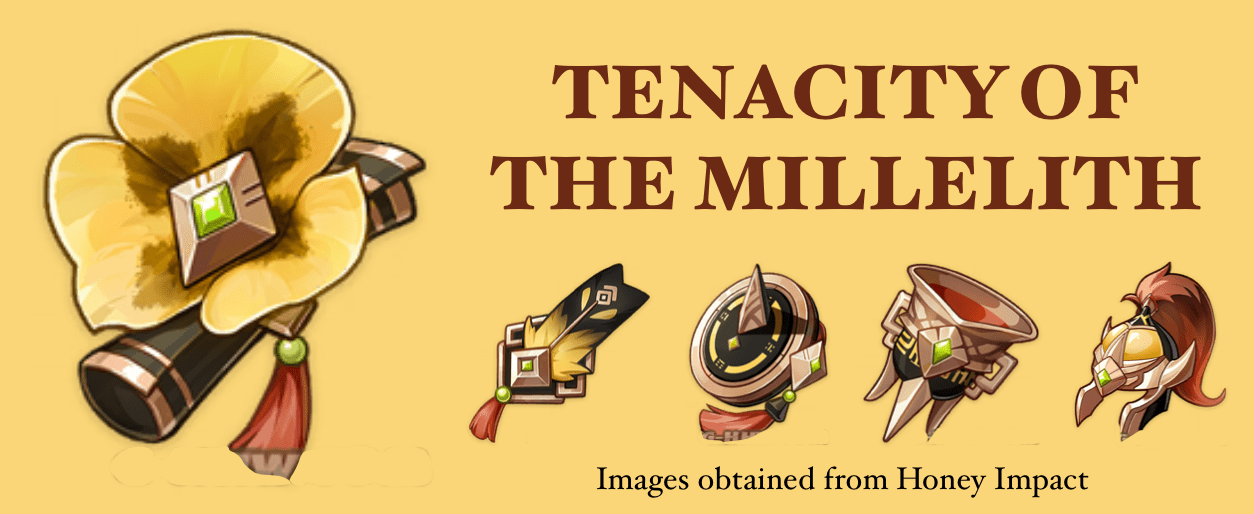 2-set: HP +20%
4-set: When an Elemental Skill hits an opponent, the ATK of all nearby party members is increased by 20% and their Shield Strength is increased by 30% for 3s. This effect can be triggered once every 0.5s. This effect can still be triggered even when the character who is using this artifact set is not on the field.
Viable characters: Zhongli (4-set), Diona (4-set)
This artifact set was definitely made with Zhongli in mind, and it makes sense that this domain was released along with Zhongli's rerun banner. Since Zhongli's Ultimate scales off his HP (30%), it could strengthen his abilities as a Burst Support DPS. The 4-set works well on Zhongli as well, since his pillar periodically deals Geo DMG that increases ATK of other party members. The 4-set feeds his tanky shield and abilities as a Support character, so if you are hoping to get Zhongli, do grind this domain. As of now, Zhongli support DPS works best with a 2-set Noblesse Oblige and a 2-set Archaic Petra. Since tests cannot be conducted with various artifacts as of now, it is difficult to determine the precise damage numbers that each artifact set will give. It is still safe to say that a 4-set will give a well-rounded support character on your team.
However, it seems to be viable for Diona as well. Since Diona's shield strength and healing abilities scale off her HP, the 2-set of increased HP will definitely benefit. Additionally, the 4-set seems to buff her more as a Utility character, especially if you use a Pyro Main DPS such as Diluc or Hu Tao. As of now, it is common to have a 4-set Noblesse Oblige on Diona to buff your other party members, but the Noblesse set is dependent on Diona using her Ultimate. With the Tenacity set, Diona just needs to hit enemies with her shield. If you are currently using a Maiden's Beloved set that increases healing, fret not as the Tenacity 4-set will strengthen her shield greatly for other characters to require less healing.
Pale Flame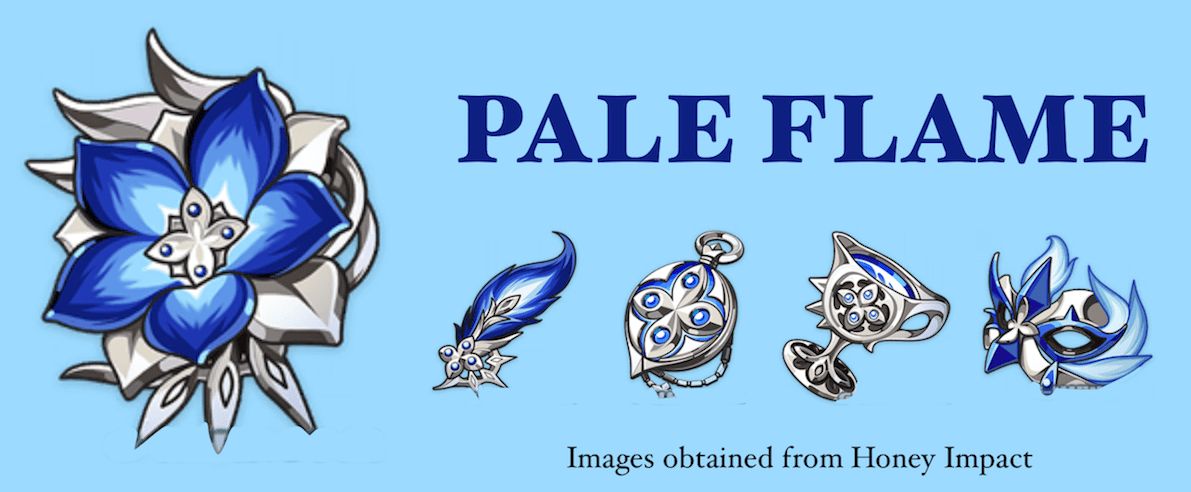 2-set: Physical DMG Bonus +25%
4-set: When an Elemental Skill hits an opponent, ATK is increased by 9% for 7s. This effect stacks up to 2 times and can be triggered once every 0.3s. Once 2 stacks are reached, the 2-set effect is increased by 100%.
Viable characters: Razor (4-set), Keqing Physical Build (4-set), Eula (4-set)
Note that the 2-set of Bloodstained Chivalry set gives the same Physical DMG Bonus of 25%, but a different 4-set bonus. After defeating an opponent, increases Charged Attack DMG by 50% and reduces its Stamina cost to 0 for 10s. Also triggers with wild animals such as boars, squirrels and frogs.
Razor is a Physical build despite his Electro element. The short cooldown of his Elemental skill makes the 4-set a great choice as his ATK can be increased for higher Physical DMG consistently. This works for Keqing as well, for a Physical build. Comparing this with the Bloodstained Chivalry set, I would say that the overall benefits from this set still outweigh the Bloodstained. The 125% Physical DMG Bonus could go up to 200% with a goblet and a Physical DMG Bonus sub-stat weapon.
Eula seems to benefit from the 4-set as well and we might be seeing the "signature" set, similar to Zhongli with the Tenacity set. Since her Elemental skill and Ultimate do Cryo and Physical damage, the increased ATK will boost the Physical DMG slashes more than the Bloodstained set. Additionally, the explosion of the Lightfall Sword in her Ultimate deals Physical DMG, which will receive a buff from the 4-set. I will give a more in-depth explanation of Eula's build in a future article.
Conclusion
Since the artifacts have not yet been released in Genshin Impact, this article just gives a rough guide of what you can expect and whether you should grind the domain for your characters. Building your characters to focus on the needs of your team is ultimately the most important. We hope that you have found this article helpful or informative and do let us know if there are other articles you would like us to share!