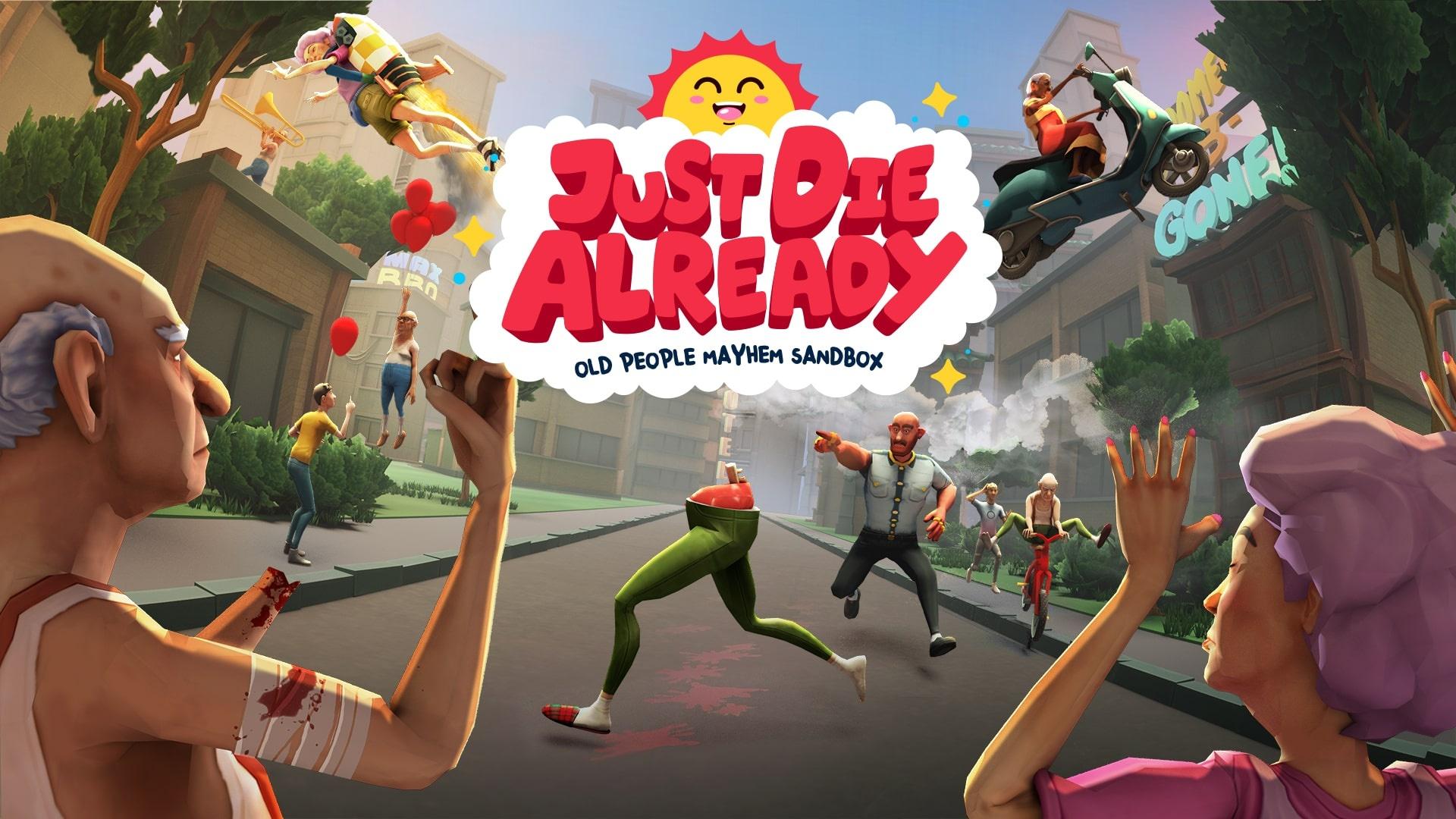 Just Die Already was developed by DoubleMoose Games studio, founded by one of the co-creators of the popular Goat Simulator. The game was released in May 2021. It is a unique experience filled with tons of dark humor and a lot of jokes that require a specific taste, but it is awesome when it hits. This is my Just Die Already Review. Enjoy the read!
Just Die Already Review
It will not be my typical segmented review because it is a game without any story or advanced graphics. However, the magic lays in the gameplay of the game and the fun around it so my score from the gameplay alone will be the score for the entire Just Die Already Review.
Just Die Already: Old People Mayhem Sandbox takes place in the near future, at a time when there is a shortage of young working people to finance pensions. The player takes on the role of one of the elderly, who in this situation has to take care of his own survival - securing a place in a luxurious nursing home.
In Just Die Already: Old People Mayhem Sandbox we can play alone or with others. The game offers a single-player mode and an online multiplayer designed for up to four players. It is an awesome experience for yourself as well as with some friends.
Our main goal is to eliminate other old people using what we find. Any measures and items are at our disposal. There is a whole range of items in the game, from firearms, through glue guns, rocket launchers, to jetpacks and catapults, and many many more. The character we control may die fairly easily, but the same can be said of our enemies. Just make sure that you will not accidentally kill yourself.
Summing up my Just Die Already Review, the game offers a unique experience, and it is just a simple and fun game to play around with when you just want to chill al relax. Similar to games like Doom or other mayhem, chaos adventures it is all about the destruction and brainless killing and it does it very well. It was not a huge release, but a fitting game for every fan of dark humor and with a distance to themselves and society. It might come off as edgy at times, but if you had a stressful week or even a day you might be able to get some of your anger out in the virtual world and the game is all about that. About being this type of fun experience with no complex characters and story plots, just a simple, colorful over the top world with arcadey mechanics.
Score: 71/100
---
Just Die Already is out now on PC, PS4, Xbox One X/S, Nintendo Switch, and Xbox Series X/S, PS5 via backward compatibility with no dedicated versions on new consoles yet.
If you know about any other similar games just let me know about them in the comment section down below!
For some of my lists check out this article about the 5 Best DLCs of the Last 10 Years.