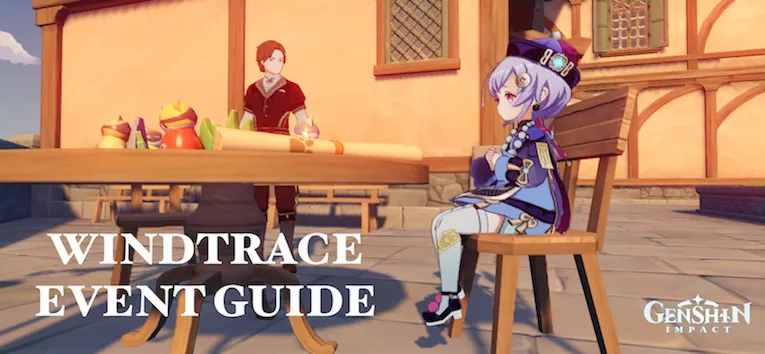 Preview
Windtrace is a new event in Genshin Impact that is essentially "Hide and Seek". Upon matching with other random players, 3 out of 4 of you will be the "Rebels" while 1 will be the "Hunter". The event can take place in one of five of the contested zones, as seen below. You can play with friends in your friends list, even with 1 or 2 friends, just that you will be unable to earn Windtrace coins from those rounds of gameplay. This guide will give tips on how to win as a "Rebel" or a "Hunter" and explain the respective Windward Arts and rules of the game.
Contested Zones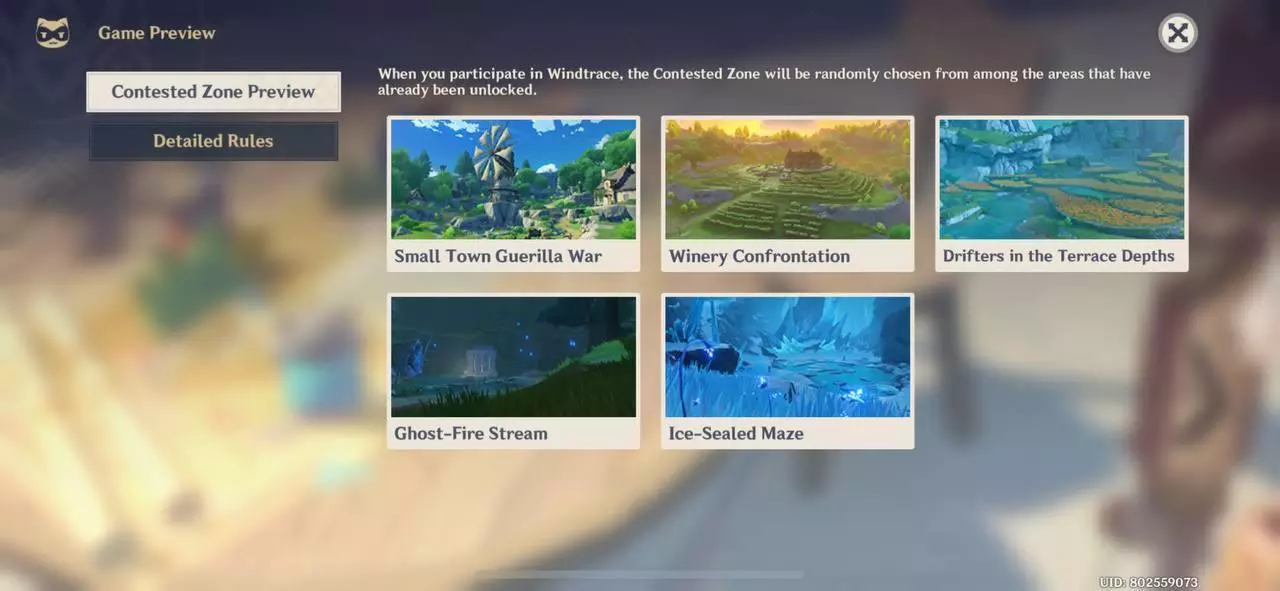 In each contested zone, you will have a unique hiding disguise. Do read the details when loading in to know what you are looking out for/what you can disguise as. The map locations of each zone are listed below:
Small Town Guerilla War: Springvale Windmill
Winery Confrontation: Dawn Winery House
Drifters in the Terrace Depths: Qingce Village Fields
Ghost-Fire Stream: Wuwang Hill Hidden Palace of Zhou Formula
Ice-Sealed Maze: Between Skyfrost Nail and Starglow Cavern
Tips & Characters
When the game starts, ensure that you are out of the Hunter's sight first
Do not hide in front of the hunter, they will be able to see you
Move to another location that the hunter has already checked if you see them moving closer to your current location
If you are a Rebel, use transparency and make a run for it when the hunter moves close to you
The best hiding locations are usually higher up as you can run away quickly if you see the Hunter coming (e.g. Windmill in the Small Town Guerilla War)
I would recommend bringing the following characters for either Hunter or Rebel:
Mona's unique sprinting animation and style is extremely helpful to escape from the hunter (you can just infinite sprint and hide underground) or to find rebels. Razor, Kaeya and Xiao have decreased stamina consumption for sprinting and climbing respectively, so this could make your game easier as well. It would be good to bring a taller character if you are playing as the hunter, as you will be able to move around more quickly. Using a character of shorter stature is important if you are looking to obtain the "no disguise" achievement as a Rebel. I will elaborate on the different achievements and rewards later.
Detailed Rules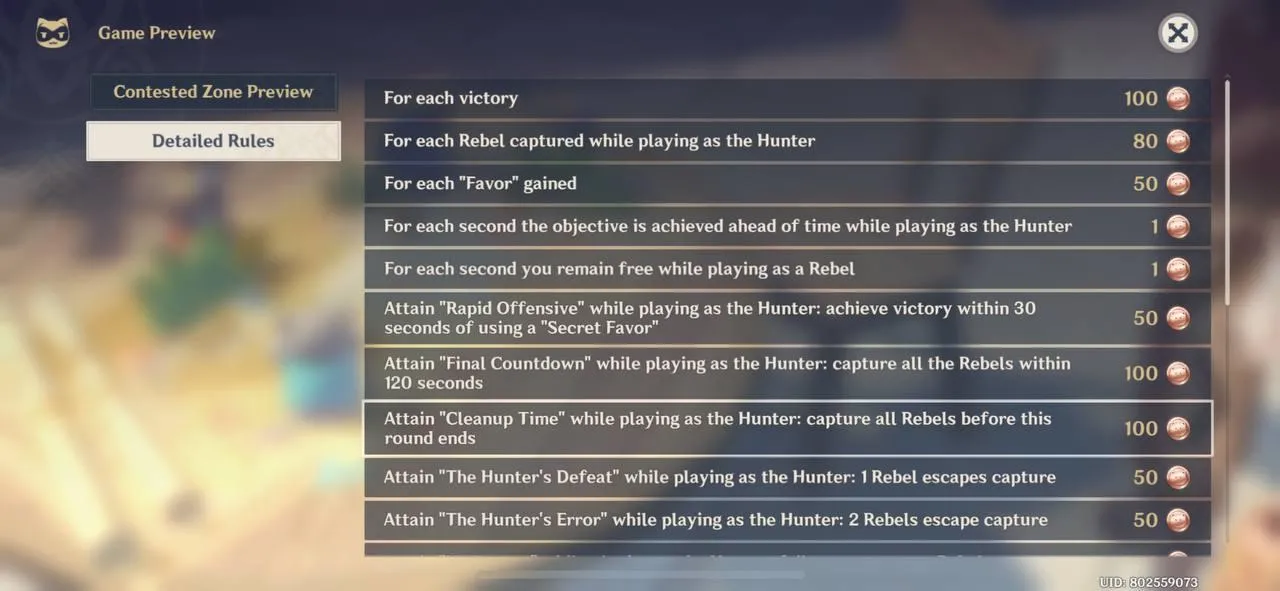 You can see the detailed rules for the number of Windtrace Coins you get in the Event menu. This will influence the number of coins you obtain in each round but is not extremely important as you can continuously play until you obtain more coins.
Favour
Favours will descend at about 1.5-2 minutes and you will be able to run towards the favour to obtain it. Pick your buff before playing the game through Windward Art. Thereafter, you will obtain a buff as either a Hunter or a Rebel. For example, one of the favours allows Hunters to see locations of all Rebels for 20 seconds.
Windward Art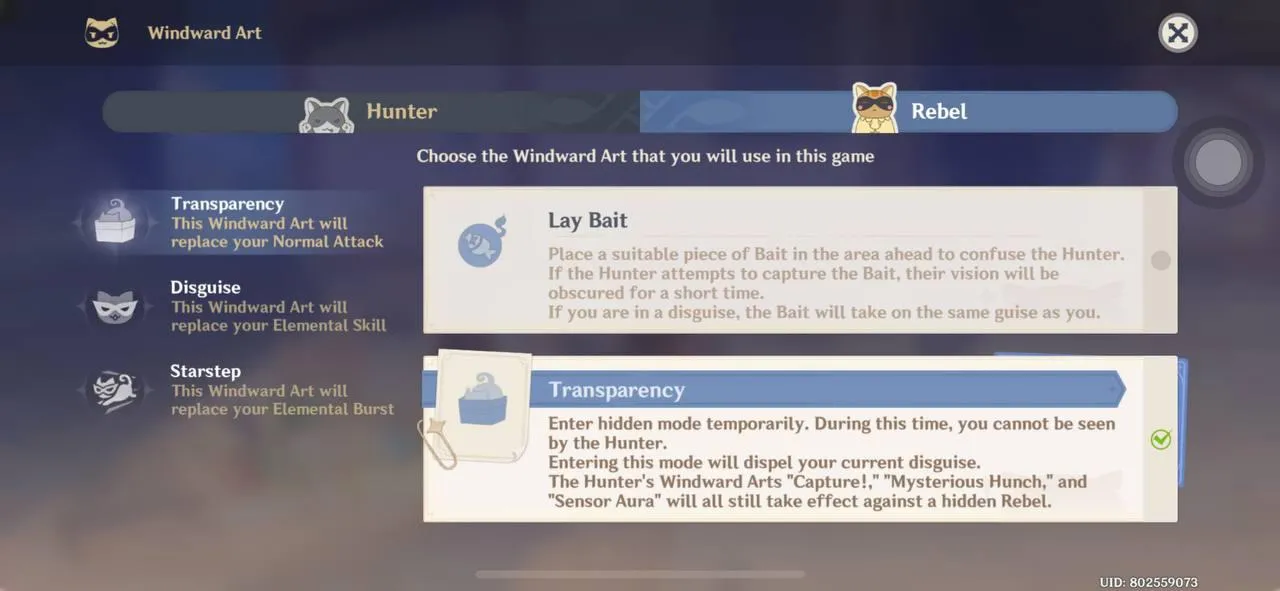 As a Rebel, Transparency is the better Windward Art to use as you can hide from the hunter temporarily if you see them coming your way. You will get a three-second countdown before your transparency disappears.
For Hunters, I personally feel that Mysterious Hunch is better than Sensor Aura as you will know specifically where each of the Rebels is. For your Elemental Burst replacement, it is rather subjective depending on your playstyle. I personally like Insight as you can see the location of nearby Rebels on the scene with a pillar of light, so you know of the different Rebels and are more likely to win the game.
Rewards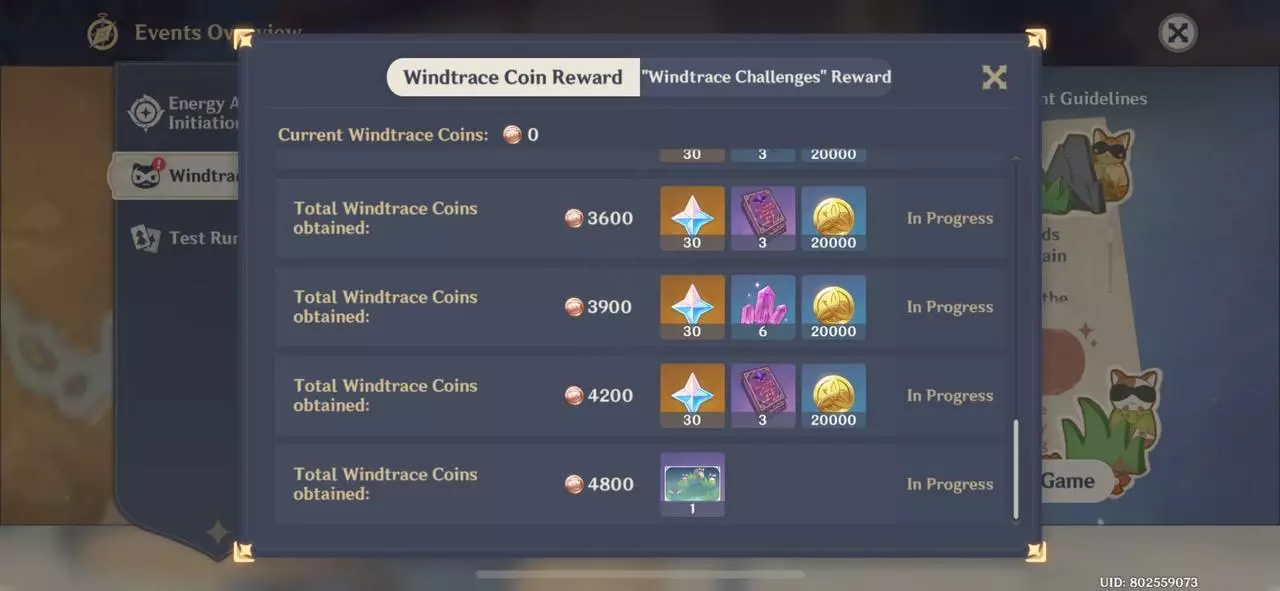 Under the Event page, you will be able to see the Rewards you can obtain as you gain more Windtrace Coins. To get the namecard, you will need to have 4800 coins. Each day, there is a limit to the number of coins you can accumulate, which increases gradually.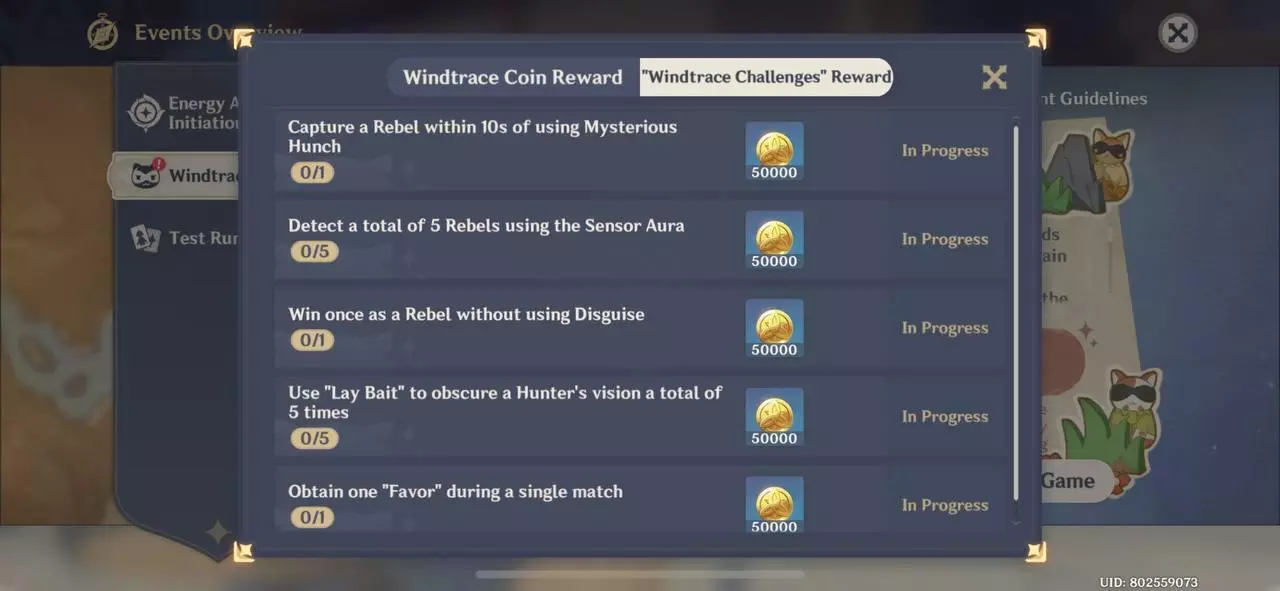 Windtrace Challenges Rewards can be seen above, you just need to complete each challenge once and you can get 50,000 Mora. Note that you CAN complete this with friends in your friend list, so just co-ordinate with some friends while completing these challenges so you can all farm Mora!
We hope that you have found this article helpful and that you are enjoying the new updates in the 1.5 version of Genshin Impact! Head here if you would like to read a Yanfei build guide, here to read a Eula build guide or here to read about the new domain, Ridge Watch. Let us know if there are other articles you would like to read!