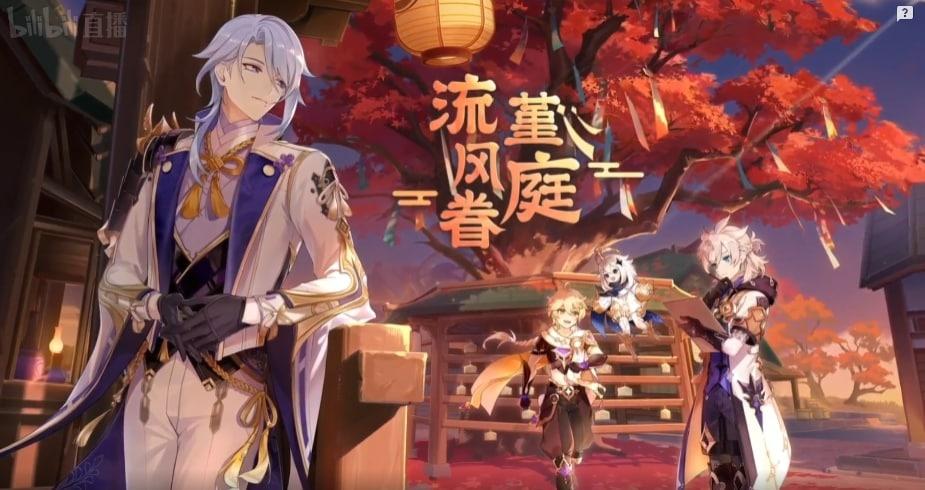 2.6 Update
This article will summarise the updates from the 2.5 live stream of Genshin Impact, with details on the new banners, weapons, enemies, story quests, artifacts and events.
Codes
The codes that can be redeemed from this live stream are below:
AB7CKBVQULE5
3TPUKSV8C5X9
UT7C2TD8C5ZD
In total, they give 300 Primogems, 5 Hero's Wit, 10 Mystic Enhancement Ores and 500,000 Mora.
Character Banners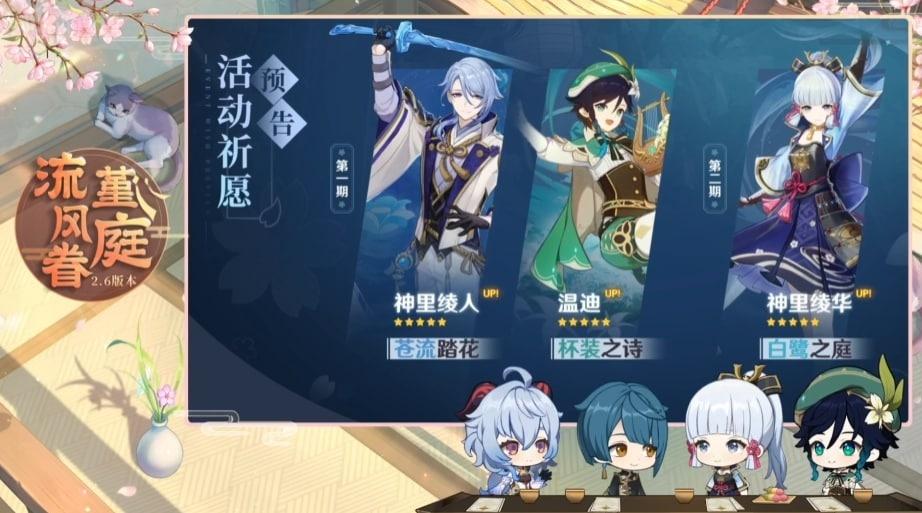 The first banner in the 2.6 version of Genshin Impact is a double Kamisato Ayato banner with a rerun of Venti. There are no new 4 star characters in this update. For more information on how to build Venti, you can refer to this guide.
The second banner in the 2.6 version is a rerun of Kamisato Ayaka. For more information on how to build Ayaka, you can refer to this guide.
New Weapon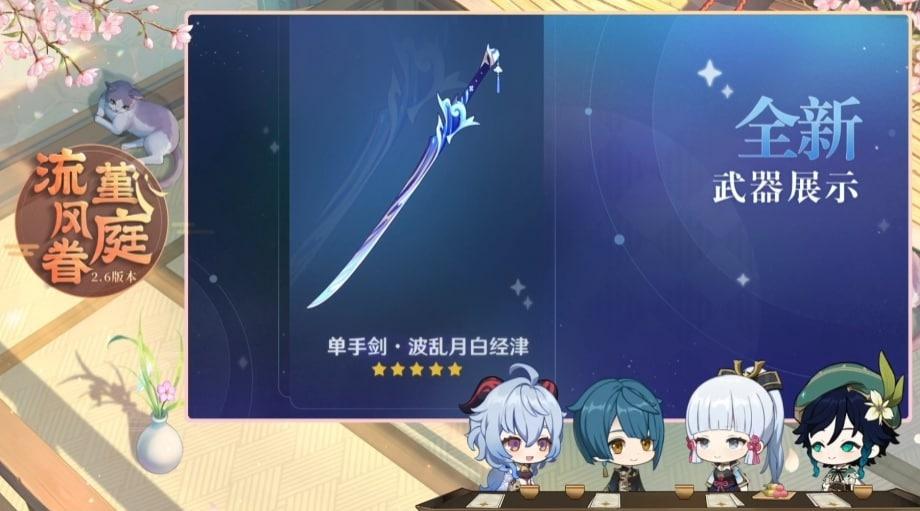 There will be a new 5-star sword weapon on the weapon banner for Kamisato Ayato, the Haran Geppaku Futsu. This weapon has a CRIT Rate sub-stat (33.1% at Level 90, with a Base ATK of 608) and a passive that increases the Elemental DMG Bonus by 12%. When other characters nearby use Elemental Skills, the character equipping this weapon will gain 1 Wavespike stack (maximum 2 stacks). This can be triggered every 0.3s. When the character equipping this weapon uses an Elemental Skill, all stacks of Wavespike will be consumed to gain a Rippling Upheaval, each stack of Wavespike consumed will increase Normal Attack DMG by 20% for 8s.
If the leaks are correct, the first half of the 2.6 version will have Haran Geppaku Futsu with the Elegy for the End bow. The second half should have Ayaka's best-in-slot weapon, the Mistsplitter Reforged.
Events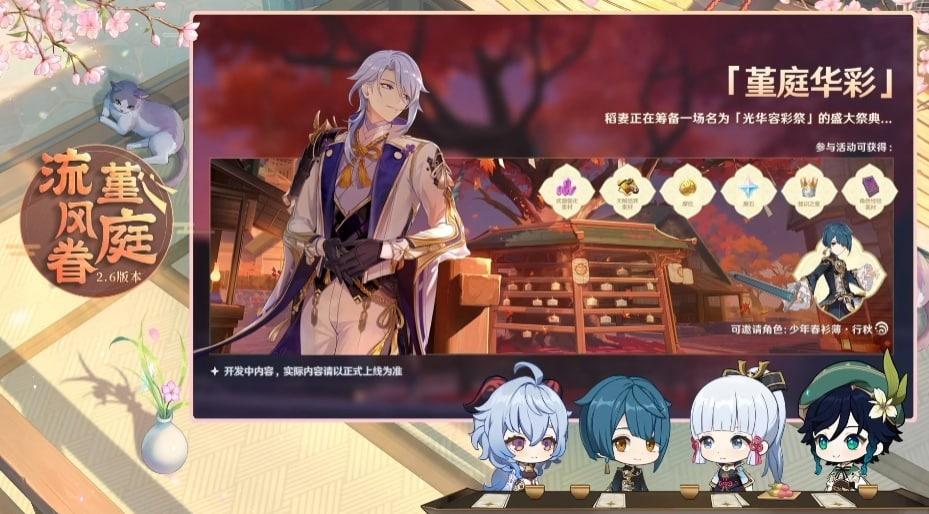 The Magnificent Irodori Festival event is an Inazuma Festival, that has several mini-games. You will be able to obtain a free Xingqiu after completing this event. As part of this event, there are several mini-games, as listed below:
The Moon and Stars Inscribe - taking photos of specific objects (such as Sakura, Naku Weed) as required gives rewards
Theatre Mechanicus - back by popular demand, the tower defence game requires players to place totems down and defeat enemies before they reach the end of the map
Clash of Lone Blades - a combat event that requires you to fight Nobushis without elemental skills and bursts
The Floral Courtyard - flower pot decorating event!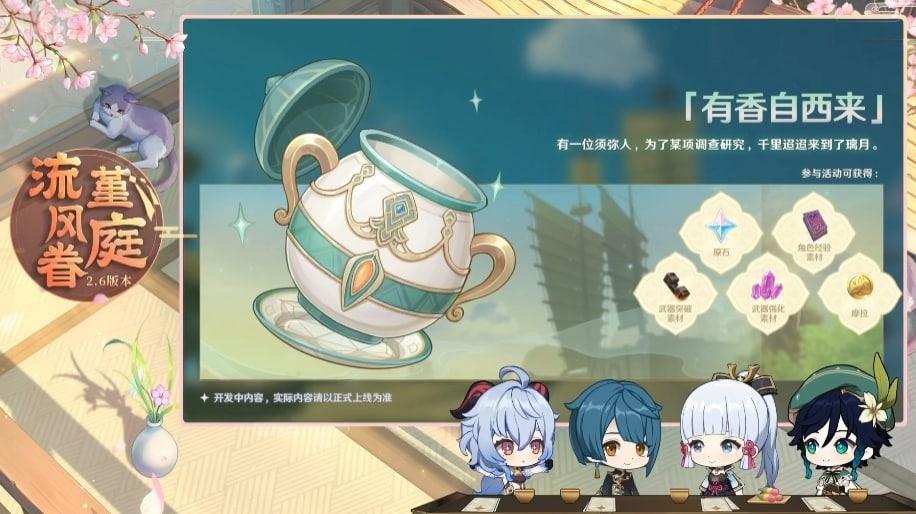 The Spices From the West Event seems similar to the Of Drink A-Dreaming event currently in-game. This event requires players to place food items into the pot in the correct sequence to obtain rewards.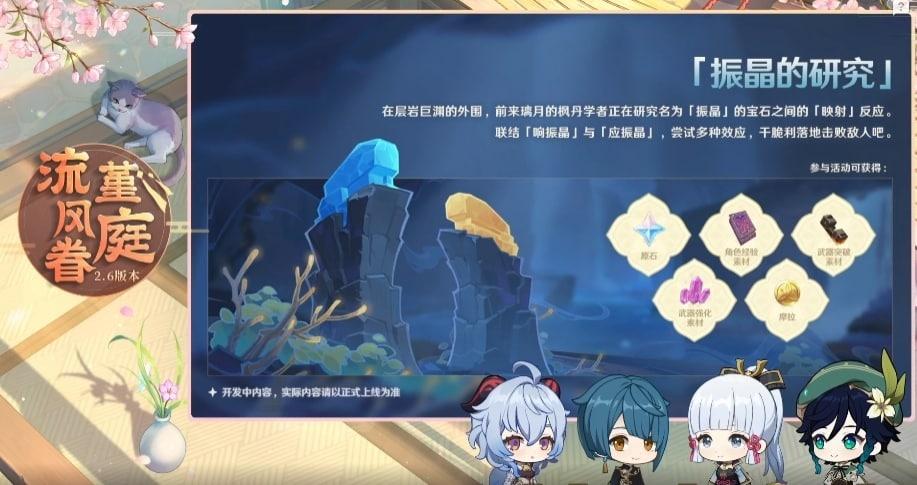 Vibro- Crystal Research is an event that looks similar to the Hyakunin Ikki event, just that each team has 4 characters, instead of two. Here, players have to defeat wave after wave of enemies and utilise in-game buffs strategically to make the runs easier. For newer players, you will be able to use the pre-built trial characters to clear the domain. You will also be able to obtain Primogems, Hero's Wit, Weapon Ascension materials, Mystic Enhancement Ores, and Mora.
The last event is Outside the Canvas, Inside the Lens, a photo-taking event. Additionally, there will be a Ley-Line Overflow for players to get double the materials (Mora, books) from Ley-lines for a period of time. Do keep your Mora and Hero's Wit runs till then!
New Artifacts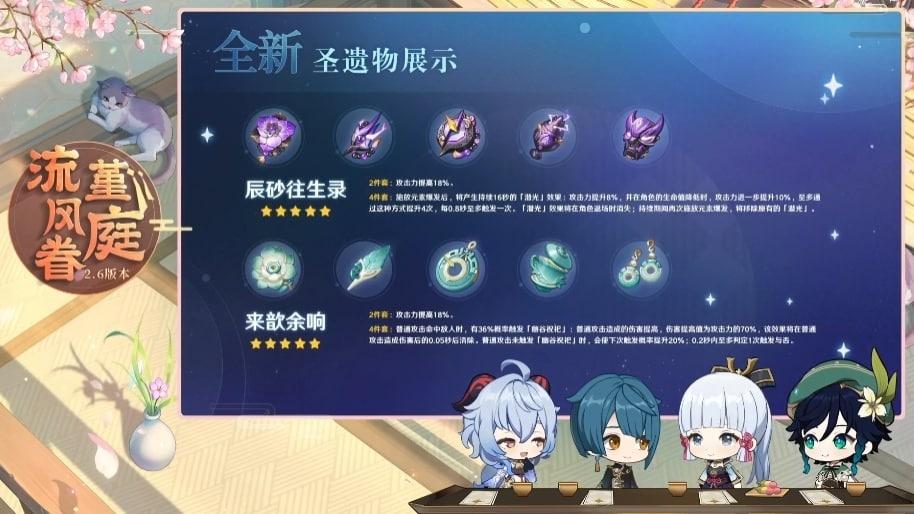 There are two new artifact sets, with the artifact domain located in the Chasm. The Artifacts are called Echoes of an Offering and Vermillion Hereafter.
The Echoes of an Offering set 2 piece gives an 18% ATK increase. A 4 piece causes Normal Attack (NA) to have a 36% chance to proc (once every 0.3s) a buff that boosts NA DMG by 60% of ATK. The buff expires 0.05s after the next NA that deals DMG. If a NA doesn't proc the buff, the next NA will be 20% more likely to proc it. The Vermillion Hereafter set 2 piece also gives an 18% ATK increase. For the 4 piece, after using an Elemental Burst, the character will gain a buff, increasing their ATK by 8% for 16s. When the character loses HP, their ATK will further increase by 10%. This increase can occur up to once every 0.8s, max 4 stacks.
For more information on which characters to use these artifacts on and how to complete the domain, do look out for my future guide!
Chasm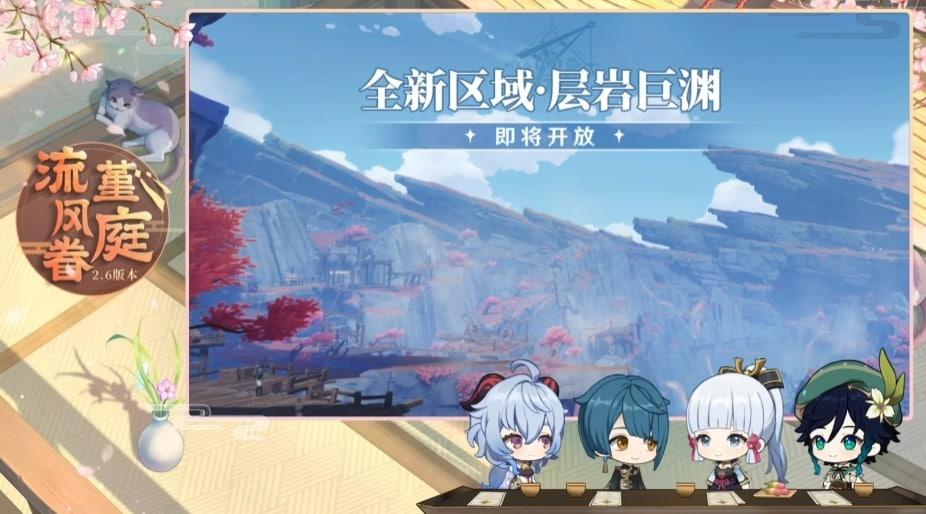 Chasm, the area underground near Liyue will now be open for exploration! There is a similar mechanism to Dragonspine and Inazuma, completing more exploration of the new region will give rewards.
New Enemies
There is a new boss called Ruin Serpent located in Chasm, seemingly similar to the Ruin machines but in a snake form. Additionally, there are new Spectre-type enemies called Floating Fungus and a new Abyss-type boss called Black Serpent Knight: Windcutter.
Story Quests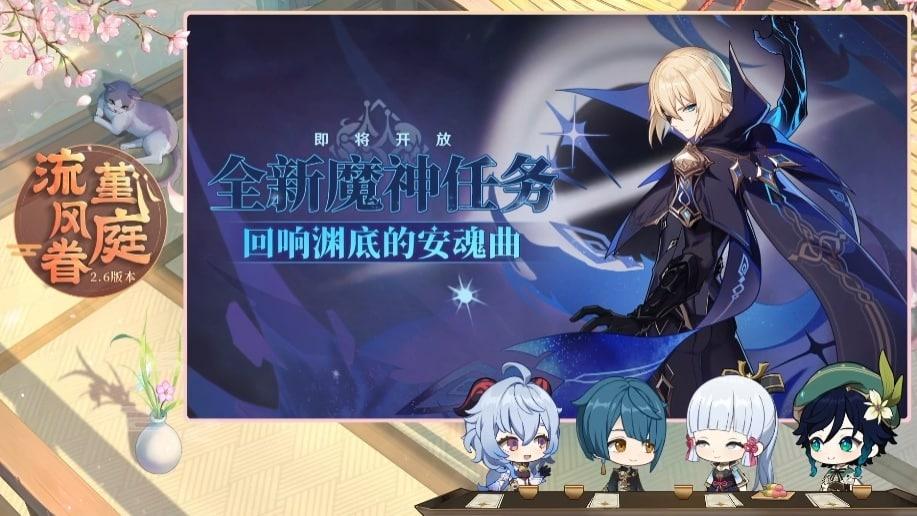 As with every 5 star, there will be a Kamisato Ayato story quest. There will also be the main story quest, where we will meet Dainsleif once again to learn more about the Chasm and Khaenri'ah.
Other Updates
There has been a QoL update that allows players to see the recent tutorials ('G' on your keyboard for PC players) for easy reference. Additionally, the soundtrack for Watatsumi Island and Enkanomiya will be released on platforms like Spotify.
We hope that you have found this article helpful and that you will enjoy the new updates in the 2.6 version of Genshin Impact! Before the new update arrives, do take a look at my Raiden Shogun guide here and Hyakunin Ikki event guide here. Do lookout for more Genshin guides from me and let us know if there are other articles you would like to read!