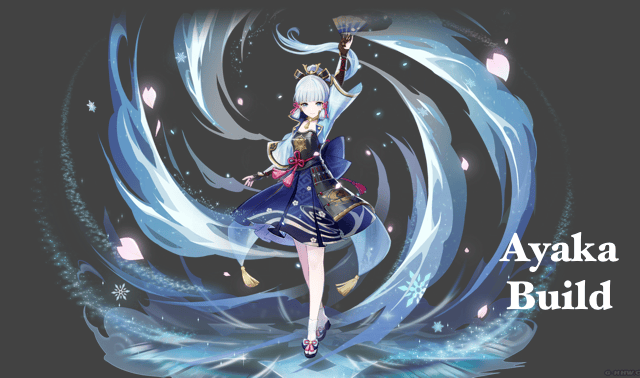 Preview
Ayaka is the newest 5-star character released in the 2.0 Version and has a Main DPS role, and is particularly strong given her Cryo element. The materials she requires are below: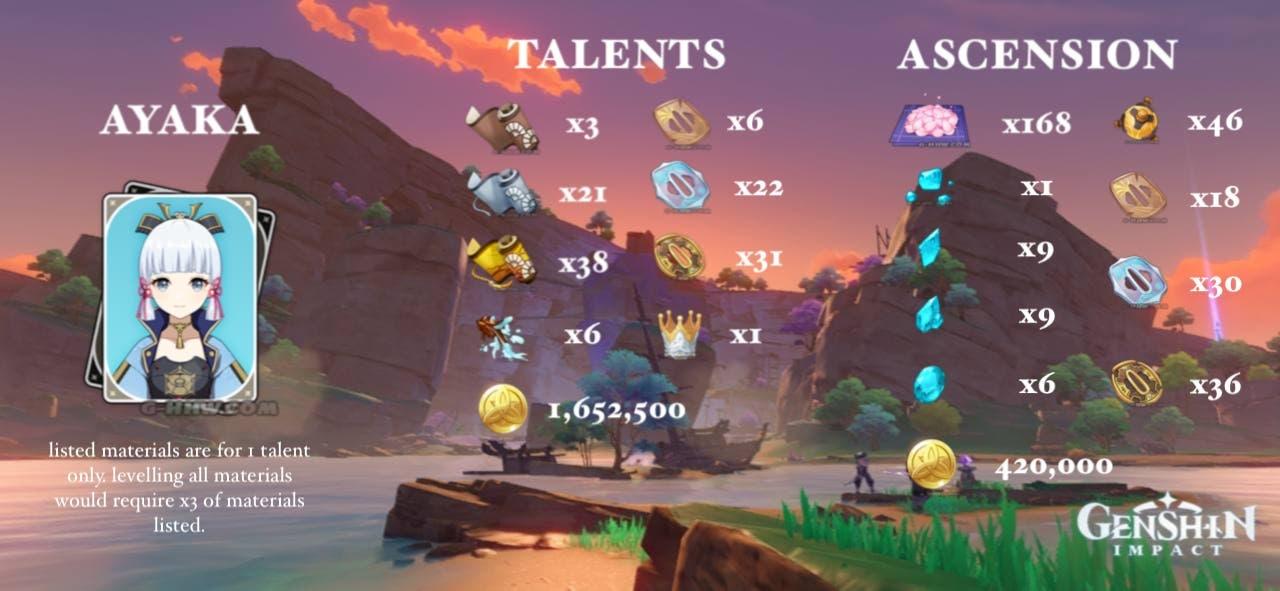 The Bloodjade Branch is earned through defeating the weekly boss Azhdaha, giving 1 or 2 each time at higher levels, while the Perpetual Heart required for levelling is obtained from the Perpetual Mechanical Arrays. The Famed Handguard is used to level Ayaka and her talents and is dropped by Nobushi, a new Inazuma enemy. Nobushis are rather commonly found throughout Inazuma. Her talent books required are Philosophies of Elegance, which will be obtainable in a new Inazuma domain.
This article will introduce you to the weapons and artifacts to use on Ayaka, as well as the party setup you can use with her. I will include options for free to play players, as well as beginners.
Weapons
Ayaka works best with CRIT DMG/CRIT Rate sub-stat weapons. If possible, I would recommend using a 5-star weapon (Mistsplitter Reforged, Skyward Blade, Primordial Jade Cutter). You can use the weapons below: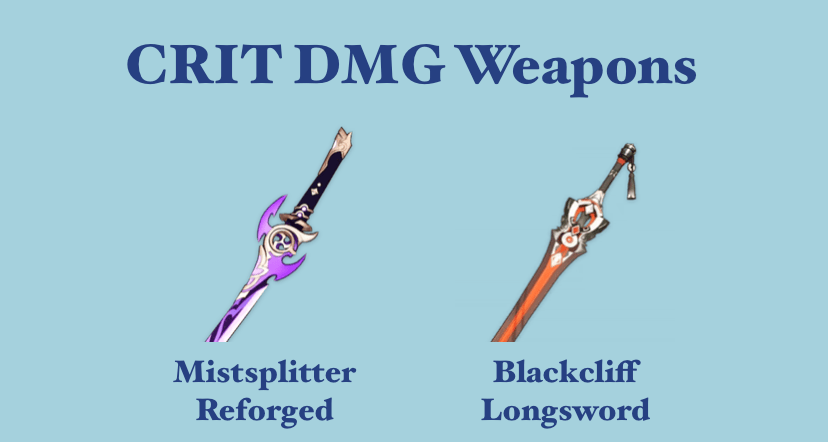 The Mistsplitter Reforged is clearly the best option for Ayaka, but might not be very attainable for F2P players, despite the new weapon banner changes. The passive of the Mistsplitter Reforged grants a 12% Elemental DMG Bonus for every element. At stack levels 1/2/3, Mistsplitter's Emblem provides an 8/16/28% Elemental DMG Bonus for the character's Elemental Type. The character will obtain 1 stack of Mistsplitter's Emblem in each of the following scenarios: Normal Attack deals Elemental DMG (stack lasts 5s), casting Elemental Burst (stack lasts 10s); Energy is less than 100% (stack disappears when Energy is full).
Alternatively, the Blackcliff Longsword is a F2P-friendly option that can be purchased from Paimon's Bargains Store. After defeating an opponent, ATK is increased by 12% for 30s. This effect has a maximum of 3 stacks, and the duration of each stack is independent of the others. This works well on a Main DPS, so I would recommend purchasing such a weapon for Ayaka.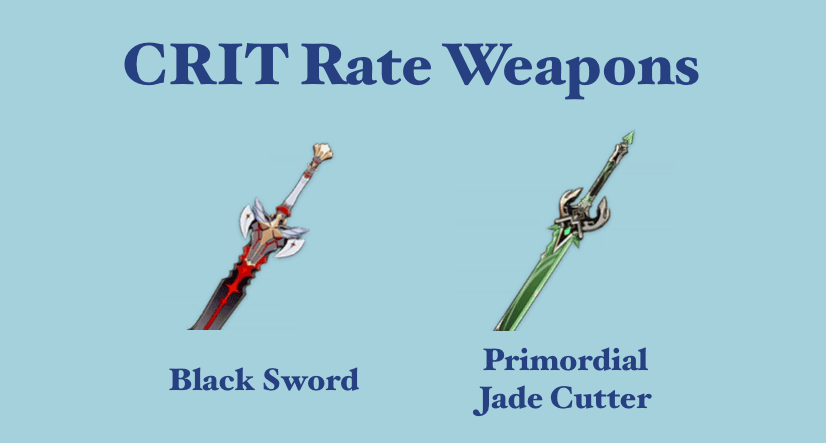 The Black Sword can be obtained by purchasing the Battle Pass: Gnostic Hymn, and its CRIT Rate sub-stat is incredibly helpful if you have bad artifact rolls. Its passive increases DMG dealt by Normal and Charged Attacks by 20%. Additionally, it regenerates 60% of ATK as HP when Normal and Charged Attacks score a CRIT Hit. This effect can occur once every 5s. This is incredibly helpful for Spiral Abyss at higher floors if you do not have enough heals.
The passive of the Primordial Jade Cutter is not really helpful for Ayaka, but the high base ATK as a 5-star weapon and its CRIT Rate sub-stat still make it suitable for Ayaka.
For F2P Players, I would recommend the Blackcliff Longsword most, compared to the craftable weapons (Prototype Rancour, Iron Sting). Anemona Kageuchi can also be used as it has an ATK% sub-stat, although its passive is more Energy-Recharge focused.
Artifacts
Ayaka can use a 4-set of Blizzard Strayer as it increases Cryo DMG Bonus by 15% and increases CRIT Rate by 40% if the enemy is Frozen.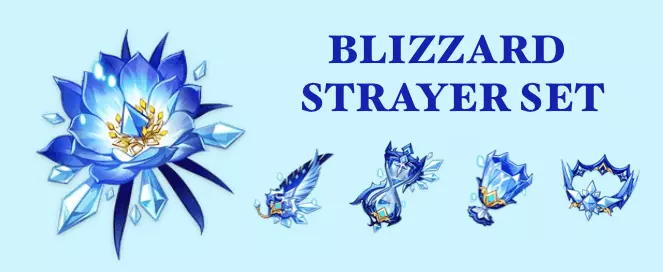 The Blizzard Strayer set can be obtained from the Peak of Vindagnyr domain, you can view the guide on completing this domain here.
The stats and sub-stats that you should prioritise are as below:
Flower sub-stats: Crit DMG, Crit Rate and ATK
Feather sub-stats: Crit DMG, ATK
Watch stat: ATK%
Goblet stat: Cryo DMG Bonus (can be any artifact set, as long as the main stat is Cryo DMG)
Mask stat: Crit DMG or Crit Rate
Talents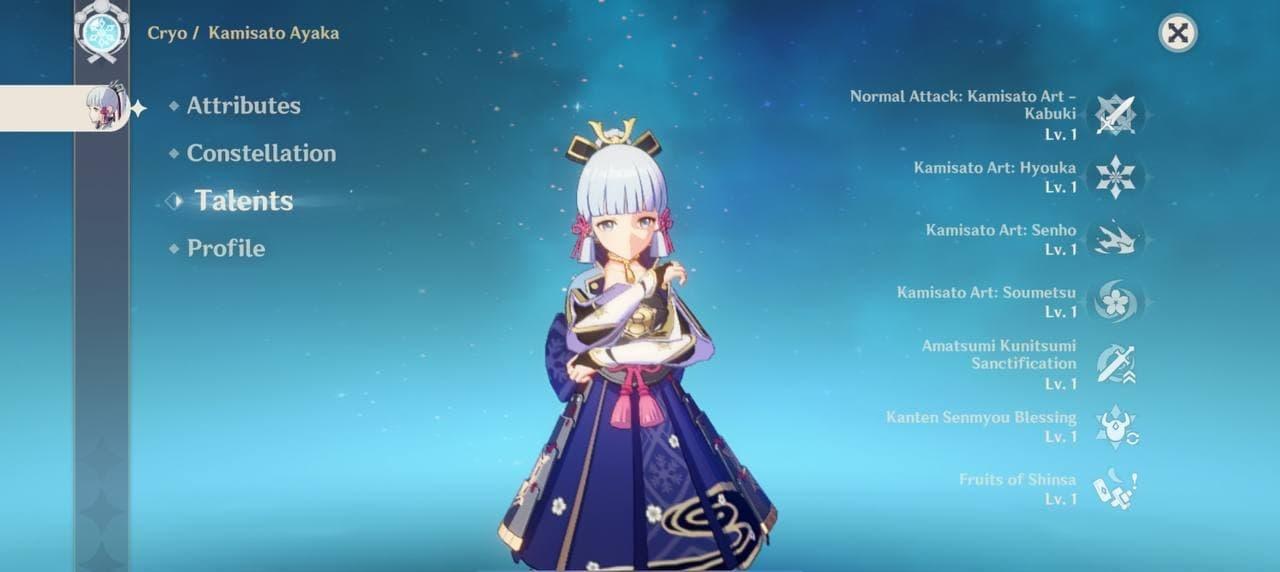 The best order to upgrade your talent is below.
Kamisato Art: Kabuki > Kamisato Art: Soumetsu > Kamisato Art: Hyouka >
Party Setup
With Ayaka as a Main DPS, you should use a Pyro character as your Sub DPS such as Xiangling or an Electro character (Beidou, Fischl) for greater Melt or Superconduct elemental damage. Especially since transformative reactions (such as those that involve Electro), having a Superconduct team can be helpful. Other characters in your team should have elements that can give reactions with Cryo, due to Ayaka's ultimate with massive AoE Cryo damage. I would recommend using Diona as a battery for Ayaka since she can provide elemental particles and a shield.
Conclusion
Overall, Ayaka seems to be an excellent character to add to your roster with large damage numbers and an interesting playstyle. We hope that you have found this article helpful and that you will enjoy the new updates in the 2.0 version of Genshin Impact! Head here for information on Inazuma Craftable Weapons and do let us know if there are other articles you would like to read!