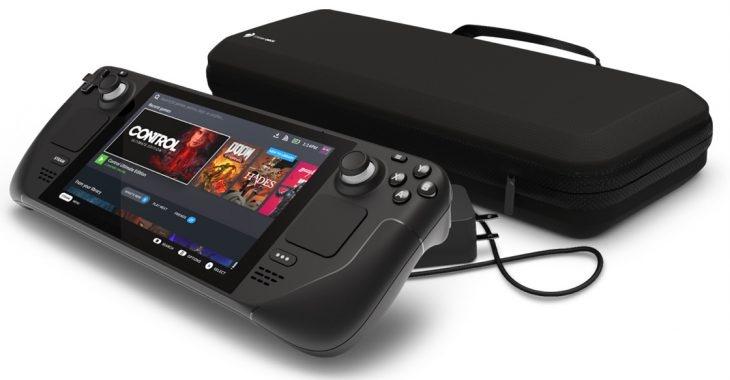 Recently Valve has announced their brand new handheld gaming PC named Steam Deck. It is basically a portable PC that plays similarly to the old PSP, PS Vita, or the newest Nintendo Switch. The announcement took the gaming world by storm and in this article, I will take a look at the most important pros and cons of the Steam Deck itself. Let's take a look at this device in my Steam Deck Preview.
Steam Deck Preview
Steam Deck Disadvantages:
Pricing
Starting the Steam Deck Preview, this portable PC looks quite expensive in some variants. You can get a cheaper version with less storage space and a different drive, but honestly, it could lose a lot by not having NVMe SSD hard drive, which means we are probably forced to get a 256GB or 512GB variant in order to get the most from the Steam Deck.
Another controversial aspect of pricing is selling additional equipment separately. We do not know much about other additions, but the docking station will be sold separately. It could be a great addition that could turn this handheld console into a normal PC with Ethernet, HDMI, and other ports. However, we do not know the price of it yet, and considering there is a high chance of there being more of these types of additions, the entire price of the full Steam Deck experience could be much higher combined with all the gadgets and additions players would want to buy.
You can check out more information about the affordability and game library here.
Internet Connection
Even though, the world is always going forward there are still many places without Internet Access or where the signal could be lost. Having a small hard drive with not many games installed offline, playing the Steam Deck without Internet Connection could be quite difficult, especially when we assume some of the games will only work in the Cloud Version due to restricted hardware specifications.
It is always a difficult topic to discuss because people would want a handheld console or portable PC, but it often requires a stable Internet Connection which could be difficult to get on a train for example. Additionally, Internet access will impact the battery's lifespan.
Steam Deck Advantages:
Portable Device with Huge Library
It is always awesome to see more and more handheld consoles on the market. We did not have many for years and then Nintendo Switch took over. Now we have a competitor that targets a little different audience, but it still looks like a very exciting portable device. It having the capabilities of the full PC is a great option for anyone who is living a lifestyle that requires a lot of travel. Instead of bringing a huge PC or even a laptop in a bag, you are basically able to just put your entire PC in your front pocket.
The new device from Valve has the great feature of containing your whole Steam Game Library, which basically means you will have access to all of your games from your standard PC.
Accessibility
Apart from a lot of additional buttons and Precision Trackpads we also have some other accessibility options like the touch screen that is quite big being 7 inches. Steam Deck runs a custom version of SteamOS. It is basically a very small, portable PC. This means you can do almost everything that is available on your normal PC. You can plug in a regular mouse and keyboard, download other software, games, browse the internet, watch Netflix, and much more. There is also an option for the entire wipeout of the SteamOS system and the ability to install the regular Windows OS like Windows 10 or the upcoming Windows 11. However, I would be careful with these types of actions, because we do not know how it could affect the device and it is an unnecessary process that most people will not want to mess around with. It is good having that option though. Cloud saves are also a thing that is available on the Steam Deck. You will be able to play a game at home, then head out to the city, and continue where you left of at the bus or the train.
Something similar like a touchpad in a laptop, we have trackpads here. They allow for mouse and keyboard movements on the Steam Deck device. You are able to simulate mouse movements on the screen and with a specially designed keyboard write using both of your thumbs. There are also a lot of customization options with several macro settings, and being able to remap certain controls, add your own overlays, and more.
Most of the standard console controllers do not have back buttons, you often need to buy a different controller or additional attachment. In the Steam Deck, we have 4 additional buttons at the back of the device, they allow for more customization and control in our favorite games. It will be useful for everyone who is used to the SCUF controllers, PS4 controller attachment, or the Xbox Elite Series controllers.
Steam Deck Preview Summary
Summing up my Steam Deck Preview, the portable PC is looking awesome, and with smaller and bigger concerns I can not wait to know more details about the device from Valve, and I am all for mobile/portable gaming, especially when you get a lot of games at the start from your own library without having to buy the whole new collection. From what we know so far it is a step in the right direction when it comes to the gaming industry.
Mobile consoles, mobile platforms, and now mobile PCs are the path to bring all gamers together. More and more people are playing games, without associating themselves with gamers. Most of the mobile game players that casually play some simple games, do not think that they are gamers. Expanding to that portable scene, now with a powerful device like Steam Deck only brings us closer to uniting as gamers and as humans. After the ongoing success of the Nintendo Switch,
I am sure that Steam Deck will have a huge fanbase. Only time will tell how much of a hit it will be. Hopefully, you learned some new information from my Steam Deck preview.
---
For more gaming news check out our main articles page.
Steam Deck is scheduled to release in early 2022.