One of the difficulties that you will find throughout the adventure is the manufacture and use of the blacksmith tables, a variation of blocks that you can take advantage of unemployed villagers or improve some elements. If you want to learn how to make and use the smithing table in Minecraft, you're in the right place!
Curiously, it is a fairly simple recipe, but due to the materials required to update different elements, it is likely that you will not take advantage of it until well into the adventure, although it is good that you have it unlocked so that you can go to it in the opportune moment.
That is why we have decided to make this guide where we not only tell you how to make and use a blacksmith table but also how to cause unemployed villagers to become blacksmiths, something quite valid in the villages.
How to Make and Use the Smithing Table in Minecraft? All You Need to Know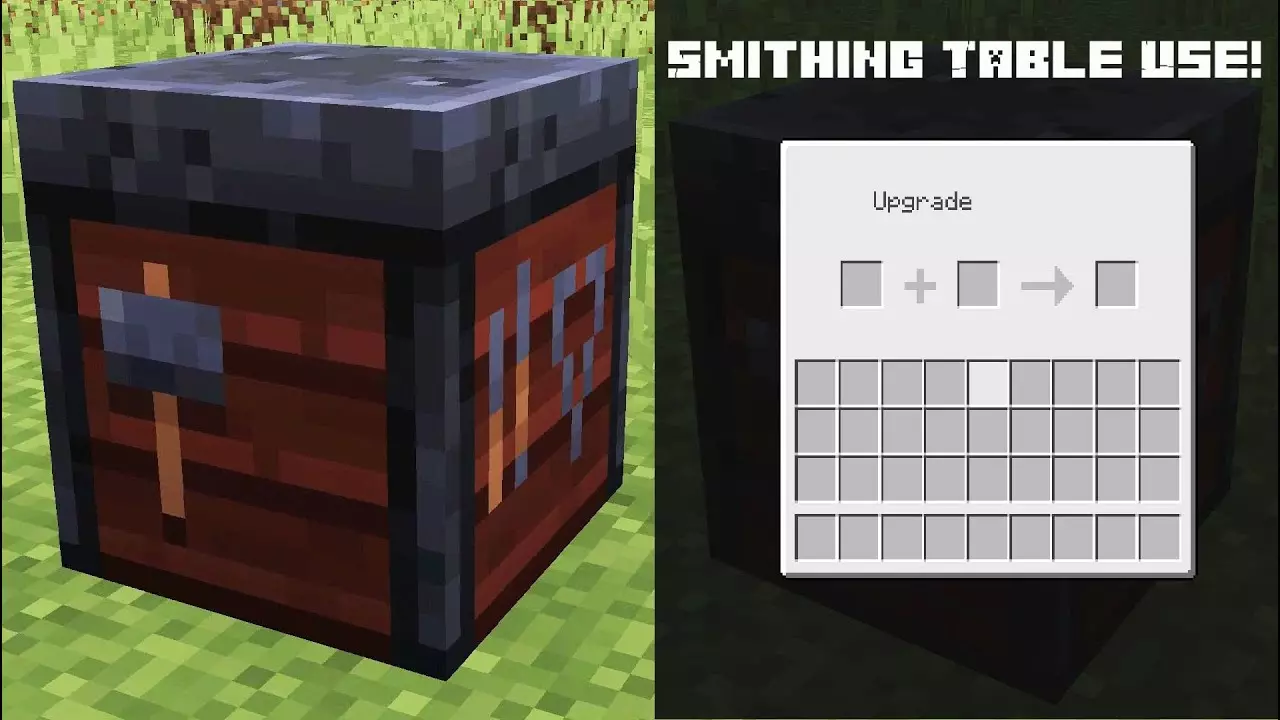 The blacksmith tables are like a variation of the anvil block and also a job site block for unemployed villagers, who can become blacksmiths.
You will be able to create these blacksmith tables or even take advantage of those that are already created from the beginning of the game.
How to make a blacksmith table in Minecraft
It is a fairly simple recipe, and basically what you require is the following:
2x iron ingots
4x wooden planks, made of any type of wood
To get it right, you need to place the two iron ingots in the top row and the four wooden planks in the four slots below them. Of course, you require a crafting table to make a blacksmith table.
Where to find blacksmith tables in Minecraft
If you don't want to make them, you can always find blacksmith tables randomly in different villages. However, there are likely some blacksmiths already living and they already have such a table.
How to use a blacksmith table
It is good that you use a smithy table to upgrade armour and tools. Basically, all you have to do is interact with a blacksmith table that will show you a menu that looks a lot like the anvil.
Then you need to place your desired upgrade tool or armor piece in the leftmost slot, and then the netherite ingot in the next slot. Don't forget to place a Netherite version of the diamond tool in the far right slot or a piece of armour placed in the far left slot.
Best of all, the upgraded items on this smithy table maintain their remaining enchantments and durability level, and the upgrade process requires no experience.
How to turn villagers into blacksmiths in Minecraft
The villages you visit will likely have blacksmiths, but to force unemployed villagers to become blacksmiths, all you have to do is place a blacksmith table near one of these unemployed people and wait for them to interact with it to form a new blacksmith.
---
As you can see, it is quite simple both to make a blacksmith table and also to turn the villagers into blacksmiths.
Do you regularly play Minecraft Caves and Cliffs? In case you do, take a look at other Minecraft guides on GamesAtlas.