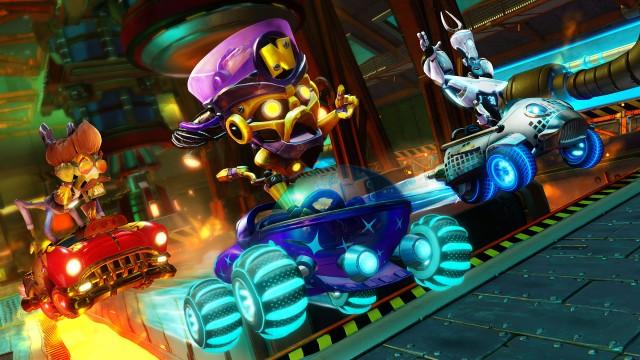 Picking a racer has never been more fun!
Featuring all the kooky characters from Crash Team Racing and Crash Nitro Kart, the forthcoming Crash Team Racing Nitro-Fueled offers you more racers, more karts, and more customization than ever before!
The previous Activision Blog post detailed the impressive kart customization options, giving you the tools to create a unique racing vehicle. Now it's time to look at the characters:
Revved Up and Ready to Go: Choose Your Character!
Prior to any race, you're able to pick from a wide variety of Crash Team Racing Nitro-Fueled characters! The game will feature all of the characters from CTR and all the characters from CNK.
The game starts with the eight CTR characters you remember most, but you can continue to earn additional characters through the Adventure Mode or through other challenges. CNK characters can be earned by using Wumpa Coins in the game's Pit Stop.
Each of these racers has a trio of stats to check out; Speed, Acceleration, and Turn; providing you've unlocked them, you can pick the one that matches your play style and start the race.
Beginner characters have average speed, good acceleration, and incredible turning abilities, like Polar, Pura, Krunk, Real Velo, Zam, or Ripper Roo.
Intermediate characters have good speed, acceleration, and turning, such as Crash, Dr. Neo Cortex, Coco Bandicoot, Dr. N.Gin, Small Norm, Nash, N. Trance, Geary, Komodo Joe, Pinstripe, Fake Crash, or Nitros Oxide.
Advanced characters have amazing speed, good acceleration, but limited turn and are for experts only! Examples include Tiny Tiger, Dingodile, Crunch, Big Norm, Zem, Papu Papu, or N.Tropy.
N. Sane Skins to Pick From!
Also announced, there are cool (and not to mention hilarious) skins available in the game, which can also be earned through the Adventure Mode or by earning Wumpa Coins. You can add a crazy outfit, different fur, or other amusing accoutrement to your racer. Not only that, but some skins include unique podium animations so you can truly celebrate in style!
Let's take the example of Crash himself: Skins include his regular orange fur, "Shiba Crash" with a yellow tinge, "Scuba Crash" with flippers and breathing gear, "Skunk Crash" with a white-and-gray fur, "Blue Hyena Crash" with a bright blue hue, and "Aviator Crash" with an old-timey pilot's cap and goggles!
Wumpa Coins: The Key to Unlocking More Characters and Skins
Expect a wide variety of characters and skins, gained by progressing through the Adventure Mode and by earning Wumpa Coins. Collect these coins by playing the game, including progressing through the Adventure Mode, then visit the Pit Stop to unlock additional characters or skins.
This means you can practice your racing, take on the game's challenges, and unlock customization rewards to pick more of the coolest characters around!
Pre-Order and get More Cool Stuff!
If you choose the PlayStation 4 version of the game, you can also re-live the '90s and choose exclusive retro Crash, Coco, and Cortex character skins, their retro karts, as well as racing on a soon-to-be revealed retro track!
Pre-order the game on PlayStation 4 and owners will receive an exclusive PlayStation-themed sticker pack at launch to deck out their karts in the game.
Pre-order the game on PlayStation, Nintendo Switch, or Xbox One and receive the Electron Skins pack.
Finally, purchase the Nitros Oxide Edition of the game and receive exclusive customization items!