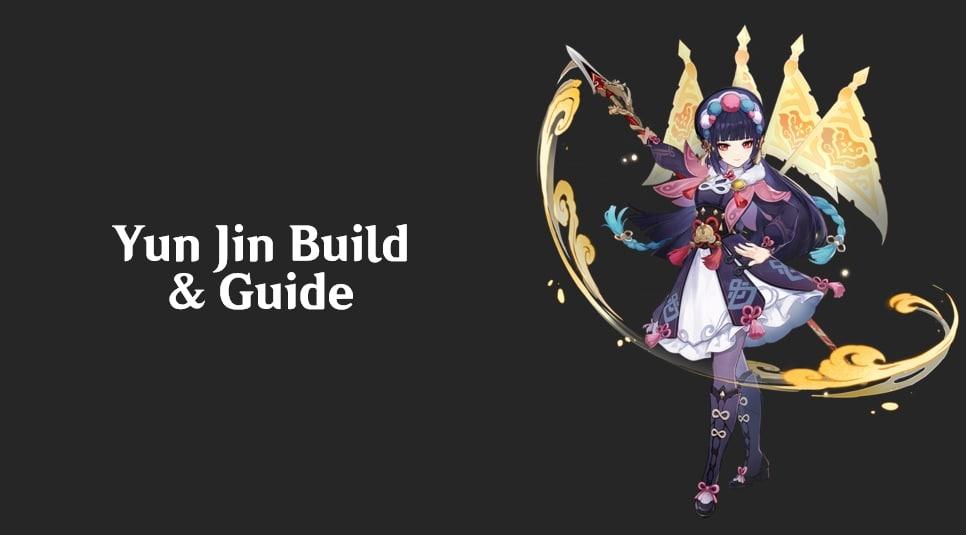 Preview
Yun Jin is a Geo 4-star polearm character that was released concurrently with Shenhe. She is an amazing support for characters that benefit from boosts to their normal attack DMG. She has a Support role and her power scales greatly with her number of constellations. The materials she requires are below: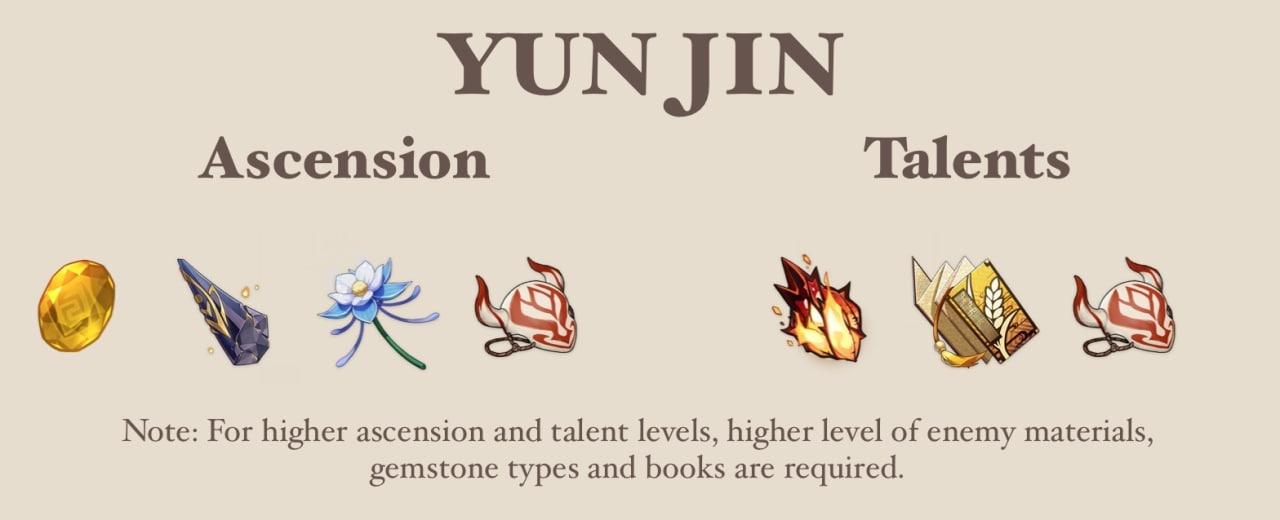 The Ashen Heart is earned through defeating the weekly boss La Signora, giving 1 or 2 each time at higher levels, while the Riftborn Regalia required for levelling are obtained from the Golden Wolflord located on Tsurumi Island. The Ominous Mask is used to level Yun Jin and her talents and is dropped by Hilichurls which can be found throughout Teyvat. Her talent books required are Philosophies of Diligence, which can be obtained in the Taishan Mansion Domain. She uses Glaze Lily as her levelling material.
This article will introduce you to the weapons and artifacts to use on Yun Jin and the party setup you can use with her. I will include options for free-to-play players, as well as beginners.
Yun Jin Weapons
Yun Jin works best with Energy Recharge sub-stat weapons. If possible, I would recommend using a 5-star weapon (Engulfing Lightning). Otherwise, you can also use the F2P weapons Favonius Lance and The Catch. You can use the weapons below: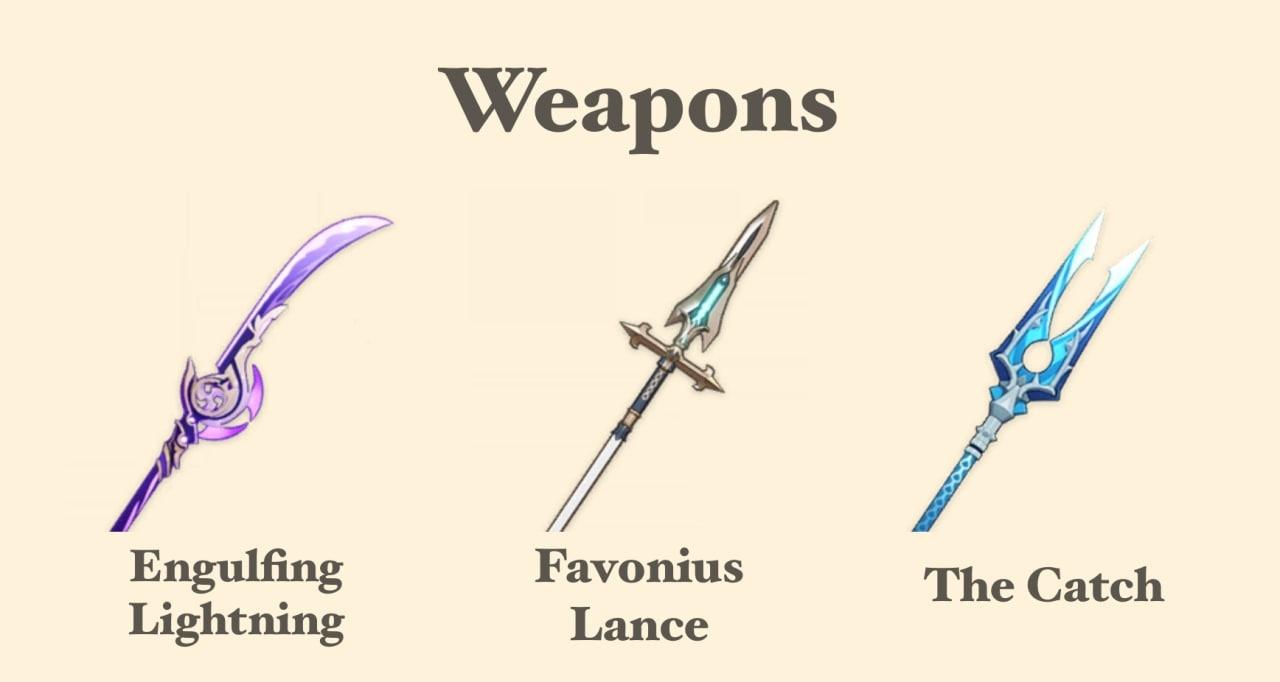 The Engulfing Lightning polearm is the best option for Yun Jin, but might not be very attainable for F2P players, despite the current weapon banner wishing system. The passive of the spear increases ATK by 28% of Energy Recharge over the base 100%. You can gain a maximum bonus of 80% ATK and you will gain a 30% Energy Recharge for 12s after using an Elemental Burst.
Alternatively, you can use the Favonius Lance which also has an Energy Recharge sub-stat. CRIT hits have a 60/70/80/90/100% chance to generate 1 Elemental Orb, which will regenerate 6 Energy for the character, this can only occur once every 12s.
Lastly, you can use the F2P-friendly The Catch. It increases Elemental Burst DMG by 16% and Elemental Burst CRIT Rate by 6%. Though this weapon is more focused on a Sub DPS Yun Jin, it works well for support as well and is generally good for beginners. Due to low damage scaling on Yun Jin, I would still recommend a support build instead of a Sub-DPS.
Yun Jin Artifacts
Yun Jin should use a 4-set of Husk of Opulent Dreams. The Husk set increases DEF by 30% for its 2-set. Its 4-set gives the character on field 1 stack after hitting an opponent with a Geo attack, triggering a maximum of once every 0.3s. When off the field, the character gains 1 stack every 3s. Curiosity can stack up to 4 times, each providing 6% DEF and a 6% Geo DMG Bonus. When 6 seconds pass without gaining a Curiosity stack, 1 stack is lost. The Husk of Opulent Dreams set can be obtained from the Slumbering Court Domain. For a guide on completing the domain, you can click here.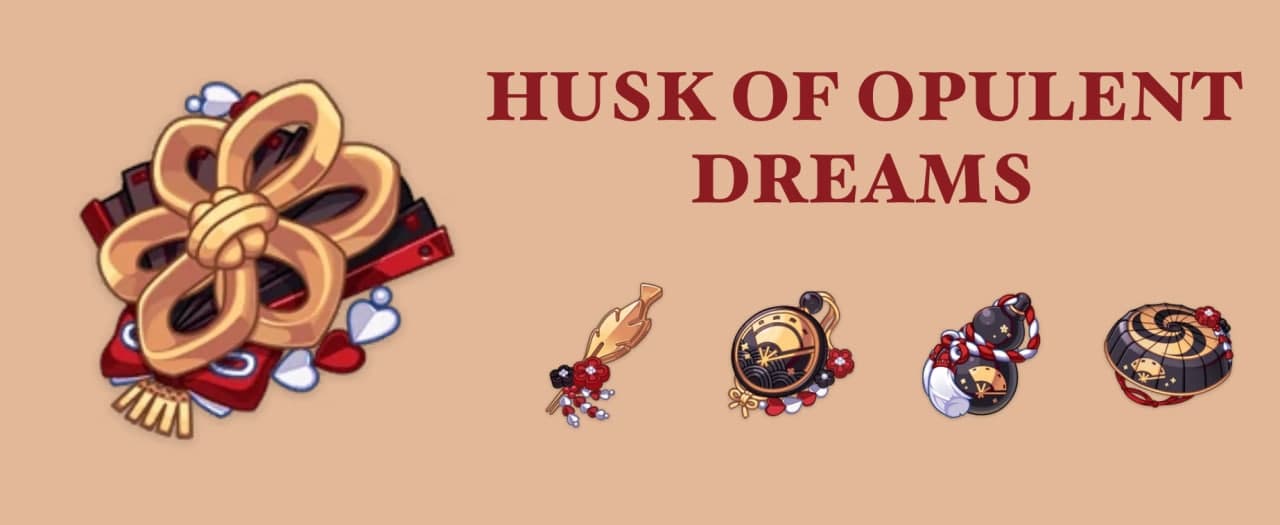 The stats and sub-stats that you should prioritise are as below:
Flower sub-stats: ER%, DEF%, CRIT Rate
Feather sub-stats: ER%, DEF%, CRIT Rate
Watch stat: ER%
Goblet stat: DEF%
Mask stat: CRIT Rate (try to have 40:80 at least for more burst damage)
You can build HP% for her shield absorption, but it is not recommended as the scaling is still rather low and you should focus on ER% and DEF% instead.
Yun Jin Talents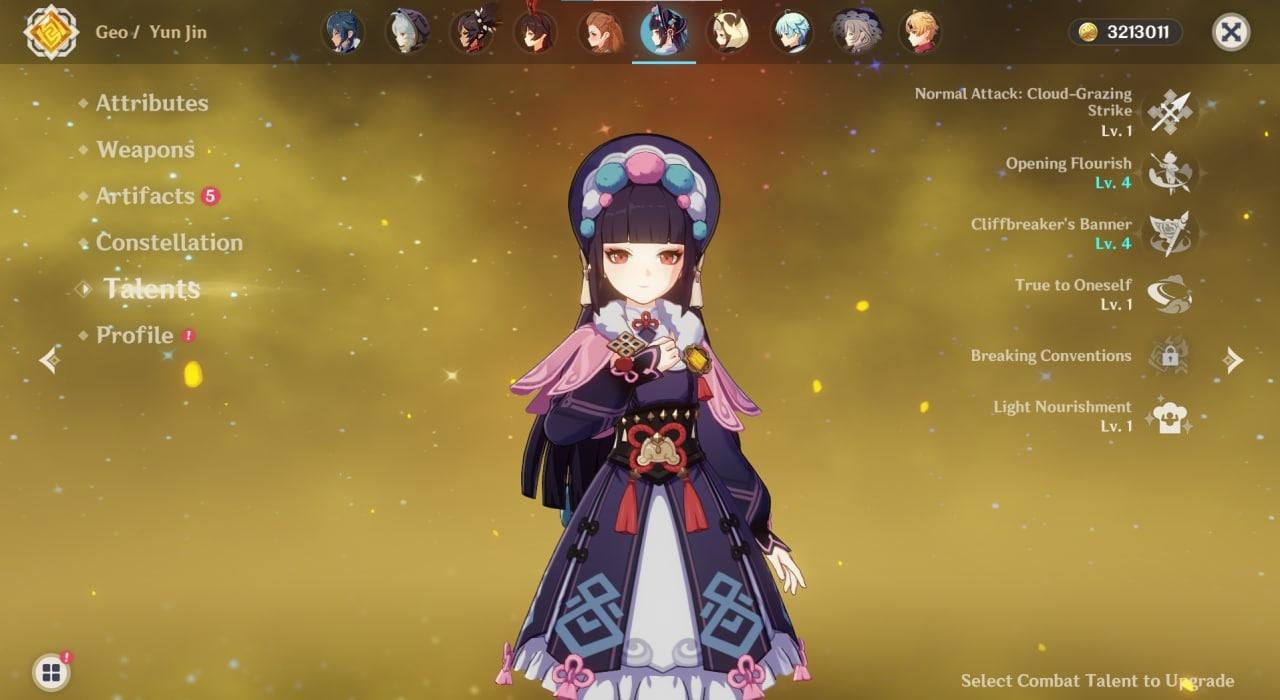 The best order to upgrade your talents is below.
Cliffbreaker's Banner > Opening Flourish > Normal Attack: Cloud-Grazing Strike
There is no point upgrading her normal attack unless you would like to build her as a Main DPS (which I would not recommend as there are other better DPS in-game).
Party Setup
With Yun Jin as the Support, you should use characters that can benefit from her NA DMG Buff. I would recommend Yoimiya for her skill and Razor due to his role as a Main DPS. As support, Yunjin can also make the ideal full Geo team composition with Albedo as a Burst DPS, Gorou for Geo Support and C6 Noelle as the Main DPS.
Conclusion
Overall, Yun Jin seems to be a rather targeted Support for NA DMG, though I am sure MiHoYo will release more characters that synergise well with her too. As of now, she is a top-tier Yoimiya support and can boost your damage numbers greatly.
We hope that you have found this article helpful! For more information on Yelan, you can check out my Yelan build article here. To learn how to build Xiao, you can refer to my article here or this article on his constellations and team compositions. Do lookout for more Genshin guides from me and let us know if there are other articles you would like to read!