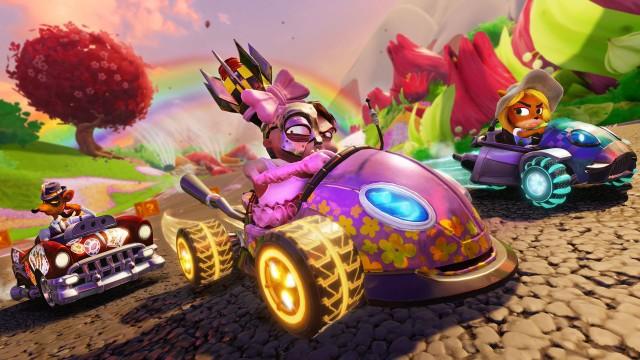 Are you ready to trick out your karts with a variety of cool wheels, crazy paint schemes, stylish stickers, and robust chassis variations for the first time in Crash Team Racing?
Then be sure to watch the Customization Trailer for Crash Team Racing Nitro-Fueled, and read on for the first details on how to customize your kart with a load of different options as you play through the game, when it launches on PlayStation 4, Nintendo Switch, and Xbox One this June 21.
Creating the Ultimate Crash Kart!
Lead developer Beenox is giving you more swag, more augmentation, and more amusing ways to show off your kart construction and creativity! You will have control over the different parts of your kart, so you can go to town mixing and matching kart bodies, wheels, paint jobs, stickers, and adding decals to construct your unique racing vehicle.
You start off with the classic kart and paint jobs you remember, but by earning new items as you play through the game the real fun comes from picking kart items and piecing them together into something awesome. Here's how this works:
Wumpa Coins: The Key to Unlocking Kart Items
Expect a variety of customizable options for your karts, gained by progressing through the Adventure Mode and by earning Wumpa Coins. Collect these coins by playing the game then visit the game's Pit Stop area and unlock a greater number of goodies.
This means you can practice your racing, take on the game's challenges, and unlock customization rewards to create the kart of your dreams!
Connecting Kart Items
Before any race, you have the choice to pick a random choice of kart and driver. However, in the "Karts" menu you're able to go deep with your selection and cobble together a sleek hovercraft, wobbly jalopy, or rampaging roadster!
Choose from the following menus:
Bodies: This offers up a variety of chassis types, which will grow in number as you earn more through the game. For example, pick the "Classic" CTR kart body that you're used to, or ride in the chunky SUV-style "Crikey", or futuristic "Doom Buggy". For each Kart Body, you can also choose a certain set of Decals.
Wheels: When you're burning rubber, you might want to install a set of wheels that matches your kart's body. Or, you can mix and match; it's entirely up to you! There's a wide variety of wheels to earn; whether you're using the skinny Six-Pipes rims or the super-chunky Trikee tires, you can have a ton of options in your race prepping!
Paint Jobs: If you're wanting to change the color of your kart chassis to a green, or an iridescent purple, or even add a carbon fiber inlay, then you're in luck: Choose from a selection of preset colors and spray your vehicle in a hue to match your mood, from the vivid crimson of Team Cortex Red to the cool turquoise of Nitro Aqua.
Stickers: You need a last bit of personalization to finish off your contraption, and this comes courtesy of a sticker that adorns your vehicle. Choose a number, cool icon, character face, or leave the kart sticker-free.
Now give your kart a spin in the menu to check it out from all angles, before taking it to the track and dominating all your rivals!
Note however, that kart customization (and character skins) don't provide any performance enhancement; your stats only change based on the character you play as.
Pre-Order and get More Cool Stuff!
Remember too; if you choose the PlayStation 4 version of the game, you can also re-live the '90s and choose exclusive retro Crash, Coco, and Cortex character skins, their retro karts, as well as racing on a soon-to-be revealed retro track!
Also, pre-order the game on PlayStation 4, Xbox, or Switch and receive the Electron Skins pack, including the Crash, Coco, and Cortex Electron Skins, each with a unique podium animation.
Stay tuned for the upcoming article that will reveal the variety of characters and skins you can choose as you play through the game! For now though, watch the Customization Trailer to learn even more about creating your perfect kart.