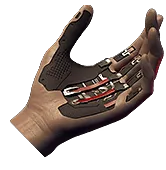 The Ballistic Coprocessor is a Cyberware of type Hands Cyberware in Cyberpunk 2077.
The Ballistic Coprocessor is available in the following Rarities: Rare, Epic, Legendary.
Below you find all the details on how to get the Ballistic Coprocessor, the location where to find it, its effects, price and unlock requirements for each of the Rarity variants.
Cyberware Type

Hands Cyberware

Rarity

Rare

Epic

Legendary

Description

Increases the chance to ricochet shots with Power weapons. Bullets ricochet additional time.
Cyberware Details per Rarity

Rarity
Price
Description / Effect
Requirement
Location

Rare

€$ 9,000

Increases the chance to ricochet shots with Power weapons.

-

Viktor's Clinic at Little China, Watson

Epic

€$ 15,000

Increases the chance to ricochet shots with Power weapons. Bullets ricochet 1 additional time.

-

Viktor's Clinic at Little China, Watson
Octavio's Clinic at Rancho Coronado, Santo Domingo

Legendary

€$ 21,000

Increases the chance to ricochet shots with Power weapons. Bullets ricochet 2 additional time.

-

Instant Implants at Kabuki, Watson