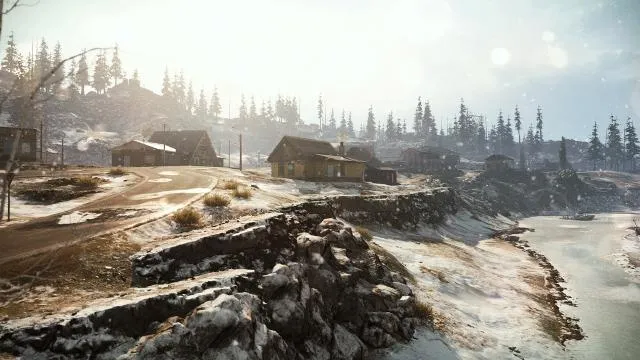 Release

Season 6

Map Type

Large
Verdansk Riverside Map Description:
Verdansk Riverside is a multiplayer map featured in Call of Duty: Modern Warfare. It was added on September 29, 2020, with the Season Six update. It's a large map designed for the 32 vs 32 Ground War battles.
A once-unlabeled landmark on the in-game Tac Map, Verdansk Riverside is a suburb that lies across the frozen Gora River from the Verdansk International Airport, with its northern border defined by cliffs that eventually lead to the Arklov Peak Military Base.
At one point, this sleepy village was taken over by El Traficante, a smuggler that Armistice tracked down through intel gathered here during Operation Harbinger. This area has a few modest two-story homes, some shacks and garages, a pharmacy, school, a public house chain restaurant, and a small construction project that seems to have no end date in sight.
Using available vehicles, squads will navigate within and around this village, as the streets themselves may turn into no man's land shortly after infiltration. Most buildings will act as cover from heavy machinery, or as a mounting and overlook point for those using long-range weaponry. CQB operators may find it better to clear individual structures out one-by-one or use walls and natural cover to avoid long sightlines and vehicle traffic.
Verdansk Riverside Map Layout: