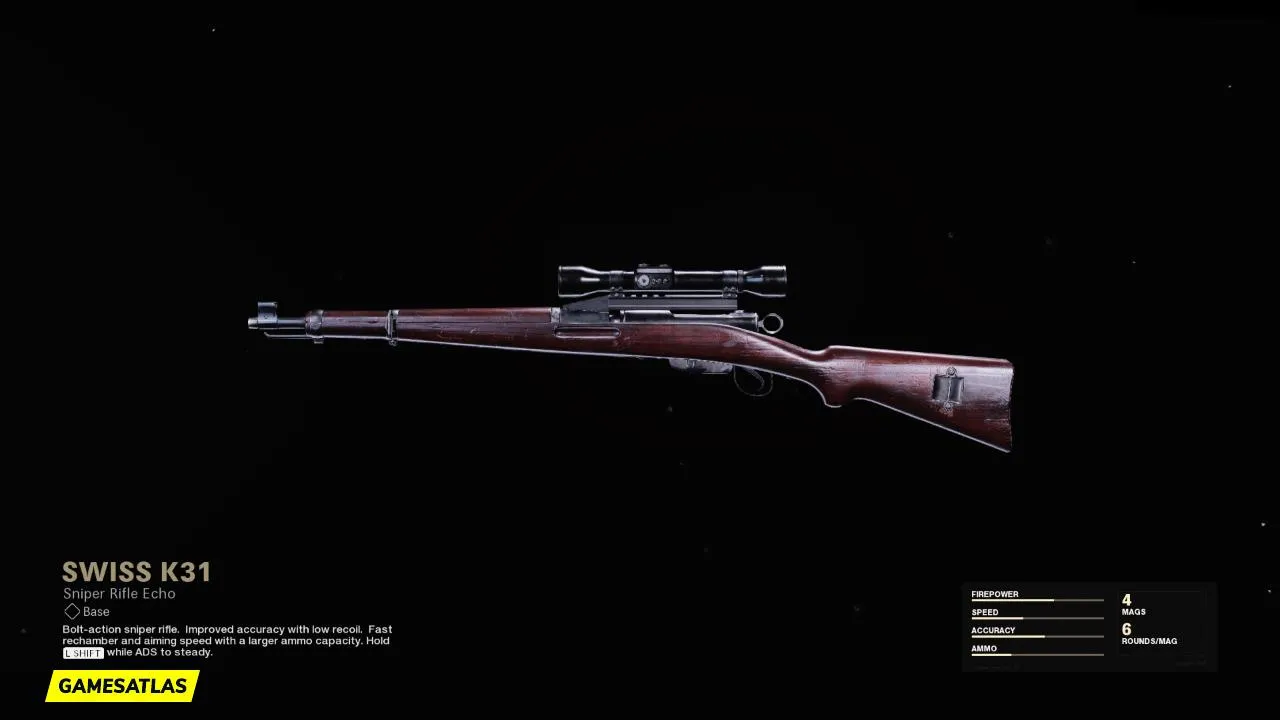 Game

Black Ops Cold War

Weapon Class

Sniper Rifles

Phonetic Alphabet

Echo

Release

Season 3 (BOCW)

Weapon Type

Primary Weapon

How To Unlock

Tier 31 of the Season 3 Battle Pass
Swiss K31 Weapon Description
The Swiss K31 was added to Black Ops Cold War and Warzone on April 22, 2021, as part of the free content included in Season Three.
Precision and power. The Swiss K31 Sniper Rifle was made for one neutral country ready to rearm for world war, but will now find itself in the arsenals of the NATO and Warsaw Pact forces. This bolt-action sniper rifle boasts exceptional accuracy, as well as fast rechamber and aiming speeds with a large ammo capacity. Aggressive sharpshooters will be in their element with this new rifle, whether it's sniping out in the wilds of Warzone or pushing forward on objectives in Black Ops Cold War.
You can obtain the Swiss K31 for free, ready to use in Black Ops Cold War and Warzone at Tier 31 of the Season Three Battle Pass.
Swiss K31 Blueprints List
Swiss K31 Statistics
Damage

110.00

Effective Damage Range

127.00

m

Fire Rate

60.00

RPM

Bullet Velocity

700.00

m/s

Vehicle Damage

138.00

Melee Quickness

1,000.00

ms

Movement Speed

10.26

mph

Sprinting Move Speed

14.49

mph

Shooting Move Speed

5.13

mph

Sprint to Fire Time

450.00

ms

Aim Walking Movement Speed

3.28

mph

Aim Down Sight Time

600.00

ms

Vertical Recoil Control

429.00

j

Horizontal Recoil Control

231.00

j

Centering Speed

2.50

ft-lb

Idle Sway Control

4.00

Fc

Flinch Resistance

10.00

N

Hip Fire Accuracy

18.00

mils

Magazine Ammo Capacity

6.00

Reload Quickness

2.80

s

Max Starting Ammo

24.00

Ammo Capacity

36.00

Reveal Distance

0.00

m

Muzzle Flash Concealment

1.00

s