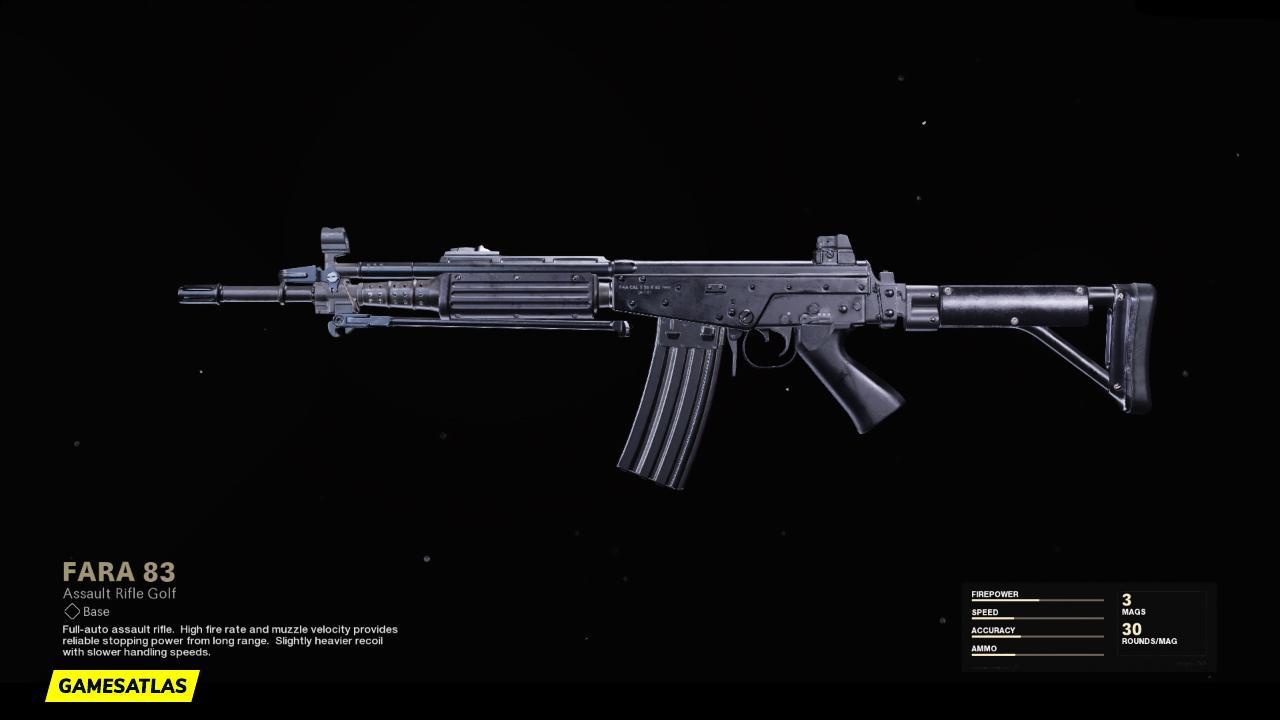 Game

Black Ops Cold War

Weapon Class

Assault Rifles

Phonetic Alphabet

Golf

Release

Season 2 (BOCW)

Weapon Type

Primary Weapon

How To Unlock

Tier 15 of the Season Two Battle Pass
FARA 83 Weapon Description
The FARA 83 is a weapon featured in Call of Duty: Black Ops Cold War and Warzone. It was added as part of the free content included in Season 2 (BOCW).
The FARA 83 fully-automatic assault rifle is a heavyweight among its peers, as it claims one of the fastest fire rates in its class and outstanding effective range for solid damage. In the hands of a capable Operator, the FARA 83 can be a true force in crushing the opposition.
You can obtain the FARA 83 for free to use in Black Ops Cold War and Warzone by reaching Tier 15 of the Season Two Battle Pass.
FARA 83 Blueprints List
FARA 83 Statistics
Damage

31.00

Effective Damage Range

63.53

m

Fire Rate

800.00

RPM

Bullet Velocity

675.00

m/s

Vehicle Damage

23.00

Melee Quickness

1,000.00

ms

Movement Speed

10.26

mph

Sprinting Move Speed

10.26

mph

Shooting Move Speed

9.18

mph

Sprint to Fire Time

400.00

ms

Aim Walking Movement Speed

4.06

mph

Aim Down Sight Time

325.00

ms

Vertical Recoil Control

400.00

j

Horizontal Recoil Control

150.00

j

Centering Speed

11.00

ft-lb

Idle Sway Control

20.00

Fc

Flinch Resistance

10.00

N

Hip Fire Accuracy

7.50

mils

Magazine Ammo Capacity

30.00

Reload Quickness

2.80

s

Max Starting Ammo

90.00

Ammo Capacity

180.00

Reveal Distance

0.00

m

Muzzle Flash Concealment

1.00

s