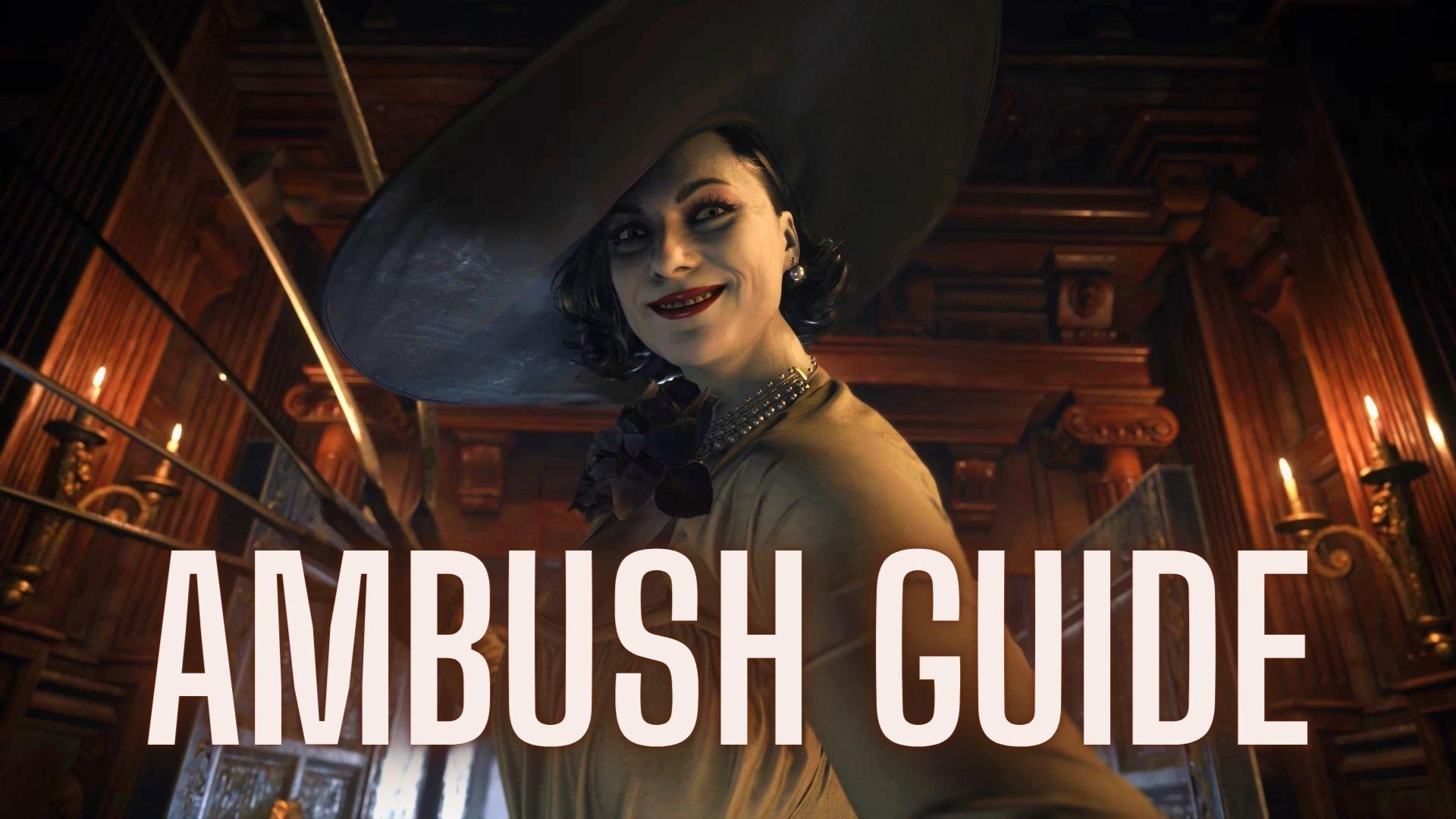 The first 20 minutes of the game are pretty quiet and peaceful with no combat whatsoever. However, right after you get into the village, you are greeted with one of the most difficult stages of the entire game. In this Resident Evil 8 guide, I will tell you how to survive The First Ambush in Resident Evil Village.
How to Survive The First Ambush in Resident Evil Village
Step #1. First Enemy
After you get your handgun, you will be faced with the first of many Lycans trying to kill you. The trick to past this first stage without taking any damage is to run behind you, back to the house, and find bolt cutters. They are hidden where the stranger was hiding, behind the curtain. Then the enemy will disappear, and you will be able to cut the chains on the gate and pass through. However, you can pretty easily handle the enemy since he is isolated. It is up to you.
Step #2. Second Wave
When you get into the next house you will face several enemies trying to get you. You can not skip this fight, but there are two ways to handle this depending on your difficulty level. If you are playing on Casual or Standard modes, you should be able to barricade yourself in the shack, and then carefully shoot enemies in the head. Try to be precise, because you will not have a lot of ammo, and you need to save as many bullets as possible for the next part.
The second way is to just wait. After one or two minutes, one of the Lycans will break-in, and you will have to get rid of him up close. Remember to use your guard and push back, because it is crucial in order to survive, especially on Hardcore difficulty. Then the phase will be over without killing every enemy.
After you get past it, get out of the house, and backtrack a bit to see if you have not missed any ammunition or crafting materials. You can go back through the gate you have opened earlier. You will need everything for the next phase.
Credit: Capcom
Step #3. The First Ambush
The important thing to know on How to Survive The First Ambush In Resident Evil Village is to know that you can not win this fight. You need to wait sometime for the cutscene to trigger. There will be a lot of enemies around, smaller and bigger ones, as well as flaming arrows shooting at you.
My best bet was to run around, open the locked gate, and get enemies in a closed quarter. Then after some running around, I went into the house on the opposite side from the first shack you the second shack you fight in. Not the one with the stranger, but the one with the radio.
In the third house, you need to barricade yourself, get a shotgun that is laying on the table, and wait. The strategy I used was to shoot at the enemies through the gaps in the walls and doors to interrupt their attacks. Try to time your shots, right after they swing. It will save you ammo, without shooting rapidly, and slow enemies down, which will give you time for the cutscene to come.
An important note is that shotgun shots will stun them for longer. Also, be aware of the Lycans are not flanking you because it might destroy your entire game plan.
You should also use the environment to your advantage, and shoot explosive barrels, and flour bags. I would also advise looking into my Combat Tips Tips for Resident Evil 8, especially if you are playing the game on Standard or Hardcore difficulty.
After a fixed amount of time passes, an enemy will appear behind you triggering the cutscene. You should be safe now. You will not be fighting any enemies until later, and you will get your first save at the church.
---
Hopefully, you now know how to survive your first ambush in Resident Evil Village. If you found this article informative, stay tuned for more Resident Evil 8 Guides, and check out the entire RE8 section right here.
Resident Evil Village is out now on PC, PS4, PS5, Xbox One S/X, and Xbox Series S/X.