First things first
Now, we all know that getting your hands on Sony's most recent console, the PlayStation 5, has been more than a struggle for some but for those who have, they have the chance to dive into one of this generation's instant classics, Demon's Souls.
There are a plethora of builds available to work towards in Demon's Souls, from swinging a giant dragonslayer-esque sword with a strong build to a more ranged style offense, with a magic build. But what if you want to be equally as fast and as deadly, we're talking about Dexterity builds, and what better way to cleave your way through Boletaria, than with the best Samurai sword in the kingdom, the Uchigatana.
Getting the Uchigatana in Demon's Souls
Getting your hands on this powerful weapon early on is simple and better yet, it can take you to the end of the game and beyond. Once you first enter the nexus (via a gruesome death), you will be greeted by 5 Archstones, with only 1 available for you to access as of yet, this Archstone will take you to the gates of Boletaria where you will be able to progress until you loop back around and face the first boss the game actually expects you beat, The Phalanx.
Once you beat the pile of… whatever it is, head back to the nexus and head straight to the 4th Archstone, this will take you to the Shrine of Storms where you will be greeted by skeletons who have mastered the art of Limp Bizkit as they roll towards you with their massive swords.
Don't worry as one of the best weapons to deal with these roly-poly bones are your fists, there are going to be 6 skeletons (although you have to be careful of 2 extra skeletons that fire arrows at you if you reach a certain point up the stairs). Be careful as these skeletons pack a massive punch in the early game, take them on 1 by 1 if you get the chance. The third skeleton will have an archer buddy that you have to be aware of so it's best to have a shield on board throughout this journey. Once you have dealt with these enemies, you will see a fog gate, don't worry as it won't be a boss (in a traditional sense).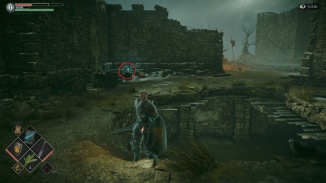 Image from Neoseekers
Here you will see our old friend, the Vanguard, back for round 2, ready to swing, you, on the other hand, probably not as it is as powerful as ever and will send you back where you came from in 1 hit. Making you deal with the skeleton once again. Now, to the Uchigatana, it happens to be right behind the behemoth and the best way to get is to simply run past it, pick up Uchigatana and you are now golden. You can happily die here as it stays in your inventory or escape. Either way, you now have easily, one of, if not, the best Dexterity weapon in the entire game. Go to the maiden in black, match your stats so you can comfortably wield it (as the stat requirements are 18 Endurance and 13 Dexterity), and unleash fury upon those demons.
Although, with the scale miner in Stonefang tunnel, I do advise using a stabbing attack (either backstep and R1 or the running attack). They are unusually tough against most attacks.