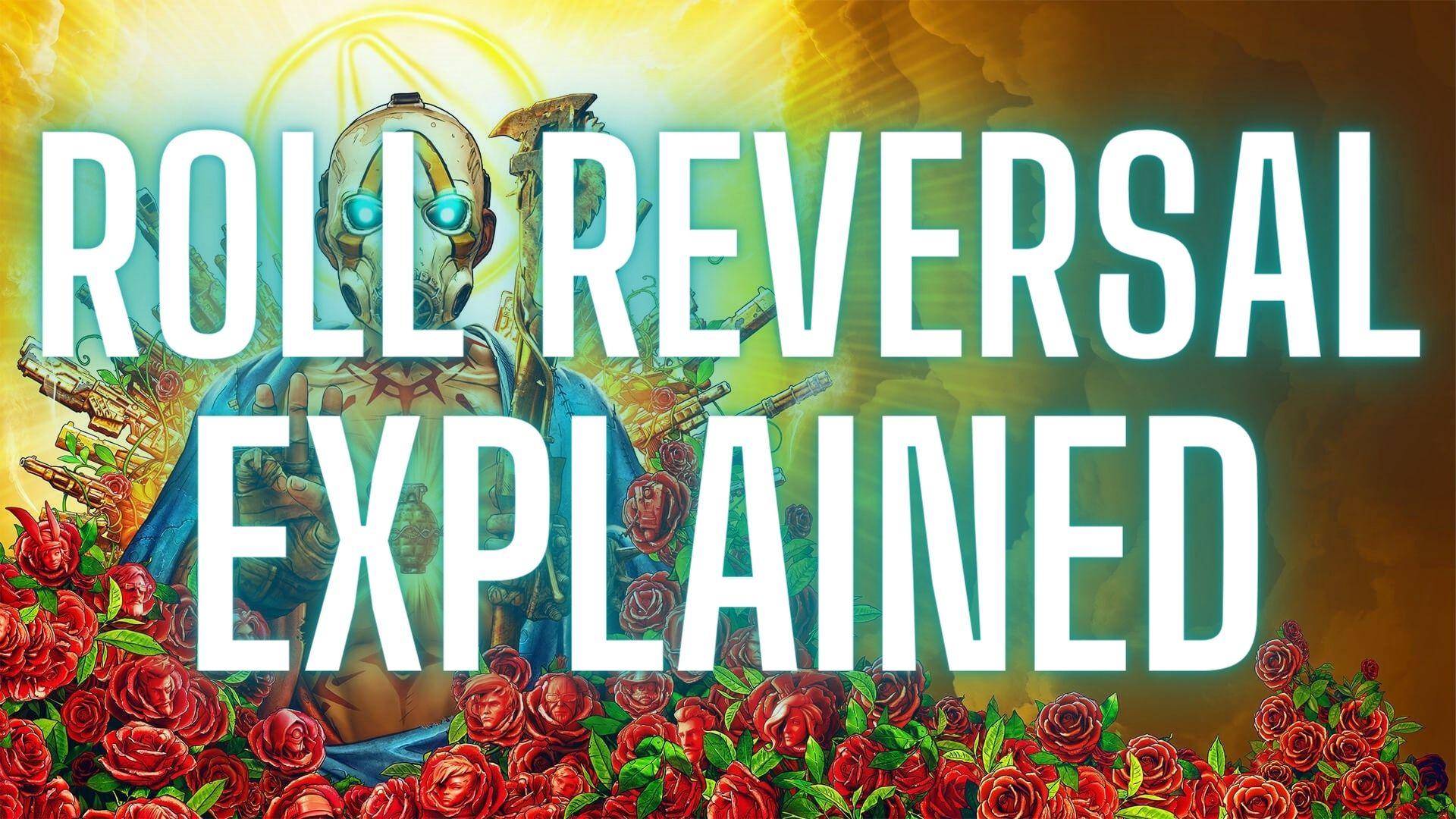 With the brand new Borderlands 3 Director's Cut DLC, we also got four new class mods, one for every Vault Hunter. Today I will take a look at the underwhelming new FL4K Class Mod called "Roll Reversal".
New FL4K Class Mod Explained
This new FL4K Class mod works in a pretty simple way. It grants you grenade regeneration every time your pet scores a critical hit. In theory, it could be a base of a great build where your pet deals the damage and you debuff enemies with Its Piss grenade or even deal a lot of damage increasing your grenade damage, but that is sadly not the case.
Grenades overall are very underpowered in the entire Borderlands 3. The ability to get an infinite amount of grenade ammo is not that amusing to any player at the moment. The only useful tip is that if you pair Gamma Burst action skill and Atomic Aroma augment. Then it can cause a lot of Pet Critical Hits from that radiation aura.
Roll Reversal Class Mod Specification
Special Ability: When FL4K's pet lands a critical hit, FL4K has a 40% chance to gain a free grenade.
Skills:
Throatripper – maximum +3 skill points
Monkey Do! – maximum +4 skill points
Eager To Impress – Maximum +4 skill points
Red Text: "Keep 'em coming."
Drops from: The Seer at Scryer's Crypt
Class Mod Card: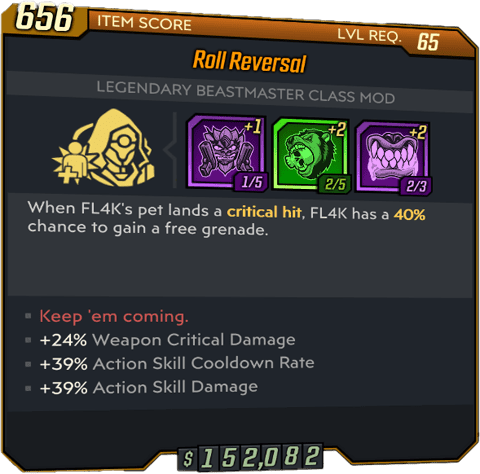 Credit: Lootlemon
Every Class Mod in Borderlands 3 can roll with between 2 and 3 random statistics out of 4 categories. Each statistic can appear only once.
Possible Damage Stats:
Weapon Damage
Crit Damage
Fire Rate
Action Skill Damage
Melee Damage
Grenade Damage
Splash Damage
Weapon Specific Damage [Pistol, Shotgun, Submachine Gun, Assault Rifle, Rocket Launcher, Sniper Rifle]
Possible Survivability Stats:
Damage Reduction
Health
Health Regeneration
Shield Capacity
Shield Recharge Rate
Shield Recharge Delay
Elemental Resistance [Cryo, Fire, Shock, Corrosive, Radiation, non-elemental]
Possible Utility Stats:
Magazine Size
Reload Speed
Weapon Charge Speed [for Maliwan weapons]
Action Skill Cooldown
Splash Damage Radius
Grenade Radius
Grenade Capacity
Accuracy
Handling
Possible Manufacturer Specific Stats:
Weapon Damage [Atlas, Children of the Vault, Hyperion, Jakobs, Maliwan, Tediore, Torgue, Vladof, DAHL]
Fire Rate [Atlas, Children of the Vault, DAHL, Hyperion, Maliwan, Tediore, Vladof]
Crit Damage [Atlas, DAHL, Jakobs, Hyperion]
Reload Speed [Atlas, DAHL, Hyperion, Jakobs, Maliwan, Tediore, Torgue, Vladof]
Accuracy [Children of the Vault, DAHL, Jakobs, Maliwan, Tediore, Torgue, Vladof]
Projectile Speed [Torgue]
Is Roll Reversal Meta?
Definitely no.
Hopefully, in the future, Gearbox will buff or entirely change how grenades work in Borderlands 3, and we will be able to utilize this class mod to create some grenade build with this new FL4K class mod.
He has a lot of V1 Damage increases. For those who are not that familiar, it just means that he has a lot of multiplicative bonuses that increase his overall damage, not only weapon, or gun damage, but everything. This would allow FL4K to have insane damage with Fastball, for example.
Borderlands 3 got a lot of Quality of Life changes over the last year, and I think that someday we will have the ability to create compelling grenade builds with any Vault Hunter.
However, it is not that day yet. For now, the class mod remains pretty much useless, unless someone finds some crazy interactions in the game that could flash some light onto this class mod.
---
Borderlands 3 is out now on PC, PS4, PS5, Xbox One X/S, and Xbox Series X/S.
For more Borderlands 3 news, check out our DLC Release article.