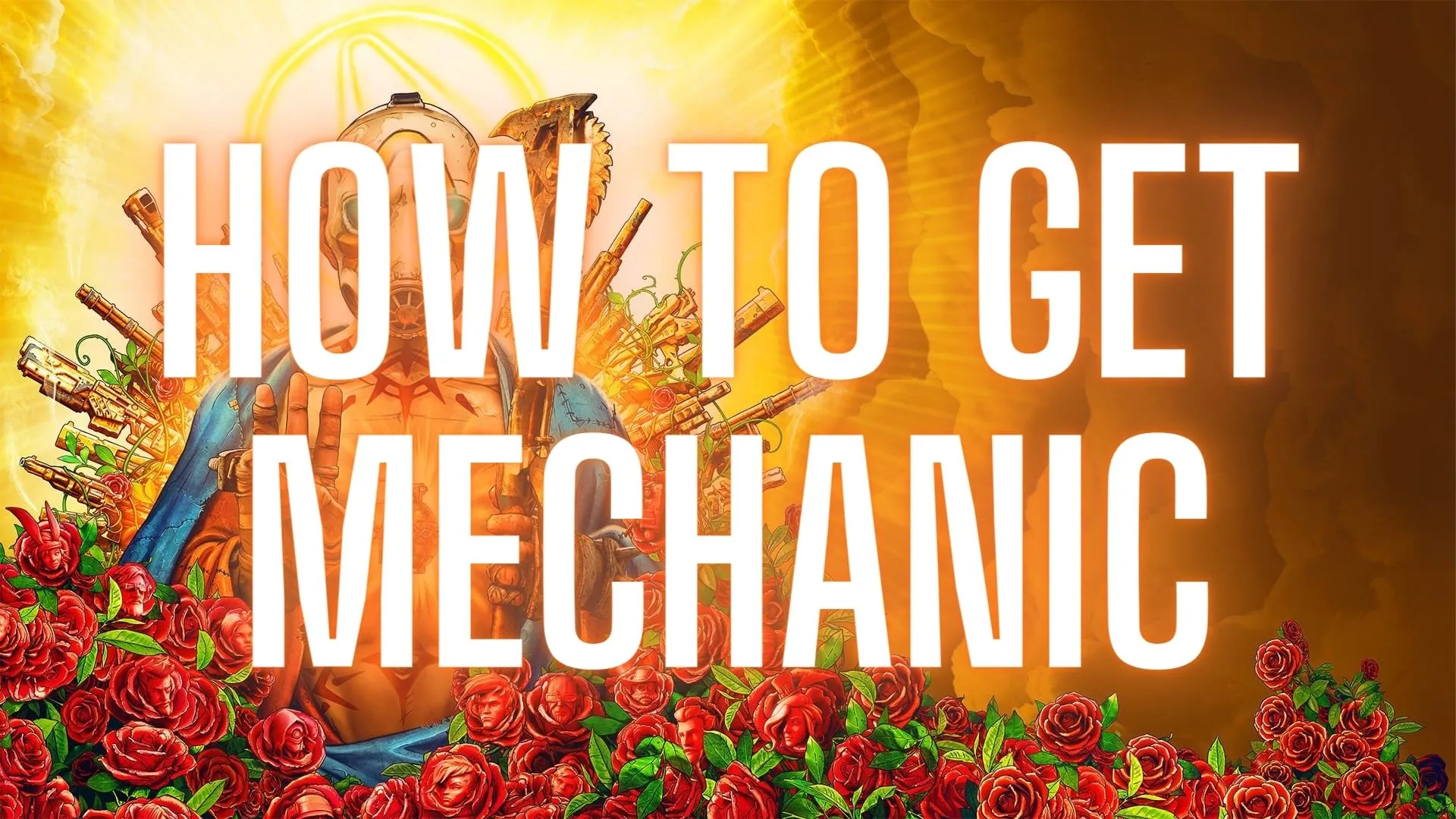 In this article, you will learn all you need to know about this weird, new Rocket Launcher called Mechanic added in Director's Cut DLC as a reward in the new Vault Cards. You will know how to get Mechanic in Borderlands 3.
Important! This weapon can drop on any Mayhem Level. You will not need to finish the story to get your hands on the Mechanic Rocket Launcher.
How Mechanic Works in Borderlands 3
The mechanic is a very specific weapon. It works alright in normal mode, but it is definitely not a top-tier weapon in the late game.
However, it has one special use. You can easily destroy vehicles with this weapon. It has increased vehicle damage by 100%, and also if you are holding the weapon and jump into the vehicle yourself, you will get increased vehicle ram damage. You can get road-kills much faster and easier. Also, it shoots out tires, so that's pretty fun. Now let's see the specifications of the weapon, and then I will tell you how to get Mechanic in Borderlands 3.
Mechanic Specifications
Manufacturer: Children of the Vault
Weapon Type: Rocket Launcher
Rarity: Legendary
Base Ammo Consumption: 1 ammo pre-shot
Elements: Non-elemental
Damage Type Increases
Weapon Damage
Gun Damage
Rocket Launcher Damage
Children of the Vault Weapon Damage
Splash Damage
Area of Effect Damage
Drop Location: Vault Cards in Echo Menu, for Vault Keys [Vault Card: Fallen Heroes]
Drop Chance: 100%
Red Text: "Let's get you rollin'!"
Weapon Card: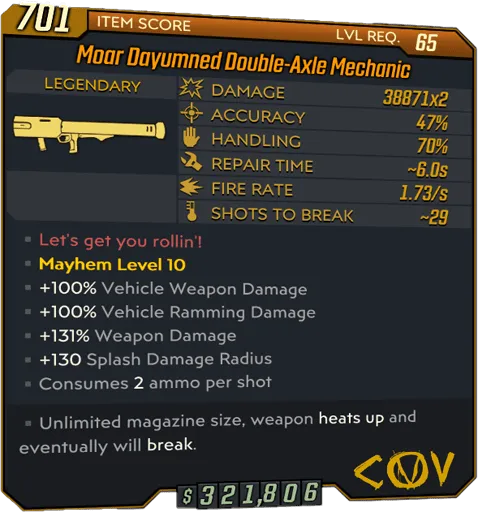 Credit: Gearbox Software
How to Get Mechanic in Borderlands 3
In order to get the weapon, you can play on any Mayhem Level or without it at all. You want to spend your earned Vault Keys in Vault Card "Fallen Heroes" in Echo Menu.
You will need to gather 5 Vault Keys. You do not need to farm a specific boss to get this weapon. You earn Vault Keys for leveling your Vault Card level. The first shotgun you get will not be anointed, so if you want an anointed version you will need 10 keys to get two versions of this shotgun.
It has a random anointment, and you need 10 Vault Keys to unlock the anointed variant. However, on April 8th, we got a new patch to Borderlands 3, and you are able to reroll anointments on weapons for the right price [250 eridium]. It might make farming for the perfect Mechanic a lot easier, but you definitely know everything you need to know how to get Mechanic in Borderlands 3.
Is Mechanic Worth the Effort?
Not really.
This Rocket Launcher is very underwhelming, especially it being the new legendary piece of gear. It works pretty well against cars, but 99% of the game is on foot, and it can help you only in missions where you need to run over a certain amount of enemies, like in DLC2: Guns, Love, and Tentacles for example.
Hopefully, after this article, you know exactly how to get Mechanic in Borderlands 3.
---
Borderlands 3 is out now on PC, PS4, PS5, Xbox One X/S, and Xbox Series X/S.
For more Borderlands 3 news, check out our DLC Release article.