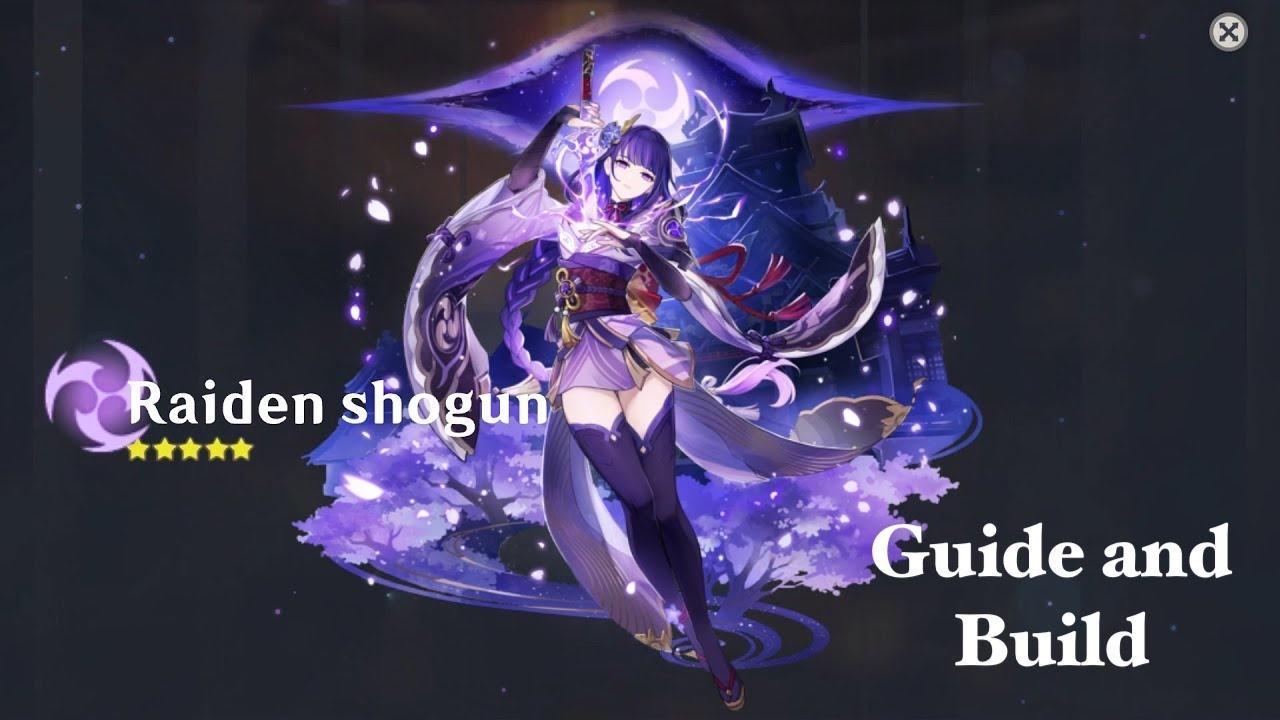 Preview
Raiden Shogun, the Electro Archon is the newest 5-star character to be released in the 2.1 Version. She seems to have a Sub DPS/Support role and is rumoured to be another strong archon that you would enjoy on your roster. The materials she requires are below: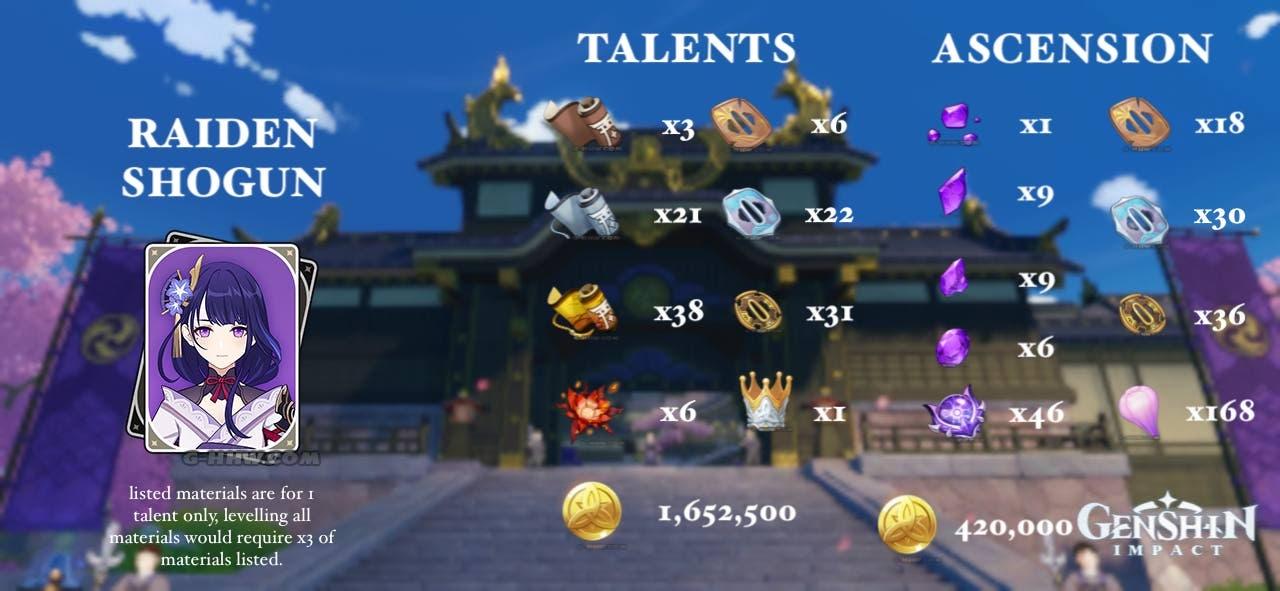 The Crimson (name of talent material is unavailable for now) is earned through defeating the new weekly boss La Signora, giving 1 or 2 each time at higher levels, while the Storm Beads required for levelling is obtained from the Thunder Manifestation, the new "Electro Oceanid" boss. The Famed Handguard is used to level Baal and her talents and is dropped by Nobushi, an Inazuma enemy. Nobushis are rather commonly found throughout Inazuma. Her talent books required are Philosophies of Light, which can be obtained in the Violet Court Domain. Since the talent and levelling materials are unavailable until 2.1 is released, it is wise to spend your resin pre-farming for her artifacts or talent books.
This article will introduce you to the weapons and artifacts to use on Raiden, as well as the party setup you can use with her. I will include options for free to play players, as well as beginners.
Weapons
Raiden works best with Energy Recharge/CRIT DMG/CRIT Rate sub-stat weapons. If possible, I would recommend using a 5-star weapon (Engulfing Lightning, Skyward Spine). You can use the weapons below: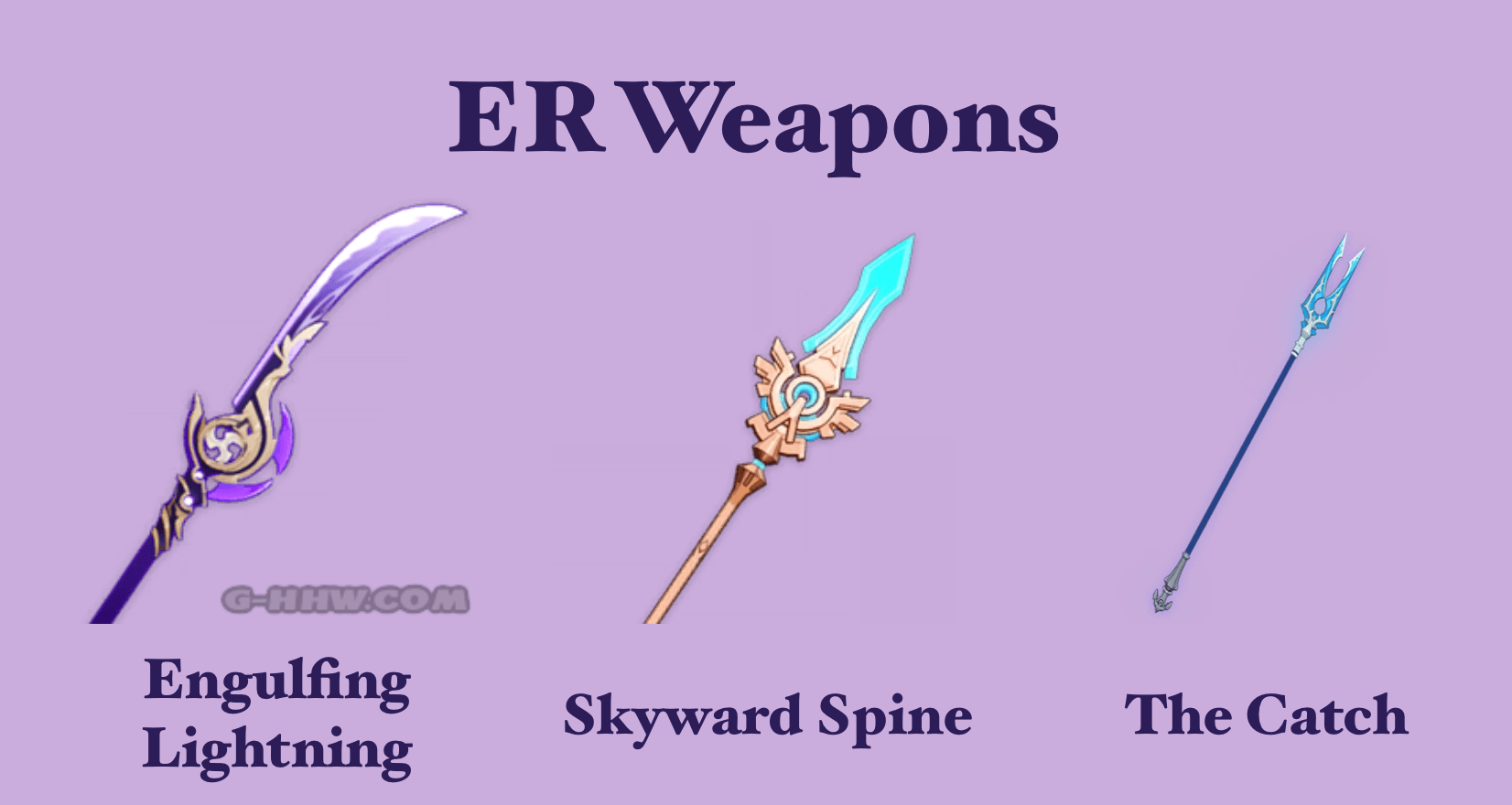 The Engulfing Lightning polearm is clearly the best option for Raiden, but might not be very attainable for F2P players, despite the new weapon banner wishing system. The passive of the Engulfing Lightning increases ATK by 28% of ER over the base 100%. You can gain a maximum bonus of 80% ATK through this method. Additionally, you will gain 30% ER for 12s after using an Elemental Burst.
Alternatively, you can use the Skyward Spine which increases CRIT Rate by 8% and Normal ATK SPD by 12%. Additionally, Normal and Charged Attacks hits on opponents have a 50% chance to trigger a vacuum blade that deals 40% of ATK as DMG in a small AoE. This effect can occur no more than once every 2s.
The Catch is a F2P-friendly option that can be obtained from the fishing event. It increases Elemental Burst DMG by 16% and Elemental Burst CRIT Rate by 6%. This is particularly helpful for a Burst DPS Support Baal.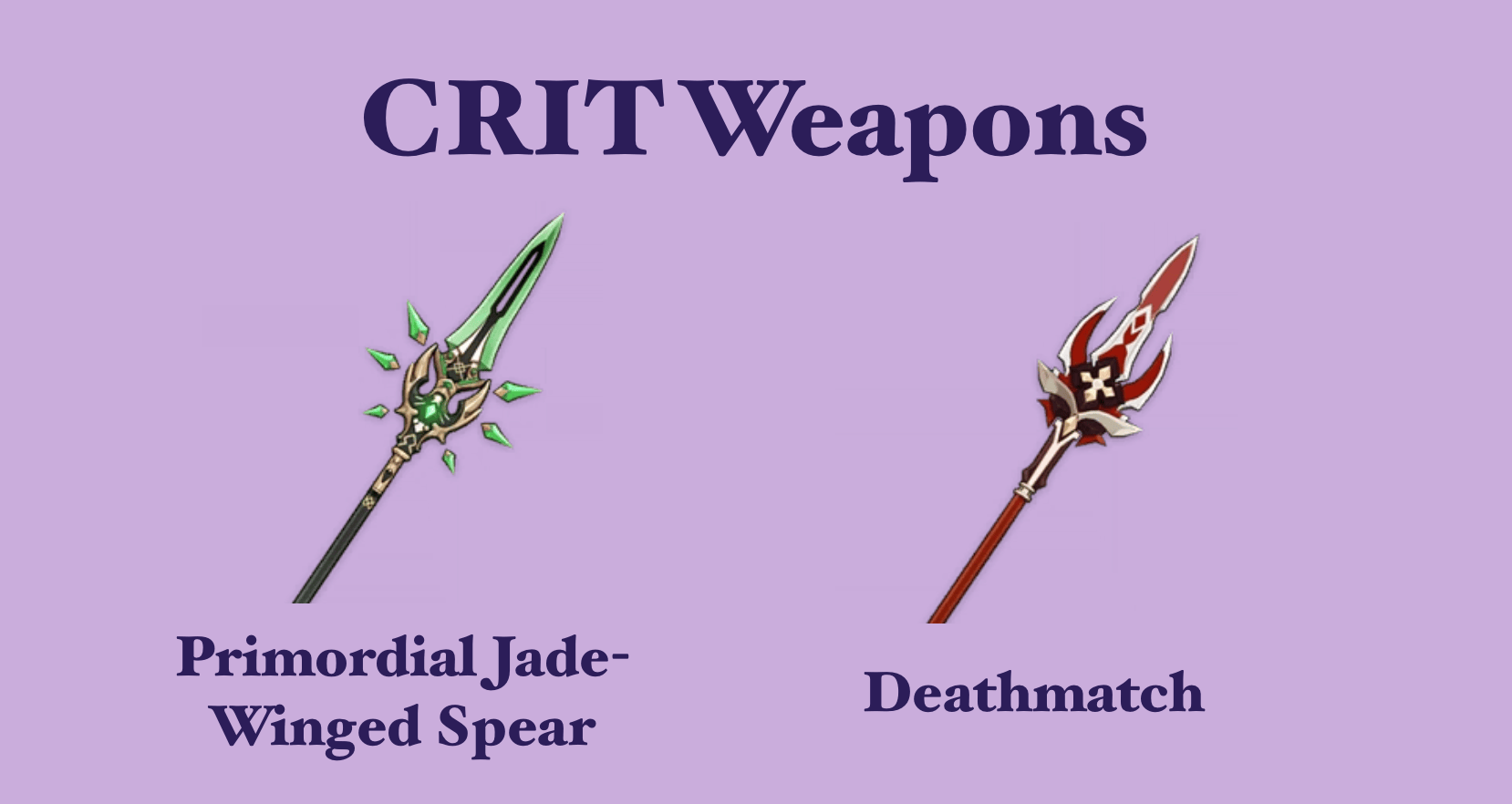 The Primordial Jade-Winged Spear has a CRIT Rate sub-stat and can be particularly helpful if you have poor artifact sub-stats and a low CRIT Rate as a result. On a hit, its passive increases ATK by 3.2% for 6s, with a maximum of 7 stacks. This effect can only occur once every 0.3s. While in possession of the maximum possible stacks, DMG dealt is increased by 12%.
Alternatively, you can obtain the Deathmatch with a CRIT Rate sub-stat by purchasing the Gnostic Hymn Battle Pass. If there are at least 2 opponents nearby, ATK is increased by 16~32% and DEF is increased by 16~32%. If there are fewer than 2 opponents nearby, ATK is increased by 24~48%.
For F2P Players, I would recommend The Catch most, compared to the craftable weapons (Crescent Pike, Dragonspine Spear). While Prototype Starglitter is viable due to its ER% sub-stat, the passive that increases ATK of normal and charged attacks is more targeted for a Main DPS Shogun. Favonius Lance can also be used as it has an ER% sub-stat or the Blackcliff Pole for its CRIT DMG sub-stat, but the Kitain Cross Spear's EM sub-stat is not very helpful for Baal.
Artifacts
The Electro Archon should use a 4-set of Emblem of Severed Fate as it increases Energy Recharge by 15% and increases Elemental Burst DMG by 25% of Energy Recharge. A maximum of 75% bonus DMG can be obtained in this way.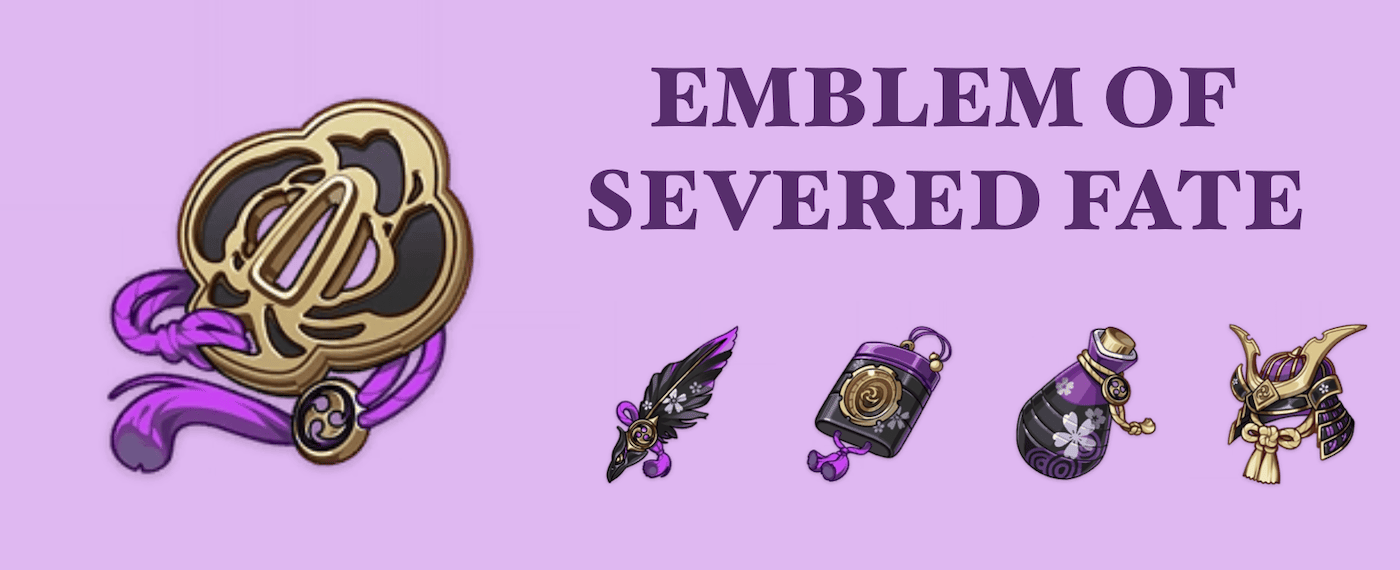 The Emblem of Severed Fate set can be obtained from the Momiji Dyed Court Domain, do lookout for a guide on how to complete the domain!
The stats and sub-stats that you should prioritise are as below:
Flower sub-stats: Crit DMG, Crit Rate, ER% and ATK
Feather sub-stats: Crit DMG, Crit Rate, ER% ATK
Watch stat: ER%
Goblet stat: Electro DMG Bonus (can be any artifact set, as long as the main stat is Electro DMG), OR ATK% to increase Base ATK since the watch already has ER% that contributes to Electro DMG Bonus
Mask stat: Crit DMG or Crit Rate
Talents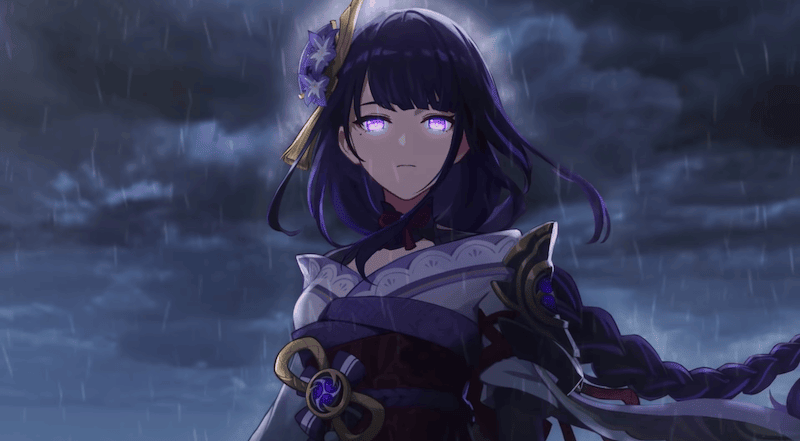 The best order to upgrade your talents is below.
Secret Art: Musou Shinsetsu > Transcendence: Baleful Omen > Normal Attack: Origin
Party Setup
With Baal as a Sub DPS/Support, you should use a Cryo/Pyro character as your Main DPS such as Ganyu/Yoimiya for greater Superconduct or Overloaded elemental damage. Her AoE Electro DMG from her Ultimate can be particularly helpful with other party members that can deal AoE Cryo/Pyro DMG as well. The consistent elemental reactions will prove to be extremely helpful. Since Baal is meant to be built as an ER% machine, I would concentrate on getting more Elemental Particles. However, we still cannot be sure if the expensive cost of her Ultimate (90) will be a problem as we need to see how many elemental particles her Elemental Skill gives her. As of now, I would recommend Ayaka, Ganyu, Diluc, Yoimiya as Main DPSes that you can play with Baal.
Conclusion
Overall, Baal seems to be an excellent character that is rumoured to be another broken support Archon. We hope that you have found this article helpful and that you will enjoy the new updates in the 2.1 version of Genshin Impact! Head here for information on Inazuma Craftable Weapons and do let us know if there are other articles you would like to read!