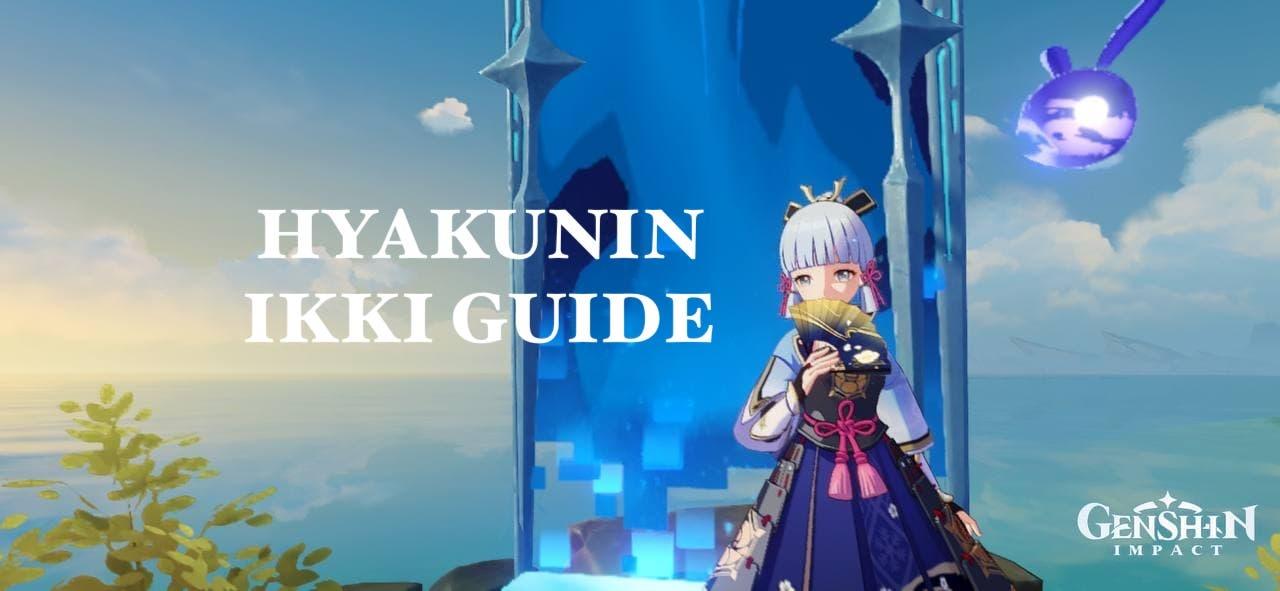 Preview
Hyakkunin Ikki is another domain-type event, where you can fight enemies and attain the highest score for greater rewards. The goal is for you to kill as many sets of enemies as possible, cycling through as many teams and characters within teams as possible to help increase your "Fervor" level.
For end-game players, this is a great avenue for you to test out your damage, especially with the various buffs given. However, Lower-AR players and beginners do not need to fret as there will be several trial characters given for each domain. These are fully built characters that can help carry you through the event. Do note that if you already have the character, you will be using your own build for them.
The trial characters include: Xiao, Ningguang, Yanfei, Tartaglia, Ganyu, Fischl
Rules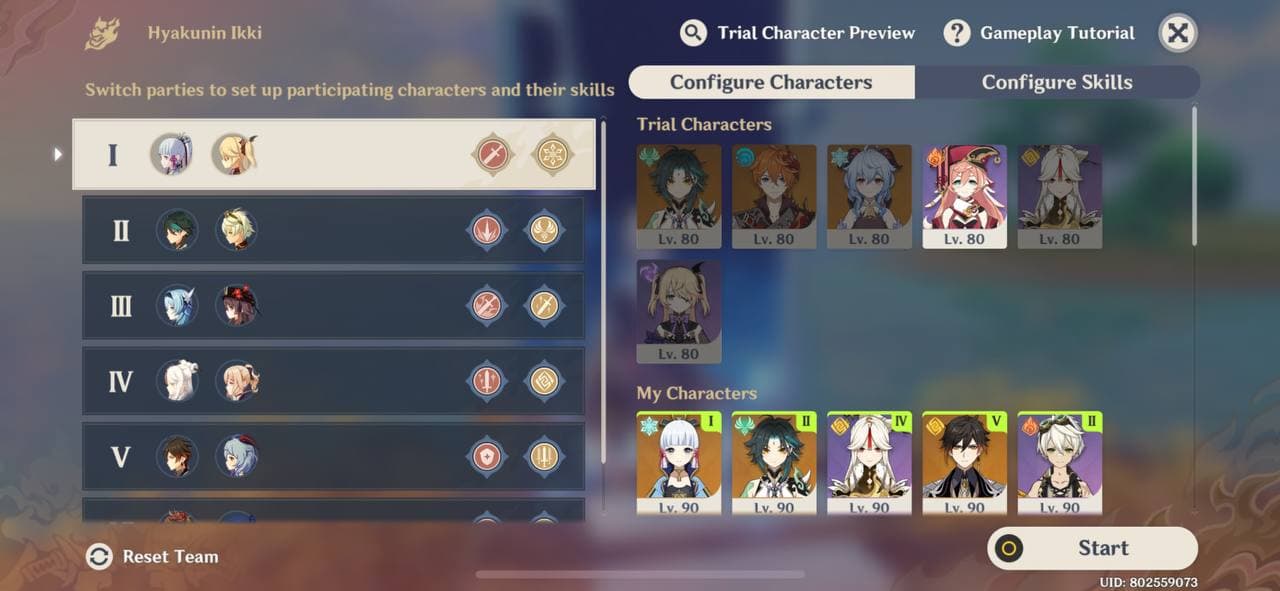 You will need to set up 6 teams (each team is comprised of 2 people) to bring into each domain. You will be able to swap from one team to another, but do take note of the sequence of the teams as you can only swap to the team listed directly after your current team. When choosing your teams, you should try to select Garyuu Arts that complement their playstyle and damage. You can read more about that in the next segment. Additionally, you will be able to select your multiplier which determines the difficulty of the challenge. I personally went with x4 multiplier and all my own characters, you can see the set-up that I went for above.
Garyuu Arts
Here are the list of Garyuu Arts available for selection, including character recommendations for each selection. I will try to include more F2P friendly characters as much as possible!
Accidental Intent: +50% attack speed, increased resistance to interruption, heals 10% HP from normal attacks that can be triggered once every five seconds.

Good for pairs without a healer and main DPS characters with low DEF/HP.

Lightcleaver Blade: 50% stamina consumption when using charge attacks; +75% charge attack damage; resistance to interruption; +50% attack speed for those who are using claymores.

All Claymore characters such as Eula, Chongyun
Characters that rely on charge attacks to deal greater damage, such as Hu Tao

Moonshadow Fall: Increased jumping ability and +100% plunging attack damage.
Restitution: Particles generated by elemental skills restore 24 energy (can be triggered once every eight seconds).

Good for characters that have high energy cost for their Ultimates and have low ER%, such as Ayaka

Celebrations Beyond Count: +150% elemental burst damage and -30% cooldown.

Tartaglia (given his long cooldown)

Radical Dispersal: Characters protected by a shield unleash a shockwave (can occur once every two seconds).
Pruning: Lightning strikes five random enemies when a character heals HP (can occur once every two seconds, but active characters lose 1% HP per second.

Barbara, Jean, Qiqi (they heal through their attacks)

We're on Fire: Greatly increases Fervor accumulation. Fervor is a mechanic that gradually increases as you defeat more enemies and swap between teams.

Generally good for all team setups

Phantom Eye: +250 bonus elemental mastery.

Venti, Kazuha, Xiangling (for a Vaporise comp/Melt comp)

Fiery Banishment: +100% Pyro damage bonus.

Klee, Hu Tao, Diluc, Yanfei

Frigid Regimen: +100% Cryo damage bonus.
Light Across the Fields: +100% Electro damage bonus.

Baal, Fischl, Sara, Keqing Electro Build

Shrine of Stone: +100% Geo damage bonus.
Cacophonic Showers: +100% Hydro damage bonus.
Scything Winds: +100% Anemo damage bonus.
Way of Tatara: +100% Physical damage bonus.

Eula, Razor, Keqing Physical Build, Rosaria

Clean Cut, True Sight: +100% crit damage.

Good for all Main DPS characters that you have built to deal large amounts of CRIT DMG

Unique Life: +100% ATK.

Good for all Main DPS characters, perhaps good for Jean if you require a lot of heals as she heals off ATK
Tips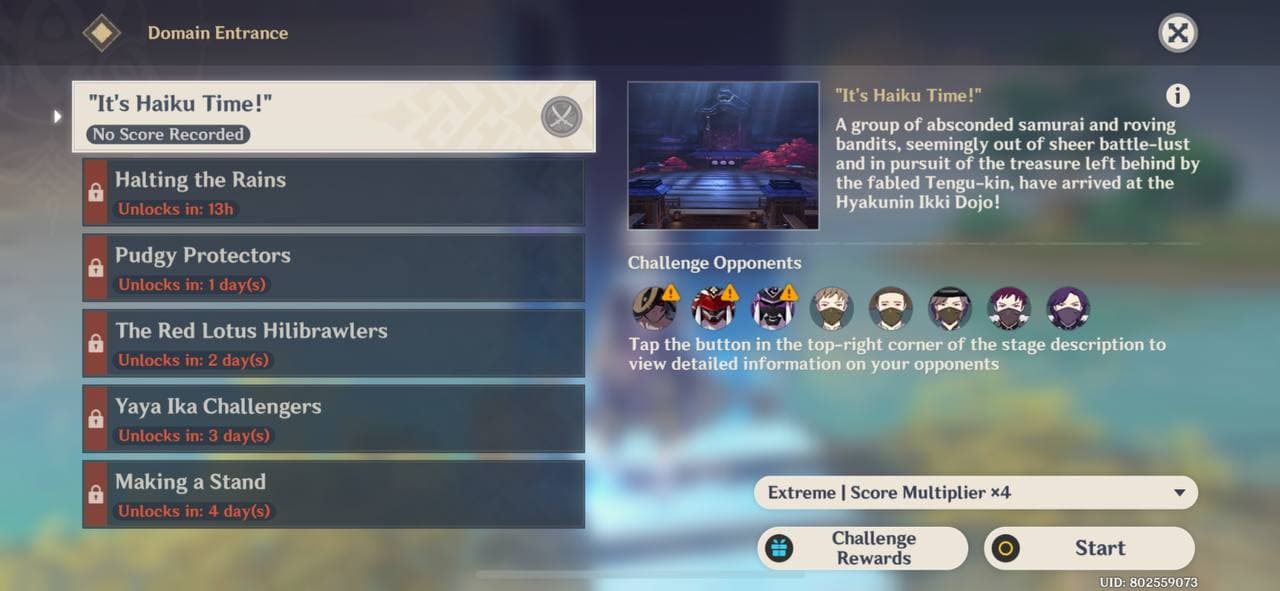 I will add more tips for the event as more domains are released daily!
For the first domain "It's Haiku Time!", all characters obtain a 30% increase in Physical DMG Bonus. This will be helpful for characters like Eula, Rosaria, Razor and Keqing (Physical Build).
Rewards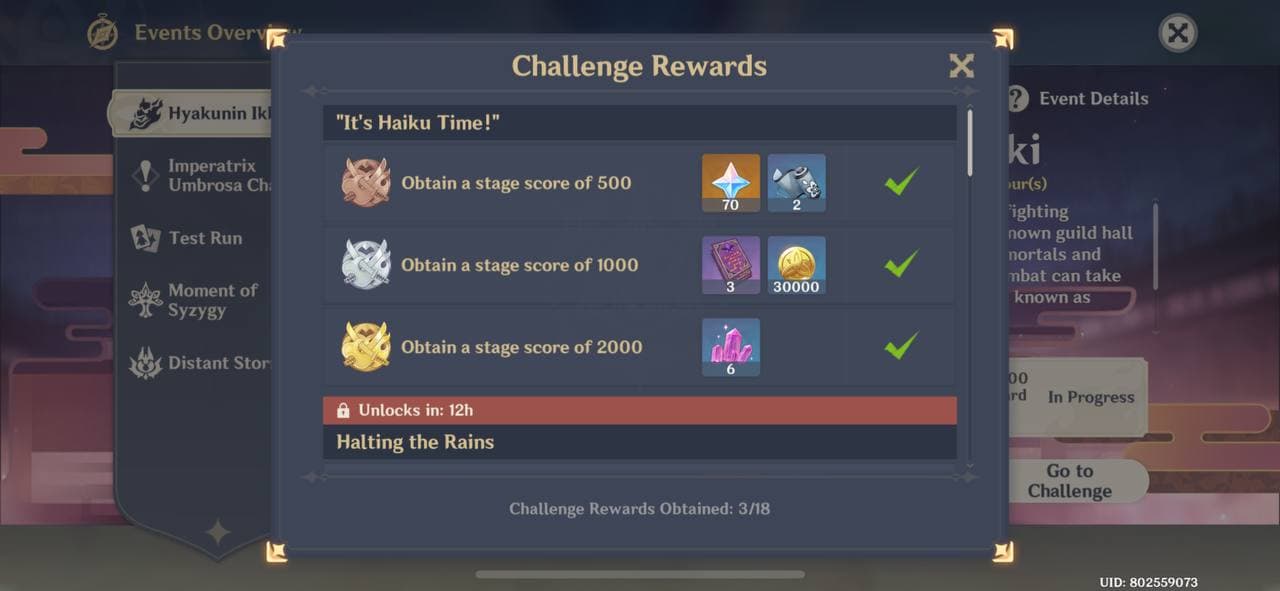 There are 6 domains of varied difficulties. If you complete all domains and obtain the highest score, you can obtain the following rewards:
Primogems x420
Talent Books x4 of each
Hero's Wit x18
Mora x180,000
Mystic Enhancement Ores x36
Namecard (after obtaining a total of 12,000 points)
We hope that you have found this article helpful and that you will enjoy the new updates in the 2.1 version of Genshin Impact! Head here for a build/guide on Raiden Shogun and do let us know if there are other articles you would like to read!