Diluc is considered by many as one of the best main DPSs in Genshin Impact, together with Klee, Ganyu, and now Xiao. With an Elemental Skill with allows a series of heavy elemental hits and an extremely high base attack, the Mondstadt protector is a force capable of obliterating almost every enemy in the game, and if it wasn't enough, his Elemental Burst is capable of sending even the most fearsome of foes to the beyond.
Now, will show you a build that is sure to unleash hell upon those that dare to oppose The Uncrowned King of Mondstadt. Ready?
Made for Each Other!
Differently from most Claymore users in the game, Diluc's main source of damage isn't his Physical Damage, but his ability to deal a high amount of Pyro Damage, being through his Elemental Skill, ''Searing Onslaught'', which can be used 3 times in a roll, or the passive effect of his Elemental Burst, ''Dawn'', with imbues his weapon with pyro for a while.
With that in mind, our choice for this build is the full Crimson Witch of Flames set, witch, can be found on Hidden Palace of Zhou Formula if you manage to stay away from loads of Lavawalker's.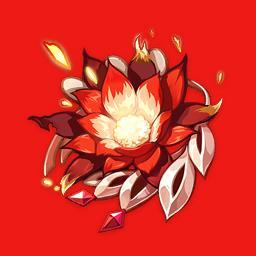 The Witch's Flower of Blaze, part of the Crimson Witch of Flames set. Original Image: Genshin Impact Wiki.
The set gives the character a 15% increase in Pyro Damage and increases the damage caused by the Overloaded and Burning reactions by 15%, plus, every time the character uses an Elemental Skill, the 2 set bonus is increased by 50% of its original value, for 10 seconds. The effect can accumulate up to 3 times in a roll, with makes this set perfect for the Darknight Hero.
A Weapon Fit For a King

From right to left, Wolfs Gravestone, Serpent Spine, Blackcliff Slasher, and Prototype Archaic.
Wolfs Gravestone is the best option between all the game's weapons. You can also use The Unforged, but keep in mind that to use its full potential, you need supports that can provide you with constant shields, like Albedo, Noelle, Zhongli, Diona, or Xinyan.
If we are talking about 4-star weapons, the Serpent Spine is the best choice, since it allows you to focus on CRIT DMG on your artifacts. The Blackcliff Slasher is also a great choice for those that prefer to focus on Crit Rate instead since both weapons possess the same base attack. Keep in mind that the passive of the Blackcliff doesn't work against single enemies. Prototype Archaic can also work really well since it offers the biggest amount of base attack between the 4-stars on our list but in the cost of Crit damage and rate.
All in For Those Reactions
Diluc can deal elemental damage often, so focusing your team on creating openings for reactions like Melt and Vaporize is ideal. That's right, we are looking at you Qiqi, Xingqiu, Barbara, and Diona. And even if Kaeya and Diluc don't see eye to eye anymore, he can be a good enabler and a reliable companion in battle, if needed.
Talent-wise, you can focus primarily on his normal attacks, and then go for his Elemental Skill and Burst in an order that best fits your playstyle.
Genshin Impact is available for the PlayStation 5, PlayStation 4, PC, and mobile devices. You can check in more builds on the game's official Reddit page or on the Diluc focused page, DilucMains.