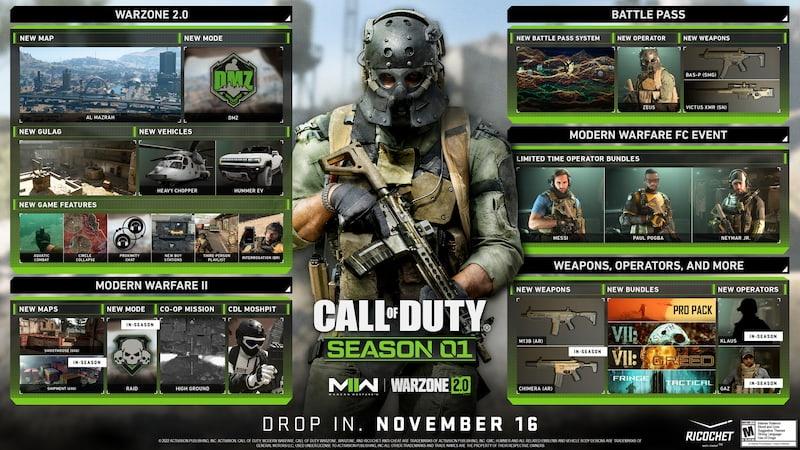 All of your questions concerning all new MW2 Season 1 DMZ Mode and related subjects will be answered in this article.
After the game's first launch, players are anxiously expecting the release of Modern Warfare 2 Season 1, as well as the debut of Warzone 2.0.
READ NOW: Modern Warfare 2 Season 1 Start Time and Release Date
In Call of Duty: Modern Warfare II, players are thrown into a never-before-seen global conflict that sees the iconic Operators of Task Force 141 make a comeback.
All New MW2 Season 1 DMZ Mode
Activision has previously hinted that a fan-favorite multiplayer map would return in Season 1 of Modern Warfare 2. Additional missions are also announced for Modern Warfare 2's cooperative Spec Ops mode. What's Everything New in MW2 Season 1?
Season 1 is set to arrive on November 16 for Modern Warfare 2 and Warzone 2.0. Activision has not revealed the specific start time for the season, but past seasonal updates usually went live around 9 AM PT / 12 PM ET / 5 PM BST.
Modern Warfare 2
Call of Duty's Hardcode mode, a multiplayer playlist with reduced health and no HUD, did not premiere with Modern Warfare 2 this year. Instead, Infinity Ward stated that the Hardcore playlist has been renamed "Tier 1" and will be available with the start of Season 1.
Raids might be expected later in the season. The Raids mode will be available as part of the Spec Ops mode, with Activision stating that the first episode of Raids would be available for players to master on December 14 with the start of the midseason update.
Raids is a three-player co-op "engagement" that Activision promises will involve "teamwork and clever puzzle-solving" in between violent firefights. Raids also seem to have some extra plot, since Activision described Raids as "a direct continuation of the campaign."
A CDL Moshpit playlist will be available in Season 1 for those searching for a competitive challenge. Although no specifics were provided, this playlist is expected to include the modes utilized in the Call of Duty League's 2023 season.
Call of Duty's competitive Ranked Play option, which will include skill divisions, leaderboards, and awards, has been announced for Modern Warfare 2 sometime in 2023.
READ NOW: How to Pre Download Warzone 2? – Warzone 2.0 Guide

Credits: Infinity Ward
Warzone 2.0 Changes
An updated, free-to-play version of Warzone has been released. The new Al Mazrah map in Warzone 2.0 will include innovative circle dynamics, in which numerous circles form and alter the game's ultimate situation before combining into a single larger circle.
Another new addition to Al Mazrah is "Gulag 2.0," a more advanced version of the previous arena where players fight in teams of two rather than one.
All New MW2 Season 1 DMZ Mode Explained
New map Al Mazrah will host the DMZ mode, which Activision called a "sandbox experience" to go along with Warzone's release. We don't know much about DMZ just yet, but it seems to be an evacuation mode comparable to Escape from Tarkov. As the release date draws nearer, we may expect more details about the mode.
The record for fastest-ever video game launch sales is now held by Modern Warfare 2, which was published on October 28 and made $800 million in three days, beating out the 2011 sequel, Modern Warfare 3.
---
For more coverage on Call of Duty keep tuning into Games Atlas!
RELATED: