In a Battle Royale Game like call of duty warzone, guns play an important part in the victory of the players. Even If you are a skilled gamer with many unique tactics, tips and tricks, you might be defeated by a weaker player if he/she has a stronger weapon. Having the best guns in Warzone along with good skill sets is compulsory if you want to increase the chance of victory.
We are sure that most of the players have a good knowledge of various guns in COD. However, there have been some changes in the power and efficiency of guns in the latest warzone update.
Most of the players are unaware of such changes and are still using their old gun layout for Warzone. But, nearly all of them have noticed a little difference in their win ratio and gameplay. It is because there is a serious change in the rankings of the best guns in the Warzone.
After considering the above scenario and receiving the request from the various players we have created a new list of best guns in the Warzone. In order to make the list, we have conducted surveys and done research about the changes after the update.
Best COD Warzone Loadout and Strategies
Before we start with the list, there are a few things to keep in mind. Although we have mentioned some of the best guns in Warzone, they can only perform their best when equipped with proper attachments. No matter how powerful a gun is yet, it lacks some key points, making it weak compared to the same weapon adapted with appropriate loadout. To make the best version of your gun, make sure to use the Best COD Warzone Loadout.
In a deep conversation with some of the best COD warzone players we got to know that a powerful gun is always not needed to win the game, your victory depends more on your game statistics, strategies, and team coordination. Gamers with better strategies and coordination can easily knock out players with a powerful weapon.
List Of 11 Best Guns in Warzone
CR-56 AMAX
There has been a major change in the ranking of CR-56 AMAX after the update which made many guns weaker. The update made it one of the best weapons in Warzone because there is a little change in the damage only ( From 32 to 31). While other popular weapons have been weakened a lot after major changes in their stats.
You can easily defeat an enemy with this gun if you can control the recoil. The following loadout will help you to ease the recoil and stabilize the gun:
Monolithic Suppressor
XRK Zodiac S440
VLK 3.0x Optic
Commando Foregrip
45 Round Mags
Kar98k
Kar98K has always been among the favorite guns of the players because of its one-shot kill feature. There are other guns as well which offer one-shot kill, but Kar98K is the easiest to handle. Sadly, in the recent update, the speed of the bullet has been decreased and the bullet drop has been increased. This makes shooting long-range targets even more difficult.
But, it is not the end of the story as Kar98k is still among the best guns in warzone because of its stability. And, we can even overcome this long-range problem if we go with the layout provided below.
Sniper Scope
Monolithic Suppressor
Singuard Custom 27.6″
Tac Laser
FTAC Sport Comb
MGL-32 Grenade Launcher
This is one of the most powerful weapons in the game but it's down the rank because it is not easily available. We have noticed in surveys that players were unable to find this weapon even after playing multiple games.
The damage of the MGL-32 Grenade Launcher is so strong that you can eliminate an entire team with just a couple of shots. Hence, we honestly recommend if you find this gun keep it without even thinking twice.
Grau 5.56
Players consider Grau 5.56 as the most effective gun in the call of duty warzone. It is not because of its damage per second but its stability. Players can easily defeat long-range enemies with Grau 5.56 due to its nearly "no recoil" feature. But we should not ignore the fact that Garu 5.56 offers roughly 23 damage per second which makes it a weak weapon for close fights.
Players even choose this gun as an alternative to snipers because it performs really well in mid and long-range. We can improve its recoil control even more if we choose the following loadout for Grau 5.56:
Monolithic Suppressor
Tempus 26.4″ Archangel
Commando Foregrip
60 Round Mags
Tac Laser
AK47
This is one of the best guns for a close fight. AK47 offers a surprising 56 Damage per second for a 37-meter range making it a unique 2 shot kill assault rifle. Moreover, people prefer it to use in long-range as well by tap-tap firing.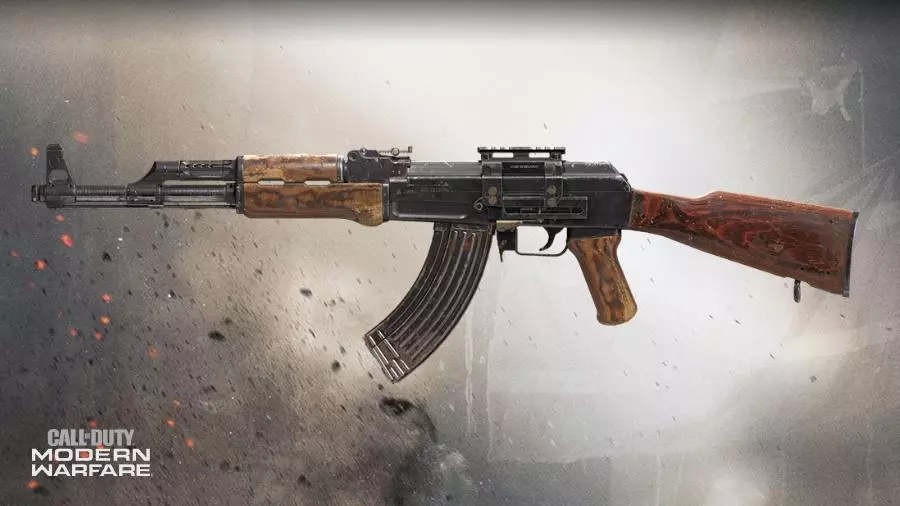 However, it is not very efficient in mid-range fights because of high recoil and 42 DPS after 37 meters. But, we can enhance its range and stability to make it a close-mid-range slayer as well by applying the following loadout.
Suppressor
20″ Spetsnaz RPK Barrel
KGB Skeletal Stock
45 Rnd
Microflex LED
Fara 83
Fara 83 is very popular among the players after the new update because this update made Fara 83 even stronger. There is a 17% increase in the maximum damage range and a DPS increase from 25 to 26.
If you are willing to handle a little recoil for increased damage then this is a great option. It is a very mobile gun which is easily available hence, loved by players. Moreover, this gun helps in winning close fights as well because it has high damage per second. We can further enhance its performance if we apply the following loadout.
GRU Suppressor
19.5″ Liberator
Spetsnaz 50 Rnd
Spetsnaz Grip
SUSAT Multizoom
HDR
We have included HDR in the list because it has an exceptionally high bullet velocity. Moreover, we need to hit the enemy nearly two times to defeat him/her. Therefore, HDR is an amazing choice for mid-range and long-range flights. It is because we need not worry about the bullet drop issue as high bullet velocity comes with very low bullet drop.
You can apply the given loadout to max out bullet velocity and damage of HDR.
Monolithic Suppressor
Tac Laser
26.9″ HDR Pro
FTAC Stalker-Scout
FMJ
M4A1
M4A1 is one of the best and fastest TTK stats in Warzone. Players love this gun because it works perfectly fine in close as well as long-range fights making it a unique all-rounder gun. But, there is an issue with this gun. It works exceptionally well when equipped with the correct loadout but fails to do so in absence of a good loadout. Hence, having the following loadout is necessary if you want to use this gun.
Stock M16 Grenadier
Operator Reflex Sight
No Stock
Commando Foregrip
Stippled Grip Tape
Cold War MP5
This gun offers a great advantage over using the Modern Warfare MP5. Because of this gun, Modern Warfare MP5 is removed from our list of 11 best guns in warzone. Cold War MP5 offers better recoil, TTK, and faster ADS than Modern Warfare MP5.
Some gamers even consider Cold War MP5 as the strongest SMG in the warzone. We can further enhance the strength if we use the following loadout along with MP5.
Monolithic Integral Suppressor
Merc Foregrip
5mW Laser
45 Round Mags
FTAC Collapsible
RAM-7
RAM-7 offers nearly the same experience as M4A1. But, there is little difference that makes people differentiate between the two. Firstly, we have deduced that it is better in close fights than M4A1. Secondly, M4A1 has a little less recoil. Finally, there is a difference of 10 bullet capacity among the two. Hence, if you are looking for a gun good for close to mid-range combats then this is the gun for you. You can even improve the stability and range by applying the given loadout.
Monolithic Suppressor
FSS Ranger
Commando Foregrip
50 Round Mags
Tac Laser
Swiss K31
Swiss K31 is one of the best snipers in the call of duty warzone. Though, It is a little less stable than Kar98k, it should not demotivate us from using it. Moreover, we should consider this as an amazing alternative to Kar98k after the update.
In the recent update, there has been a modification in ADS speed and stability making it even stronger. And, with the right loadout, some players even prefer going for Swiss K31 than Kar98k. Hence, we should also apply the following loadout to make it one of the best snipers.
GRU Suppressor
24.9" Combat Recon
Serpent Wrap
7 Rnd
Royal & Kross 4x
Honestly The Best Guns in Warzone
To write this article, we have not only done some surveys, but we have done much more to ensure we deliver the most beneficial and truthful information to our readers. We have cross-verified a couple of surveys and have personally talked to the players about the experience of using the guns on our list.
We have also studied every single detail of the update on the COD official website. Hence, we hope that this article will help you increase the chance of your victory with the right guns!