All Call of Duty Vanguard Operators - Full List of Characters
Operators return in Call of Duty Vanguard! On this page, you can find all the playable Special Forces Operators that are available in Call of Duty: Vanguard. It's confirmed that all Operators you unlock in Vanguard will also be playable in Call of Duty: Warzone Pacific when Season One launches on December 2.
Call of Duty Vanguard will launch with 12 playable Operators. The four main characters already revealed for COD Vanguard are Lucas Riggs, Polina Petrova, Wade Jackson, and Arthur Kingsley.
Take a look at the full list of characters below, and click on an Operator to see their Skins list, information on How to Unlock, Favorite Weapon, and more.
Who are the Call of Duty: Vanguard Operators?
COD Vanguard Operators List and Skins:
Call of Duty: Vanguard does not feature factions in multiplayer, in this Call of Duty matches will be between Team A and Team B.
COD Vanguards Operator Units:
Hellhounds (S.O.T.F. 002):
Daniel Yatsu — Japanese American Infantryman
Wade Jackson — Italian American Hellhounds Leader
Halima Zambardi — Italian Somalian Resistance Fighter
Sentinel (S.O.T.F. 003):
Constanze Trude Muller — German Axis Defector
Arthur Kingsley — British Cameroon Sentinel Leader
Padmavati Balan — Indian National Infantry
Barbarian (S.O.T.F. 004):
Roland Zeimet — Luxembourger Axis Defector
Lucas Riggs — Australian Barbarians Leader
Béatrice Mercier — French Resistance Fighter
Shadow (S.O.T.F. 005):
Shigenori Ota — Japanese Navy Defector
Polina Petrova — Russian Shadow Leader
Solange Hardewijk — Dutch Aruban SOE Agent
Season 1 New Operators in COD Vanguard:
Season 2 New Operators in COD Vanguard:
Anna Drake
Thomas Bolt
Gustavo Dos Santos
Snoop Dogg
Season 3 New Operators in COD Vanguard:
Mateo Hernandez
Florence Carter
Kim Tae Young
Season 4 New Operators in COD Vanguard:
Carver Butcher
Callum Hendry
Ikenna Olowe
Season 5 New Operators in COD Vanguard:
COD Vanguard Pre-Order Operator and Skins:
If you digitally pre-order any edition of Call of Duty: Vanguard you will receive Arthur Kingsley as an Operator. Sergeant Kingsley of the 9th Parachute Battalion, British Army will be available for use in Call of Duty: Black Ops Cold War and Warzone at a later date.
In addition, if you pre-order the Ultimate Edition you'll also receive 3 more Themed Operator Skins:
The "Shepherd" skin for Second Lieutenant Lucas Riggs of the 20th Battalion, Australian Military Forces.
The "Arctic Shadow" skin for Lieutenant Polina Petrova of the 138th Rifle Division, Red Army.
The "Bomber" skin for Captain Wade Jackson of Scouting Squadron Six, United States Navy.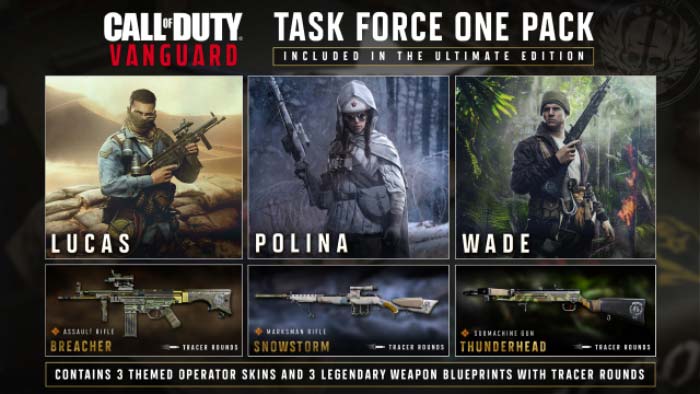 COD Vanguard Operator Leveling and Favorite Weapon
Call of Duty Vanguard introduces the new operator progression. By playing matches with a specific Operator you will earn Operator XP and Rewards (which is separate from the regular XP). With the new Operator XP you will be able to unlock new rewards as Skins, Cosmetics, Finishing Moves, Calling Cards, and more for your operator.
Operators also have a Favorite Weapon. If you play matches with your operator's favorite weapon you will receive extra Operator XP and Weapon XP. For example, Polina Petrova has the 3-Line Rifle as her favorite weapon, by using the 3-Line Rifle you will earn additional XP for Polina.
---
Call of Duty: Vanguard released on November 5, 2021, for Xbox One, PlayStation 4, Windows PC, Xbox Series X|S, and PlayStation 5.