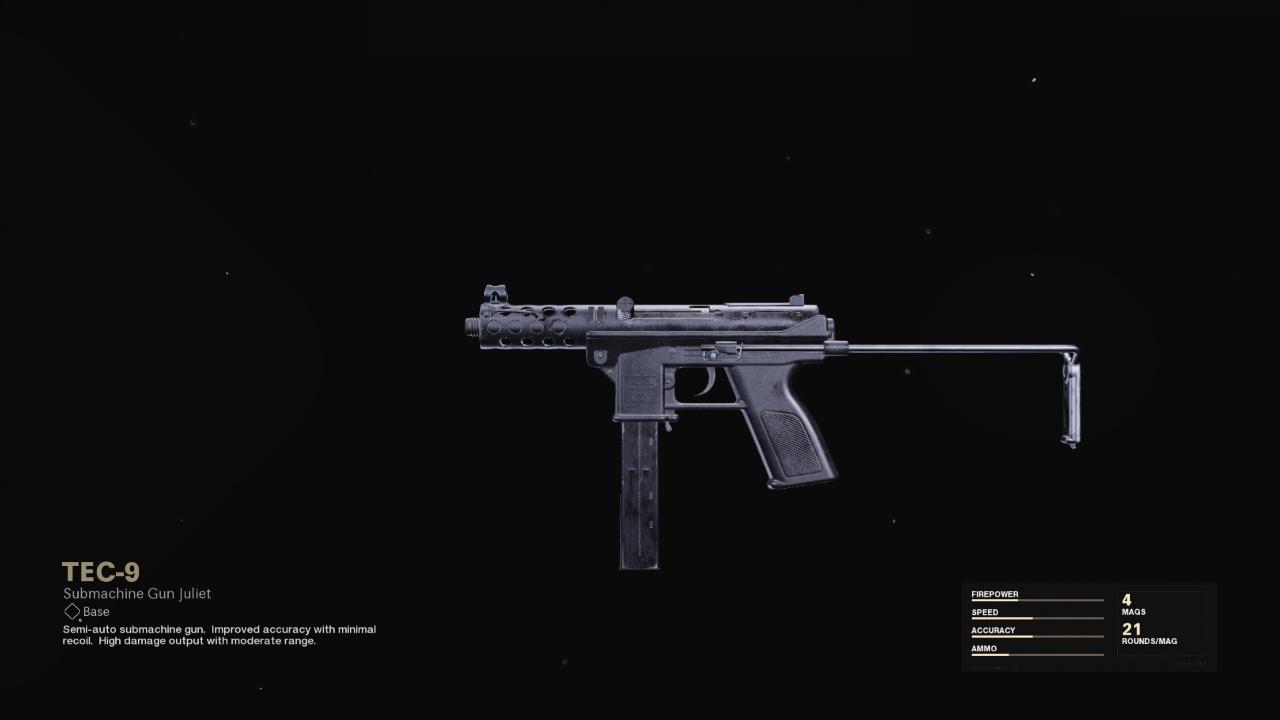 Game

Black Ops Cold War

Weapon Class

SMGs

Phonetic Alphabet

Kilo

Release

Season 5 (BOCW)

Weapon Type

Primary Weapon

How To Unlock

Tier 31 of the Season Five Battle Pass
TEC-9 Weapon Description
The TEC-9 was added to Black Ops Cold War and Warzone on August 13, 2021, as part of the free content included in Season Five.
Semi-auto submachine gun. Improved accuracy from longer ranges with low recoil and slower fire rate. Good damage output with moderate range.
The semi-auto TEC-9 is one of the most unique SMG options yet in Black Ops Cold War, given that its action mechanism is the first of its category across all games.
On its own, the TEC-9 can eliminate targets in three shots anywhere within 10 meters. Its blowback nature allows Operators to place their shots more accurately, differing dramatically from a category filled with more traditional spray-and-pray options.
But it doesn't have to be semi-auto — Operators can outfit it with one of two unique attachments that change its fire type to either three-round burst or fully automatic. These attachments also come with built-in position concealment, making it great for stealthy infiltrations. And for the fully auto modifier specifically, it makes this SMG more viable when considering hip-fire rushing tactics. Both options increase fire rate, but in exchange, Operators must exercise more recoil control with those faster follow-up shots. The choice is yours.
You can obtain the TEC-9 for free and ready to use in Black Ops Cold War and Warzone at Tier 31 of the Season Five Battle Pass.
TEC-9 Blueprints List
TEC-9 Statistics
Coming Soon.