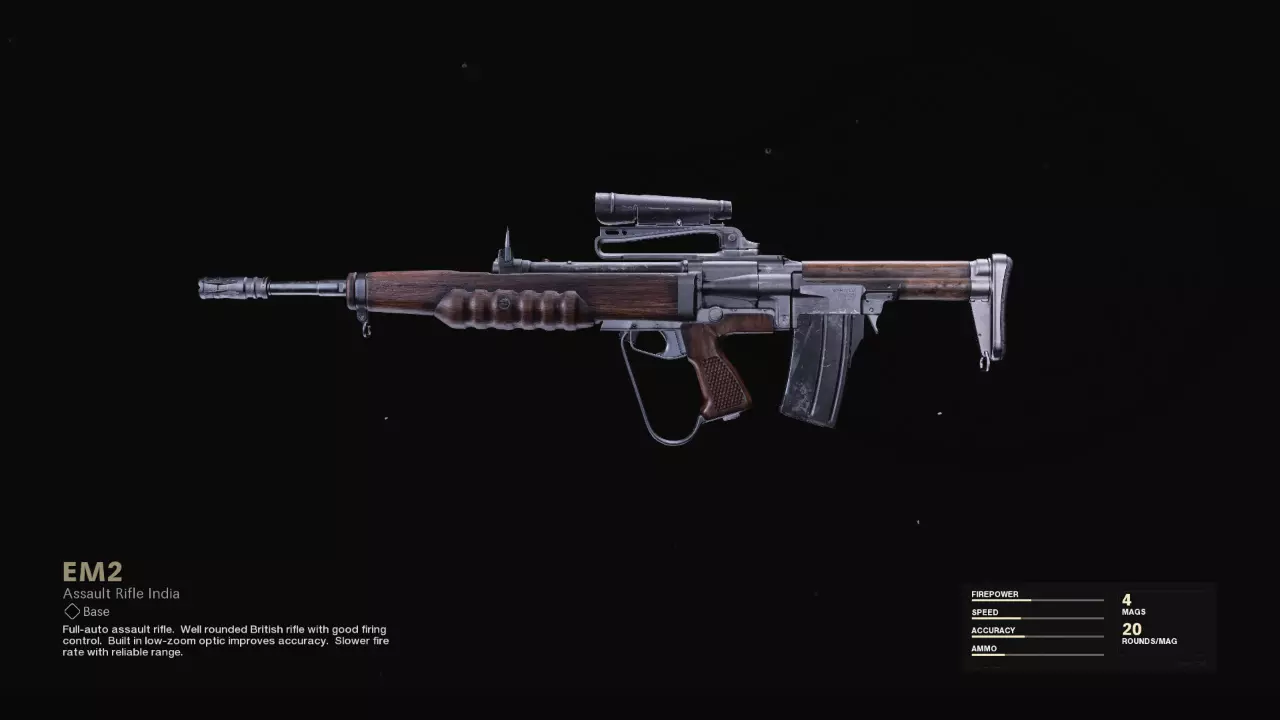 Game

Black Ops Cold War

Weapon Class

Assault Rifles

Phonetic Alphabet

India

Release

Season 5 (BOCW)

Weapon Type

Primary Weapon

How To Unlock

Tier 15 of the Season Five Battle Pass
EM2 Weapon Description
The EM2 was added to Black Ops Cold War and Warzone on August 13, 2021, as part of the free content included in Season Five.
Full-auto assault rifle. Well-rounded British rifle with good firing control. Built-in low-zoom optic improves accuracy. Slower fire rate with reliable range.
The British EM2 full-auto assault rifle adds another hard-hitting bullpup option to a category already overflowing with versatility.
In traditional Multiplayer environments, the EM2 demands your attention to keep its improved accuracy true to its word. With an optional Task Force Barrel, it can become a reliable three-shot elimination at ranges up to at least 50 meters; otherwise, a headshot needs to be mixed in for a faster down.
Don't let the weapon's slow fire rate deter you. With a built-in low-optic zoom, it is a force at range, calling upon marksmen to use it and defend their allies with all their might.
You can obtain the EM2 for free and ready to use in Black Ops Cold War and Warzone at Tier 15 of the Season Five Battle Pass.
EM2 Blueprints List
EM2 Statistics
Damage

48.00

Effective Damage Range

38.10

m

Fire Rate

535.00

RPM

Bullet Velocity

688.00

m/s

Vehicle Damage

36.00

Melee Quickness

1,000.00

ms

Movement Speed

10.26

mph

Sprinting Move Speed

14.49

mph

Shooting Move Speed

8.67

mph

Sprint to Fire Time

400.00

ms

Aim Walking Movement Speed

4.06

mph

Aim Down Sight Time

300.00

ms

Vertical Recoil Control

319.20

j

Horizontal Recoil Control

34.50

j

Centering Speed

11.00

ft-lb

Idle Sway Control

15.00

Fc

Flinch Resistance

10.00

N

Hip Fire Accuracy

7.50

mils

Magazine Ammo Capacity

20.00

Reload Quickness

2.60

s

Max Starting Ammo

80.00

Ammo Capacity

120.00

Reveal Distance

0.00

m

Muzzle Flash Concealment

1.00

s